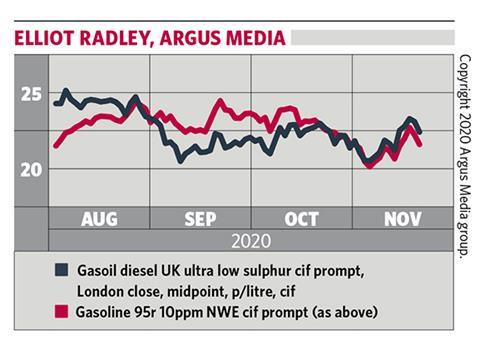 European road fuel markets continue to face the squeeze, stuck between rising crude prices and the continued prospect of poor demand.
The onset of the northern hemisphere winter has brought a surge in Covid-19 cases across Europe, and with it, another rise in restrictions on travel. Most importantly for the industry, some of the largest fuel consumers in Europe have enforced fresh lockdowns, including France and Germany. The UK government waited a little longer, hoping its tier-system would prevail, but still announced a month's full lockdown shortly after the moves from Germany and France.
Given the painful collateral damage experienced by economies across Europe during previous lockdowns, the latest round of restrictions are somewhat lighter in nature, in the hope that any economic slowdown will be less severe. German sales of diesel and gasoline fell by 22pc and 35pc on the year in April for example. This time round, the collapse in demand may be more muted, but the outlook remains far from rosy, with some in the market still expecting demand falls of up to 25pc on the year.
While road fuels are beset by Covid-related restrictions, commodities markets, including crude oil, have taken some cheer from the outcome of the US election – staging something of a rally since the result was announced. Ice Brent crude has enjoyed support in particular, rallying above $40/bl on 9 November, and pushing on to multi-week highs since.
But the commodity boost has been sentiment-led, rather than reflecting a tightening of fundamentals, and road fuel prices have struggled to keep pace, which has squeezed production margins.
Several refiners have announced conversions to biorefining, mothballing of units, and complete closures this year, with Petroineos' 210,000 b/d Grangemouth refinery in Scotland the latest to join the list. A crude distillation unit and fluid catalytic cracker at the site will be shut down, perhaps for good, given the poor demand environment.
On a more positive note, the prospect of a vaccine has brought some much-needed cheer to markets and may mean lockdowns in 2021 are more limited. But its rollout is unlikely to change the short-term difficulties facing Europe's refining industry.
For any questions about wholesale road transport fuel price market developments, most welcome to contact elliot.radley@argusmedia.com.
In addition to wholesale petrol, ULSD, biodiesel and ethanol prices, Argus latest addition is pricing of HVO renewable diesel. The HVO prices published reflect the specification used in the UK market and are based on actual trades, bids and offers placed by key market participants on Argus price discovery platform Argus Open Markets.