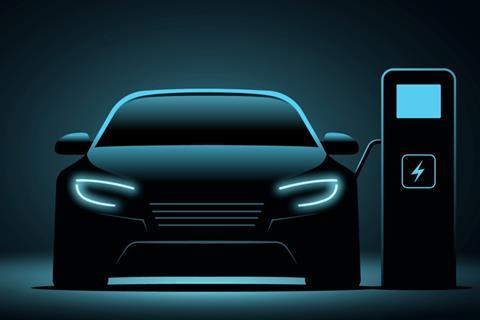 There was a sigh of relief from many forecourt operators last month, when Prime Minister Rishi Sunak announced that the Conservatives would delay the ban on sales of new petrol and diesel cars and vans until 2035.
However, any joy was short-lived when Labour said, at its Party Conference earlier this month, that it would reinstate the 2030 ban. And with Labour still ahead in the General Election voting opinion polls, they could very well get their way.
Whatever happens, on the UK's roads it does appear that more and more drivers are driving electric. But SMMT (Society of Motor Manufacturers and Traders) data for 2022 revealed that petrol was still fuelling most of the UK's cars (58.6% of them) followed by diesel, which was fuelling 35.8% of them. Hybrid electric (HEV) came in third with 2.7% followed by battery electric (BEV) with 1.9% and plug-in hybrids (PHEV) with 1.2%. It's obviously too early to say what those figures will be for this year but I think we can expect to see those latter three figures move upwards. Interestingly though, the SMMT's year-to-date new vehicle registrations data reveals that sales of petrol cars are up 14.6% while sales of diesels are down 12.1%. BEV registrations are up 13% year-to-date while PHEVs are up nearly 7% and HEVs up more than 14%.
When the most recent (September) new vehicle registration figures were released, SMMT chief executive, Mike Hawes, said that with tougher EV targets for manufacturers coming into force next year, the UK needs to accelerate the transition to EVs by encouraging all motorists to make the switch.
"This means adding carrots to the stick – creating private purchase incentives aligned with business benefits, equalising on-street charging VAT with off-street domestic rates and mandating charge point rollout in line with how EV sales are now to be dictated. The forthcoming Autumn Statement (on November 22) is the perfect opportunity to create the conditions that will deliver the zero emission mobility essential to our shared net zero ambition."
Of course, the number of EV charging points in the UK keeps rising as operators try and keep up with demand. Zap Map says that as of the end of September, there were nearly 50,000 EV charging points across the UK, in 29,709 locations, which is up 43% on September 2022 figures.
And it seems forecourt operators deserve a big pat on the back as Zap Map found that drivers are most likely to find ultra-rapid EV chargers at service stations and retail car parks. At the end of September, there were 1,457 ultra-rapid devices at service stations across the UK – an increase of 82% on the previous year – and 892 at retail car parks, a 61% increase year-on-year.
A good example of the forecourt sector embracing EVs is Top 50 Indie number one, MFG, with the news that it has now installed over 500 ultra-rapid EV chargers across 112 hubs throughout the UK. The company says this is by far the highest rollout in the independent forecourt sector. In 2023 alone, MFG has so far installed 230 ultra-rapid EV chargers at 59 locations across its network.
The company describes itself as being "ahead of the curve" by giving drivers who are contemplating purchasing an EV the confidence that they can travel as easily as with a petrol or hybrid vehicle.
Another good example is Moto, with its roll-out of ultra-rapid charging hubs for EVs. It has just under 400 ultra rapid chargers in place across 27 of its motorway service areas and the ambition to have almost 2,500 ultra rapid chargers by 2030.
Meanwhile, technology is developing all the time with, for example, researchers at South Korea's Pohang University of Science and Technology believing they've found a way to increase the capacity of EV batteries and cut charging times to just six minutes. And in Japan, they are trialling in-motion charging on public roads.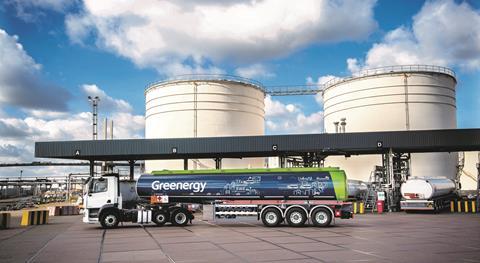 Decarbonisation
Of course, electric is not the only means of decarbonising transport – we have hydrogen, HVO aka renewable diesel and eFuels to name just a few. And there is pressure all round to clean up the roads.
Caroline Lumbard, UK trading director at Greenergy, comments: "As industries look to decarbonise through the use of EVs and renewable fuel solutions, the fuel market is becoming more competitive. The energy transition is diversifying demands, leaving fuel retailers to meet a wider range of needs and having to expand their product offering to include a wider range of renewable fuel solutions at competitive prices."
She explains that Greenergy is driving decarbonisation with a range of biofuels to meet increasing global demands.
"With our established global supply chains, biodiesel production and in-house haulage operations, we are uniquely positioned to offer independent retailers competitively priced and reliable supply of renewable fuels. Our product offering includes a range of higher percentage biodiesel blends and biofuels, which are readily available solutions delivering an immediate reduction in carbon emissions. Furthermore, we have enhanced our retail offer with EdgePetrol, providing retailers with a strategic tool to help determine pricing, manage volumes and drive sales."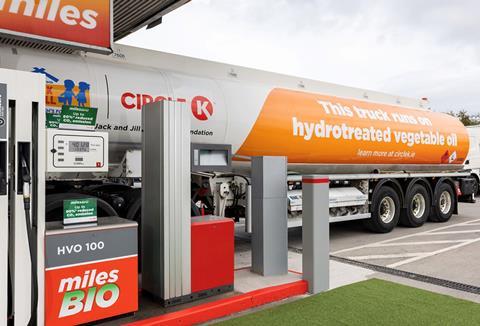 Renewable diesel
One alternative fuel that is seriously gaining ground in the UK is HVO (Hydrotreated Vegetable Oil) aka renewable diesel. It is a drop-in alternative fuel, manufactured from 100% renewable and sustainable waste. As such it is one of the cleanest fuels on the market as it eliminates up to 90% of net CO2 and also reduces nitrogen oxide (NOx), particulate matter (PM) and carbon monoxide (CO) emissions.
Last year, Certas Energy launched an HVO delivery service to businesses across the UK. The drop-in renewable fuel is also available at seven Certas Energy refuelling sites, including its Thurrock HGV refuelling site – with Certas Energy claiming to be the first in the UK to offer HVO fuel to HGV fuel card users at the pump.
In August, Certas Energy announced the launch of HVO in Intermediate Bulk Containers (IBCs) as a convenient way for businesses to trial the fuel before making the full switch. These containers can hold up to 1,000 litres of HVO fuel with a built-in tap system for easy dispensing. They are surrounded by a metal cage for added protection and to allow for easy transportation by forklift.
In another move to help businesses make the transition to HVO more cost-effective, Certas Energy offers split deliveries, where the renewable diesel is supplied in intervals. For example, customers can receive one delivery of HVO fuel for every four deliveries of standard diesel. With HVO fuel fully interchangeable with DERV, it can be mixed or blended at any percentage so there's no need for separate storage tanks.
On its website, Certas says: "This approach allows businesses to make a gradual transition to HVO, helping to allay any concerns of a straight switch to HVO fuel and to facilitate better fuel cost forecasting. Importantly, it means that businesses can meet their carbon reduction goals without adopting 100% HVO for their operations and give them peace of mind that they are taking small but significant steps to achieving their sustainability goals.
In Ireland, another DCC-owned company, Certa, has become the first energy operator in the country to open a fully-fledged HVO fuel station. Certa's new 'Forecourt of the Future' in Liffey Valley in Dublin cost over €1m to build and is the first in Ireland to make HVO available at all pumps alongside diesel and unleaded petrol.
In addition, Certa has started to upgrade its network of 41 unmanned, pay at pump forecourts to offer HVO at all fuel pumps alongside other fuels.
Certa managing director, Andrew Graham, says: "Our goal is to make it easy for motorists to transition to HVO as a renewable alternative to diesel and to make this biofuel as accessible as we can to help motorists to reduce their carbon emissions.
"Our immediate priority is to facilitate demand where it is greatest by upgrading a cluster of existing forecourts in the Dublin region to offer HVO at all pumps alongside diesel and unleaded petrol. We plan to complete the upgrading of our entire network by the end of 2024."
Also in Ireland, Circle K Ireland has announced the opening of three new milesBIO HVO100 pumps across its network, following the launch of its first HVO renewable diesel pump in Dublin Port at the end of last year.
And the company will continue to expand its HVO offering in the coming months, with a commitment to have HVO renewable diesel available on all national road routes before the end of the year.
While milesBIO HVO100 is new to Circle K Ireland, the renewable diesel has already been available across Scandinavia at Circle K locations in Norway, Sweden and Denmark.
Circle K is currently investigating opportunities for having HVO on dealer sites in Northern Ireland.
Back on the UK mainland, and Exelby Services introduced HVO to its HGV forecourt at Coneygarth Services in July. Since then the site has dispensed an average of approximately 8,000ltrs a month and, and a result, the company is hoping to add HVO to other sites in the future. Exelby MD Rob Exelby says: "I think low carbon fuels like HVO can help bridge the gap for B2B/logistics to transition to net zero in the short-to-medium term. Once we see Formula 1 switch to 100% synthetic fuels in 2026, that will give efuels a good push in terms of awareness and take up.
"For the transport sector to transition to net zero, I think it's key that all of these low/zero carbon derived powertrains and technologies are given an equal footing as it's now clear that we can't all just put our eggs in the EV basket as there currently just isn't the infrastructure to support EVs on their own."
Meanwhile, Esso has told Forecourt Trader that it is continuing trials of its Esso Supreme 25% renewable diesel but has nothing to report at this time.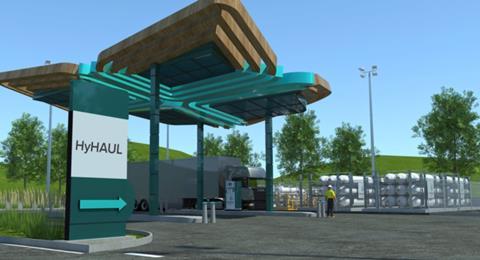 Hydrogen update
When it comes to hydrogen, the forecourt industry is looking to Rob Exelby and his plans with Element2 for two permanent hydrogen refuelling stations at his Coneygarth and Golden Fleet sites. Rob has been granted planning permission for both projects but unfortunately since then, progress has slowed. The slowdown is the result of Element2's reverse takeover of Pineapple Power however he is still hoping to make a start on building the hydrogen forecourts at Coneygarth and Golden Fleece next year.
Elsewhere, there have been major moves forward in support of hydrogen-fuelled transport.
Protium, the UK's largest green hydrogen energy company, and its partners have been successful in applying for more than £30m from the Department for Transport and Innovate UK to launch the Hydrogen Aggregated UK Logistics (HyHAUL) project to help kickstart the decarbonisation of the UK's HGV fleet. As part of the government's zero emissions HGV and infrastructure demonstrator programme, HyHAUL will roll out 30 hydrogen fuel cell HGVs to haulage operators primarily operating along the M4 corridor by 2026 and aims to deploy 300 vehicles by 2030.
Protium says the haulage sector currently accounts for 19% of domestic transport emissions across the UK and therefore viable alternatives to diesel-fuelled vehicles are vital to accelerate decarbonisation of the sector. HyHAUL targets the UK's heaviest, most polluting HGVs, delivering zero emissions HGVs weighing up to 44 tonnes.
HyHAUL will also deploy a network of refuelling stations to ensure viable truck operations across designated routes. Hydrogen will be sourced from multiple green hydrogen projects across South Wales including Protium's 'Pioneer 2' and other projects.
Consortium partners include ReFuels' CNG Fuels, Scania, NRG Riverside and Reynolds Logistics.
HyHAUL will provide vehicle OEMs and fleet operators with operational data on the performance of first-generation fuel cell electric trucks which it hopes will help to remove barriers to wider adoption across the industry. It also hopes it will stimulate future demand for green hydrogen, supporting the wider hydrogen economy across the country.
Chris Jackson, CEO of Protium, says: "HyHAUL showcases the incredible potential for green hydrogen within transportation, a sector that has one of the largest emissions in the UK. Our project provides a commercially viable solution to lower the emissions of long-distance haulage, a notoriously hard-to-abate area of the sector. It also marks a significant milestone in Protium's ambitious target to reduce the UK's CO2 emissions by one million tonnes yearly by 2030."
Philip Fjeld, CEO of ReFuels says that his company is already rolling out a green station network along UK's major trucking routes, initially offering low-carbon Bio-CNG, but also with adaptations for a 'green multi-fuel future' where hydrogen and electricity are integrated as these technologies become commercially available for heavy-duty trucks.
The HyHAUL funding is part of the government's £200m investment to help decarbonise freight vehicles, drive innovation and create new jobs.
It seems the government is at last taking hydrogen seriously as a fuel for road vehicles. It has just signed a new agreement with Germany that could help to accelerate the development of an international hydrogen industry – with the two countries at the cutting edge of its development.
A Joint Declaration of Intent will see the UK and Germany work together to underpin the international trade in hydrogen. The two governments will also accelerate the role of low-carbon hydrogen in their nations' energy mix.
The partnership follows significant investment by both countries in the development of hydrogen as an alternative fuel.
It will also further boost the move towards net zero emissions by 2050, and the energy security of both countries, moving away from fossil fuels and towards cleaner and more secure, diversified alternatives.
Meanwhile, BP has become the latest oil company to join H2Accelerate, which aims to support development and large-scale deployment of hydrogen-fuelled trucking.
Shell and Total Energies are both already members as are manufacturers Volvo and Daimler Group and hydrogen producers such as Linde.
In a statement BP said it was determined to advance the hydrogen industry, adding: "By working across a number of our businesses, we intend to provide customers the use of – and access to – hydrogen along main road networks."
Emma Delaney, BP's EVP, customers and product, explains: "BP is transitioning from an international oil company to an integrated energy company and having a key role in mobility. Hydrogen will be a key energy for heavy duty transport supporting carbon emissions reduction. To deliver this at both scale and pace will need companies across industries to work together, and this is exactly why we see collaborations like H2Accelerate as so valuable."
Fleet managers' reservations
New research from BP has found that although fleet managers think decarbonisation is a good thing the cost of vehicles and concerns over the availability of alternative fuels is a big worry.
The research was unveiled to mark the launch of Keep on Trucking, a new campaign to support HGV fleets with decarbonisation, which is part of BP's overall plans to help support the electrification of fleets.
The research revealed that over half (53%) of HGV fleet managers polled say that they've already started to decarbonise their fleet in some way.
Alongside pressure from the government, the biggest motivators for truck fleets to decarbonise include improving brand image (72%), reducing the impact of an HGV fleet on the environment (67%) and future-proofing their business (58%).
Adrian Brabazon, head of UK Fleet Solutions at BP, said: "It's encouraging to see that many HGV fleet managers are feeling positive about decarbonisation. At BP with our integrated approach and strong presence in traditional fuels, EV charging and bioenergy, we are planning to develop a network of dedicated hubs for HGVs that will offer a selection of fuelling options, as well as better facilities for drivers."
Brabazon said that earlier this year BP pulse announced plans for Europe's first public charging corridor to support electric trucks at key sites along Germany's busiest road freight routes: "This investment marks an important milestone on the road to decarbonisation for trucks."
He adds that BP has also made significant investments in alternative 'transition' fuels to support truck decarbonisation, including renewable diesel and bio-LNG. In 2021 BP acquired a 29% stake in Gasrec, which today refuels around 40% of the UK's gas-powered heavy-duty trucks.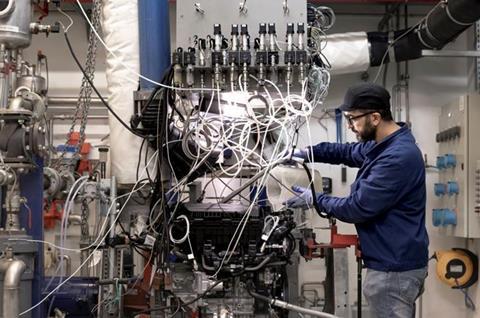 Future fuels
There is a lot of talk about eFuels and a lot of behind-the-scenes research and testing, but no actual fuel on sale. However, according to the eFuel Alliance if the market conditions and production rules are right, eFuels could start to be produced in 2025 and steadily ramped-up to allow the complete replacement of conventional fuels in 2050.
Low-carbon eFuel is a drop-in synthetic fuel made by reacting CO2, captured either directly from the atmosphere or from an industrial facility, with renewable hydrogen. Experts say the use of low-carbon eFuel has the potential to reduce carbon dioxide emissions from existing internal combustion vehicles by at least 70% on a lifecycle basis, compared to conventional fuels.
You might automatically think that cars will need to be specially adapted to take eFuels but vehicle manufacturer Stellantis (parent company of the likes of Fiat, Peugeot and Vauxhall) says millions of existing cars across Europe are ready to use eFuel without any powertrain modification.
The car giant has concluded that 24 engine families in European vehicles sold since 2014, representing 28 million vehicles on the road, are ready to use advanced drop-in eFuel without any powertrain modification.
The findings follow months of testing at its technical centres across Europe using surrogate eFuels provided by Aramco.
Ned Curic, Stellantis chief engineering and technology officer, says: "Our priority is providing zero-emission mobility for all with a focus on electrification, while our collaboration with Aramco is an important and complementary step in this journey for existing fleets on the road.
"We are exploring all solutions to reinforce our ambitious strategy of becoming a carbon net zero company by 2038. Drop-in eFuels can have a massive and almost immediate impact on reducing the CO2 emissions of the existing vehicle fleet, offering our customers an easy and economically efficient option to reduce their carbon footprint — one as simple as choosing a different fuel pump at the station, with no additional modification to their vehicles."
Amer Amer, Aramco transport chief technologist, says: "The results of the testing reinforce our view that synthetic fuel can be a drop-in solution in existing vehicles, and when produced via a low-carbon pathway it can play an important role in reducing carbon emissions in the transport sector and supporting an orderly energy transition."
Stellantis estimates that the use of low-carbon eFuels in up to 28 million of its European vehicles could reduce up to 400 million tons of CO2 in Europe between 2025 and 2050. Testing of the surrogate eFuels by Stellantis covers tailpipe emissions, startability, engine power, reliability endurance, oil dilution, fuel tank, fuel lines and filters, as well as fuel performance in extreme cold and hot temperatures.
Aramco is currently working on two demonstration plants to explore production of low-carbon synthetic fuels. In Saudi Arabia, Aramco and ENOWA (Neom Energy and Water Company) are working to demonstrate the production of synthetic gasoline for light-duty passenger vehicles. Meanwhile, in Spain, Aramco and Repsol are exploring the production of low-carbon synthetic diesel and jet fuel for automobiles and aircraft. In addition, Aramco is working with motorsport teams and competitions to test and demonstrate the potential of low-carbon fuel as a drop-in solution to reduce carbon emissions from ICE vehicles.
Meanwhile, HIF Global, described as the world's leading eFuels company, and petroleum refiner ENEOS have signed an agreement designed to encourage the sale of carbon neutral fuel in Japan.
The agreement focuses on the supply of eFuels from HIF's portfolio of developments in South America, the US and Australia to ENEOS, Japan's largest petroleum refiner.
HIF global CEO, Cesar Norton, says: "This agreement provides a clear demonstration of the appetite for eFuels in the world's largest and most sophisticated markets. We are already producing eFuels from our first plant at Haru Oni in Chile and are poised to start construction next year at our first world-scale facility at Matagorda in Texas. Our portfolio of projects in development continues to expand, giving us confidence that HIF facilities in South America, USA and Australia will all contribute to meeting this vast demand. We look forward to close co-operation with ENEOS to develop this new industry at the pace the world needs to support global efforts to decarbonize the transport sector."
Another car company that is investing in eFuels is Porsche, which put $75m into HIF Global. A recent report in Car magazine said that Porsche's carbon neutral fuel programme is progressing well. And speaking to Car magazine journalists at the 2023 Munich Motor Show, a senior figure at Porsche said the company hoped to put its eFuel on sale by the end of the decade but that it would probably go on sale in the US first.