Hydrogen is the most common element in the universe and has a simple atomic structure. It is now really gaining traction as a fuel to power our road vehicles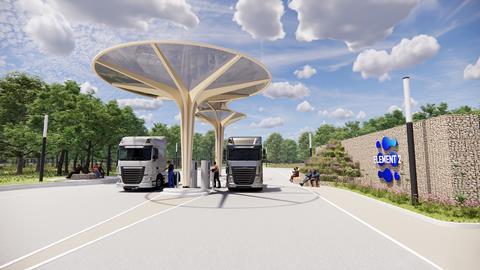 There's no doubting the fact that people in the UK have been buying into the concept of plug-in EVs.
SMMT (Society of Motor Manufacturers and Traders) data shows that last year was the most successful year ever for sales of new battery EVs and hybrids.
And sales continue to grow, but petrol driven vehicles – either solely petrol or so-called mild hybrids that have an electric motor and combustion engine – still lead the sales tables.
In the latest figures from the SMMT for August, pure petrol car sales were actually up by 7.5% but their growth was beaten by battery electric car sales which rose by more than 35%. However, hybrid sales were down.
The government says it has successfully kickstarted the 'EV revolution' by supporting the sale of nearly 500,000 vehicles via its grant scheme. The scheme ended in June so we will have to see how that affects future sales.
Yet despite all this growth, EVs still account for a small percentage of cars on the road today. And in the used car market, again while sales of used EVs creep up, SMMT data shows that in Q2 of 2022, used petrol and diesel vehicles dominated, accounting for nearly 96% of the market.
While electric power is very much in vogue (despite rising prices) hydrogen is definitely gaining ground with news coming all the time about developments.
One of the most interesting stories was entitled: 'Your car could soon run on thin air', and was about scientists in Australia who had developed a "direct air electrolyzer". This uses a hygroscopic electrolyte which is exposed to the atmosphere. Scientists said this electrolyte has the potential to extract moisture from the air without any external energy input - making it available for electrolysis and hydrogen production when coupled with a power supply.
One more down-to-earth story but one that's just exciting is that of Forecourt Trader of the Year winner and Top 50 Indie Exelby Service's partnership with hydrogen refuelling specialist Element 2, to develop two hydrogen refuelling stations in the North of England.
The Coneygarth A1(M), Yorkshire and Golden Fleece (M6), Cumbria sites are making a claim to becoming the first public service stations in the UK to provide hydrogen refuelling services for hydrogen-powered HGVs.
Exelby Services managing director Rob Exelby, says: "Following the ever-increasing global focus on tackling climate change, now is the time to be proactive and embrace low- and zero-carbon alternatives to diesel drive-trains. We're proud to be partnering with Element 2 who have shown a great understanding in how existing fuelling networks operate, and with their expertise we can implement hydrogen refuelling on our existing service areas to offer a one-stop-shop for all road users as we transition to net-zero.
"Plans and designs are progressing for our Coneygarth A1(M) and Golden Fleece M6 locations for four-lane hydrogen forecourts. They will predominantly be designed around HGV usage but H2 passenger cars will also be able to use them. We're aiming to have planning applications submitted in the next few months and we hope to start construction by spring next year."
Tim Harper, chief executive officer, Element 2, says the partnership was a pivotal moment in bringing hydrogen refuelling to the UK's roads. "Together with our forward-looking partner Exelby Services, we will provide a turnkey solution for refuelling hydrogen HGVs on key haulage routes in the North of England."
While the two permanent hydrogen refuelling stations are being developed, Element 2 will deploy its mobile hydrogen refueller to meet current client demand for low-carbon fuel at Exelby's Carlisle site.
Although hydrogen-powered cars are available, the fuel is mostly associated with larger vehicles, and there have been significant developments in that market too.
Zero-emission vehicle developer First Hydrogen has announced that its two MAN eTGE demonstrator vans have successfully completed vehicle control system tests as part of the initial commissioning trials.
The fuel cell systems, including the Fcgen-LCS hydrogen fuel cell stack supplied by Ballard Power Systems, have undergone extensive calibration and testing in Graz, Austria.
But in addition, Essex County Fire and Rescue Service inspected the vehicles at the Basildon facility of First Hydrogen's automotive build partner AVL.
This means the vehicles can now be tested in mixed road and driving conditions to confirm performance ahead of First Hydrogen's real-world operational trials with major fleet operators in early 2023.
A total of 12 fleet operators working across a range of industries including telecoms, utilities, infrastructure, delivery, grocery and healthcare have now signed up to participate.
They will be able to technically evaluate First Hydrogen's fuel cell vehicles in terms of payload, range and ease of refuelling and compare ease of use with battery electric alternatives.
Steve Gill, CEO at First Hydrogen Automotive, says: "We are pleased that Essex Fire and Rescue Service were reassured to see the control measures put in place so have supported the application for use on the county's roads.
"This also paves the way for future hydrogen fuel cell vehicles to be accepted for UK road testing.
"With real-world fleet trials due to start early next year, we are moving towards our goal of accelerating the adoption of zero-emission vehicles in the light commercial vehicle market."
Meanwhile, Toyota is currently supporting a new tourist transportation trial at one of the UK's most popular visitor destinations, providing zero-emission vehicles to link locations in and around the Peak District National Park.
Toyota battery electric and hydrogen fuel cell electric buses are being used in the programme which is exploring the practicality of alternatives to fossil fuels and gathering feedback on the customer experience.
The two-week trial is using Toyota models and technologies that are commercially available today: the vehicles – the e.City Gold and H2.City Gold – are manufactured by Toyota's European partner CaetanoBus and are already in service worldwide.
The structure of the trial aims to demonstrate how Toyota's multi-technology strategy for reaching the ultimate goal of zero carbon provides flexibility for different mobility requirements: rechargeable battery electric vehicles appropriate for shorter, commuter-style journeys and hydrogen fuel cell electric models for longer trips and heavier haulage.
Jon Hunt, Toyota (GB) alternative fuels manager, says: "There is not one simple solution for zero-carbon mobility. That's why this trial provides us with an exciting opportunity to trial both EV and hydrogen vehicles, assessing which is more suitable to different types of journeys across the park.
"We will also be looking at optimal ways to provide refuelling and great levels of customer service on board the vehicles."
Finally, the subject of hydrogen cars has even been discussed in Saga magazine with a story entitled 'Are hydrogen cars the future?'. They maybe, but like EVs they come with a hefty price tag. Here in the UK, the Toyota Mirai costs from £49,000, while the Hyundai Nexo is even more expensive at £69,000. And more hydrogen vehicles are on their way with BMW announcing that it has begun production of hydrogen fuel systems for its H2-powered iX5 SUV.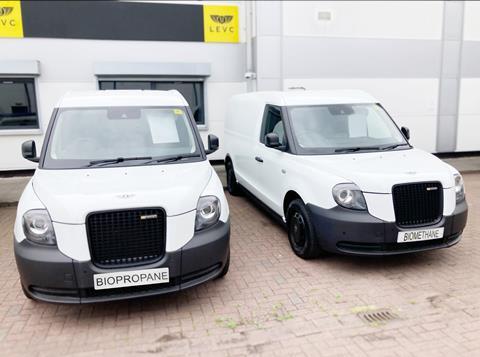 Alternative fuel vehicle news
London-based HP Taxis, Dutch firm Prins Alternative Fuel Systems and engine research company SBL-Automotive have developed a bi-fuel system for the range extender engine on their LEVC TX taxi and VN5 van allowing them to adopt alternative and renewable fuels in place of petrol.
The AA has unveiled a hydrogen fuel cell roadside breakdown vehicle – the Hyundai NEXO – to target breakdown jobs in ultra-low emission zones. It will carry most of the tools, equipment and spares that you would find on the rest of the organisation's yellow patrol fleet. The SUV has a fuel cell system combining oxygen and hydrogen to power the electric drive motor and charge the 1.56kWh high voltage battery.
MAN Energy Solutions has announced the launch of its MAN 49/60DF engine type at the SMM trade fair in Hamburg. The latest addition to its four-stroke engine portfolio, the dual-fuel engine is capable of running on LNG, diesel and HFO as well as a number of more sustainable fuels including biofuel blends and synthetic natural gas. The company says that it sets a benchmark in terms of fuel efficiency and minimises fuel costs.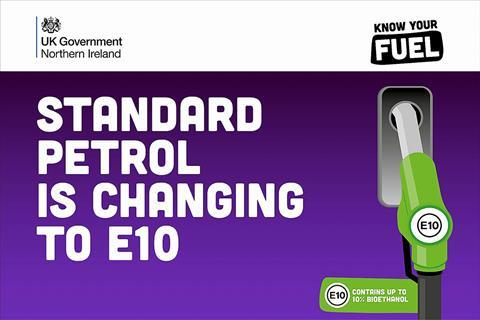 Northern Ireland gets ready for E10 switch
Drivers across Northern Ireland (NI) will soon be able to fill up with E10 petrol when the fuel is rolled out as the new standard grade from November 1.
The move will align NI with GB and could help cut carbon emissions across the UK – the equivalent to taking 350,000 cars off our roads every year.
To help raise awareness of the upcoming switch, the UK government has launched an information campaign for motorists in NI that sees new fuel pump labels as well as targeted digital, radio and social media advertising. The campaign will encourage those who are unsure about their vehicle's compatibility with E10 to check using an online checker.
Meanwhile, when the rest of the UK switched to E10, there was some talk of its introduction triggering a boost in premium fuel sales. It would appear this hasn't happened.
One of the major oil companies told Forecourt Trader they hadn't seen an uplift in sales and therefore didn't want to comment. And Forecourt Trader of the Year winner and Top 50 Indie Exelby Service's Rob Exelby said premium petrol sales are flat compared to last summer/pre-pandemic, while premium diesel is significantly down on previous years.
"I believe this is down to a combination of factors including the fact that customers are more price conscious with the cost-of-living crisis and are choosing standard fuels where in the past they would have chosen premium. Also, customers with higher incomes have switched to EV cars and they are the ones who, in the past, would have been our typical premium fuel customers. Plus, there is the continual steady decline of retail diesel sales due to new car sales market trends over the last five years."