A new report highlights the continuing growth of premium self-serve coffee via high-tech machines.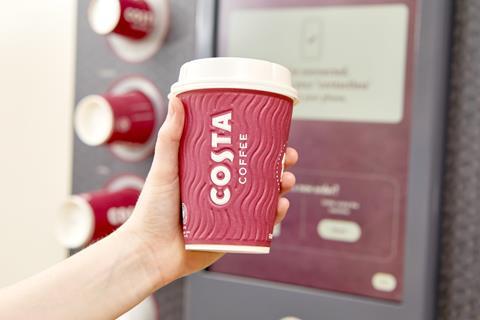 The UK premium self-serve coffee segment (think Costa Express et al) comprises 14,628 units, a number that has more than doubled in size since 2016, according to World Coffee Portal's Automated Coffee Report 2021. The study says advanced technology is delivering benefits across the board, specifically with regard to quality, consistency and efficiency which has significantly raised the bar for the sector.
For 53% of consumers, convenience is cited as the main reason for using these machines, while 51% make a purchase because it is the only option available.
Not surprisingly, the report found that forecourts are where most self-serve coffees are bought (62%), followed by convenience stores (39%) and supermarkets (35%).
Costa Express is by far the largest brand in the UK premium self-serve segment, with 10,390 machines which represent a 71% market share.
Interestingly, Sainsbury's comes second with 810 units, while Starbucks 'We Proudly Serve' automated concept has 750 units across the UK.
There is no doubt that consumers favour established and trusted brands. Indeed, in a survey of 1,000 consumers undertaken for Nestlé last autumn, 61% of respondents said they would be more interested in a well-recognised coffee brand. You can therefore see why Costa is such a success. Year after year it is voted the UK's favourite coffee shop and this year it celebrated its 50th birthday by giving away free coffees to customers via its app. The key to its success is consistency, with consumers who use one of its many Costa Express machines dotted around the UK, receiving the same quality of coffee that they'd get in a Costa Coffee shop.
The Costa brand commands high loyalty but there is no reason why retailers offering other coffee brands can't drum up loyalty. Paul Dugdale, Lavazza's channel manager for coffee to go, says there are many ways for retailers to promote their coffee offering, but link deals should be the first thing retailers consider as they ensure the coffee offering is relevant to all occasions throughout the day. "For example, at breakfast time, retailers can create a deal where customers can purchase a coffee with a breakfast item for a discounted price.
"Loyalty cards also incentivise repeat customers. For example, at Lavazza we offer loyalty cards specifically for coffee sales – helping to reward customer loyalty and drive repeat custom with a 'buy 7 get 1 free' mechanism.
"Brand activations should also be considered within the store environment to ensure your solution is represented through the customer journey.
"Brand activation means leveraging the strength of popular brands through relevant point of sale.
"This could include roadside banners, window vinyls, and shelf wobblers for offers and promotions.
Dugdale says that when running link deals, shelf wobblers are a great way to promote offers and communicate them to customers. He also recommends promoting your offers and promotions via social media channels to increase visibility and sales.
"Sample days are also a great way to communicate new products and offers to customers as they enable them to sample products which encourages subsequent purchase. For Lavazza, we would use a sample day to introduce new offers or products, such as a seasonal drinks or chilled coffee during the summer."
Chill out
The strength of the Costa brand is such that it now has quite a presence in soft drinks chillers too thanks to the growing popularity of chilled coffee. Amy Burgess, senior trade communications manager at Costa brand owner Coca-Cola Europacific Partners (CCEP), says: "The ready-to-drink (RTD) coffee sector has benefited from the growing number of people looking for a convenient
pick-me-up while working at home and is the fastest-growing segment in soft drinks (Kantar data), worth £165.6m and up 20% in value year-on-year (Nielsen).
"The versatility of RTD coffee is why we are confident of its continued strong performance – as consumers enjoy it on the go, at work and in the home. For home workers, it's a great alternative to popping out of the office to go to the coffee shop."
Nielsen data shows that Costa Coffee RTD doubled in size in 2020, growing ahead of the segment and adding almost £4m in sales, with more than half of its shoppers being new to RTD coffee.
Says Burgess: "This success can be put down to the strength of the Costa brand and the quality of what's in the can. The range uses the same coffee beans as the Costa coffee shops and features a relatively low milk content that lets the great coffee taste shine through. The Costa RTD is a more coffee-first proposition than some of the others in the segment. The core range for convenience is Latte, Caramel Latte and the newly launched Vanilla Latte and Flat White.
"The aluminium can format is also 100% recyclable, which is a growing area of focus in the RTD coffee market.
"This is communicated clearly on-pack to help increase appeal to the growing number of shoppers who are looking to make greener shopping choices."