How are forecourts re-caffeinating their coffee-to-go category?
1. Half of food-to-go drink occasions include coffee
2. Over 60% of consumers want coffee at under £2 a cup
3. Over half of coffee drinkers say they typically drink branded coffee while out
4. Morning goods and speciality breads are up 6.6% (Nielsen)
5. Blend is on trend
6. What's the deal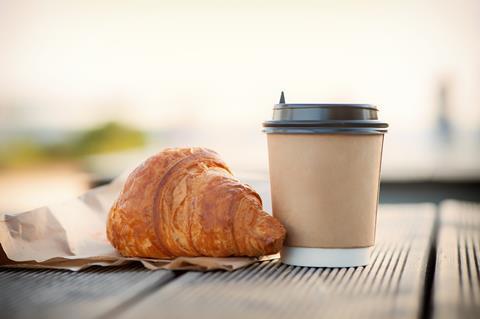 1. Half of food-to-go drink occasions include coffee
Coffee is still the nation's 'Central Perk' when it comes to drinks-to-go. In fact, according to Lumina Intelligence, it now has a hefty 50% share of food-to-go drinks' occasions, making it a key category component.
"Food to go – and therefore the hot drinks fixture – has become a key part of leisure activities over the past 18 months," says Paul Baker, founder of St Pierre Groupe.
"Journeys of all kinds are accompanied with a trip to the hot drinks fixture – not just the morning commute. Savvy retailers will take cues from foodservice and approach the fixture as more of a destination. Forecourt retailers need to think about how to engage with their audience and provide reasons for consumers to choose them. Offering a full range of brand-led products is one way to entice consumers."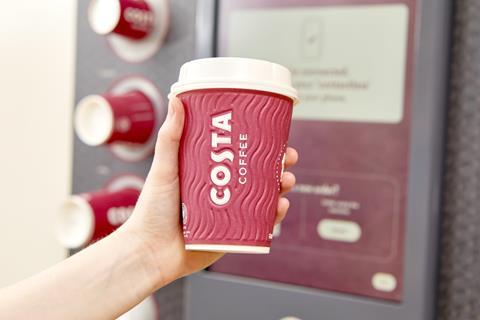 2. Over 60% of consumers want coffee at under £2 a cup
According to research from Nescafé, almost two-thirds (61%) of consumers would be more interested in buying a freshly ground coffee-to-go if it was a well-recognised brand under £2 a cup (compared to a coffee shop). It also reveals that quality, price and speed of service are the three most important purchase factors.
At Rusdene Services, which operates five forecourts, they offer the Starbucks, Costa and Tchibo coffee brands – and at some sites beat that £2 price point by miles. Operations manager Lucy Jordan says brand loyalty differs by location: "Our Meon Hut customers are loyal to the Starbucks brand but at our Tchibo sites, customers are loyal to the 99p regular coffees.
"People expect to pay more for the big brands, and many customers are happy to do so. However, the 99p bean-to-cup coffee is a big USP for us. It's a real volume sales driver," she says.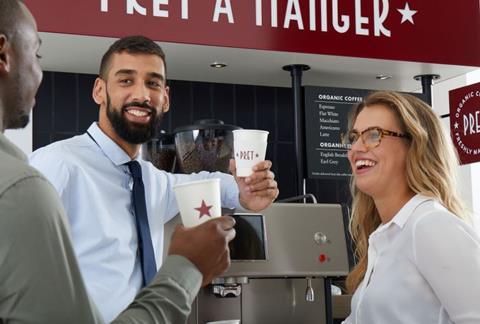 3. Over half of coffee drinkers say they typically drink branded coffee while out
Coffee-to-go is dominated by big brands, with 53% saying they typically drink branded coffee while out (What's new for coffee, OMNE, December 2020).
Goran Raven from Raven's Budgens of Abridge says coffee has become a massive fashion statement: "It's fashionable for people to wander around with a coffee cup in their hand, but it has to be the right brand. For our customers that brand is Costa."
Goran's site has three Costa Express machines and in the month of November 2021 alone, they dispensed nearly 5,000 cups.
"We were originally with Coffee Nation and, of course, they were taken over by Costa so we switched to them. We started with one Costa Express machine but because most of our coffee sales all take place at around the same time – before 11am – we were losing sales because queues put people off. We put in a second machine but there were still queues. Now we have a third machine, things are better and we don't lose sales because of queues."
With branding so important it comes as no great surprise that other High Street big hitters are following Costa's lead and getting in on the forecourt action. The latest is Pret, which is rolling out the big-city coffee experience to local stores.
"We believe in offering consumers much of the same products from our machines as they would get in store," says a spokesman.
"Pret Express machines will offer 100% organic fresh milk and the same organic teas and coffees available in Pret shops – a first in the self-serve coffee-to-go sector. Express coffee machines will allow us to bring the same quality Pret drinks to more people in out-of-home locations."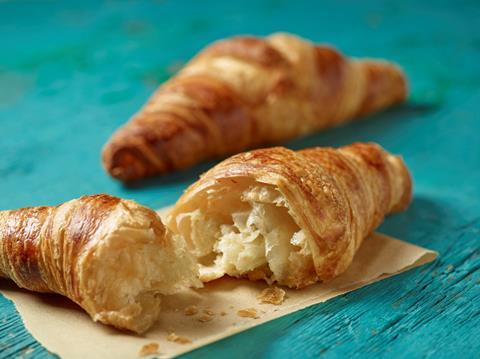 4. Morning goods and speciality breads are up 6.6% (Nielsen)
So where does bakery fit into the picture? Nothing goes together like coffee and a croissant, and figures show that sales are on the rise.
"Morning goods and speciality breads are up 6.6% year on year (Nielsen, Oct '21)," says Baker. "Croissants, as a sub-category, have performed particularly well with double-digit growth across 52, 12- and four-week periods – suggesting their popularity isn't driven by Covid alone.
"Pancakes, brioche and pains au chocolat are all performing well too – further reason for retailers to look at how to upgrade their hot beverages fixtures in-store."
Goran has a Swan bakery unit right next to his coffee machines and he says the two offers work hand in hand. "Coffee and a pastry is so popular for us that we have two members of staff dedicated to the bakery side of the business. We sell huge amounts of bakery lines including hundreds of pain au chocolat every day."
Hannah Morter, manager, customer insight and category management at Country Choice, confirms that croissants and pains au chocolat are the most popular on-the-go confectionery items. "To maximise the opportunity a day-part planogram should be operated to ensure that the products on the fixture are most appealing to the shopper at the time of day they are shopping."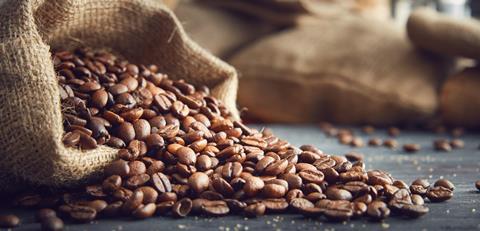 5. Blend is on trend
Costa makes a big deal of the fact that the coffee blend that's used for the Express machines is the same as the blend used in its stores and Goran can vouch for that: "I have been in a Costa Coffee shop when they have been topping up their machines and I saw that they were using exactly the same coffee as I do in my shop."
Costa says all its products have been expertly crafted by Gennaro Pelliccia, the company's Master of Coffee and use Rainforest Alliance Certified coffee beans.
Greggs is another company known for its coffee which is the Greggs House Blend. Developed especially for the bakery/food-to-go chain by UCC, it is described as a bespoke, ethically sourced, fully traceable blend made with the best Arabica and Robusta beans from Tanzania, Peru and Colombia.
McDonald's says its coffee is blended and roasted to a specific McDonald's specification (using 100% Rainforest Alliance Certified Arabica Beans) and is therefore only available in McDonald's restaurants.
Meanwhile, Lavazza's coffee-to-go system provides authentic Italian recipes made from 100% Arabica coffee, certified by the Rainforest Alliance.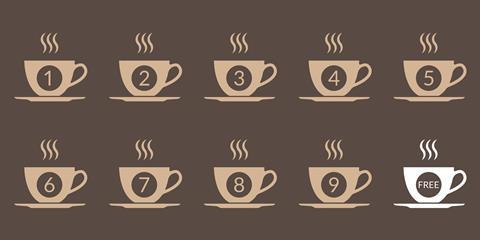 6. What's the deal?
Goran at Raven's Budgens says he doesn't need to do any deals on coffee because his volumes are so large, plus any deal would hit him in the pocket ie lower his margin.
But not every retailer has such high volumes, which is where things like loyalty cards and meal deals can work well.
Morter at Country Choice says: "Times are tough for many consumers so good value is key and, although food-to-go is a low ticket item whatever retailers can do to support a good value proposition will help maximise sales. To that end, meal deals and clear promotional pricing will encourage shoppers. Coffee sales have rocketed within all ages groups during the pandemic so having a clear and easy to fulfil deal that links it to food will help drive basket spend."
Lucy at Rusdene says that they have a coffee loyalty card at their sites with Tchibo machines where customers buy seven cups and get their eighth free.
Wilson Rea at Keystores Lanark charges £2.49 for a regular size drink and £2.79 for a large one. The store does a deal comprising a bacon roll or sausage roll with a coffee for £3.49 and in the afternoon, has started doing a coffee and a muffin for £2.99.
"Offering a breakfast deal is important as this is a key trading period for coffee so it's great to have these options," he says.