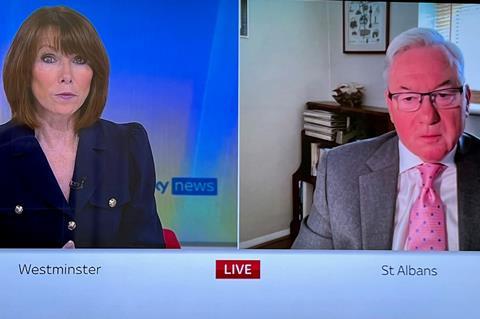 PRA executive director Gordon Balmer has slammed the radio silence from the Government, as he appeared on breakfast TV to defend the efforts by fuel retailers to keep prices as fair as possible at the pumps.
With fuel prices reaching record levels and already breaching the £2 on some motorway sites, he told Sky News: "We're trying everything we can, and we're calling on the Government to try and do something as well. We've written several times to Business Secretary Kwasi Kwarteng, the Prime Minister and Transport Secretary Grant Shapps, to call on them to meet with us to discuss ways on how we can alleviate fuel prices - perhaps a further cut in duty or VAT. So we've done what we can to try and engage with government."
He said he didn't think the 5ppl fuel duty cut announced in the Spring Statement was adequate: "I don't think the cut was deep enough - as the Chancellor Rishi Sunak was on his feet, we saw fuel prices rise to the point where they actually swallowed up the cut in duty so, we're trying to engage with government so that we can get some kind of alleviation for motorists."
He explained that high demand and short supply coupled with a weakening of the pound against the dollar had created a 'perfect storm' leading to the daily rises: "Unfortunately, we've had increased global demand as people in the US and Europe take their holidays; and also China is coming out of Covid lockdown. Opec is trying to alleviate supply but it's not quite enough at the moment."
He said everyone was concerned at the current record fuel prices, not least the independent fuel retailers: "Retailers know their customers - they come in and get their fuel on a regular basis, they don't want to charge the sort of prices they're having to charge at the moment; and they know the effects on household budgets.
"But unfortunately if you're buying fuel on a daily lagged basis - so yesterday's price applies to your delivery this morning - you're going to be losing money on it. So retailers have to cover costs, and unfortunately these increases do have to get passed on I'm afraid."
Balmer believes average fuel prices could reach the £2-a-litre mark: "Some analysts - Goldman Sachs - were talking about $140 a barrel in the summer. You can see prices going up again - but it is extremely volatile at the moment. I saw petrol going up almost a record amount last week - 8ppl - and it's come off again; so we're keeping very close to our colleagues in S&P Global to get up-to-date prices. But there's a lot of volatility at the moment."