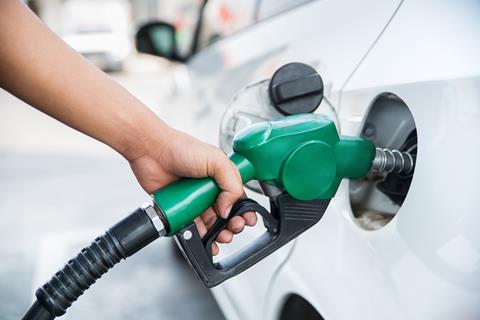 Surging fuel prices have now pushed the average cost of filling the 55-litre tank of a family car with petrol to more than £100, according to the RAC.
With average prices at 182.31ppl for unleaded and 188.05ppl for diesel a full tank of petrol will cost £100.27 while a complete diesel fill-up now costs £103.43.
However, the RAC has pointed out that the high prices have also produced a surge in the amount of fuel tax taken by the government, giving scope for the chancellor to reduce the burden on motorists.
RAC fuel spokesperson Simon Williams said: "While fuel prices have been setting new records on a daily basis, households up and down the country may never have expected to see the cost of filling an average-sized family car reach three figures.
"With RAC research showing as many as eight-in-10 depend on their cars many must be wondering if any further financial support from the government will be forthcoming.
"March's 5p fuel duty cut now looks paltry as wholesale petrol costs have already increased by five-times that amount since the Spring Statement (25p). A further duty cut or a temporary reduction in VAT would go a long way towards helping drivers, especially those on lower incomes who have no choice other than to drive.
"It's also important to remember that the government is still benefitting from the high fuel prices by taking around 30p in VAT from every litre sold. This compares to just 25p before Russia invaded Ukraine. On top of this the government is still collecting 53p fuel duty from every litre.
"Other price records were also unfortunately set on Wednesday as the average price of a litre of unleaded at a supermarket jumped 2.5p to 175.91p while diesel increased by nearly 2p to 184.13p. As we expected, other supermarkets raised their prices yesterday in line with increases made by Asda."