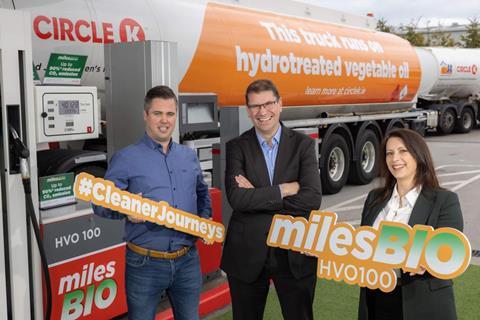 Circle K, which operates forecourts across the island of Ireland, has announced that its fleet of delivery vehicles in the republic will be fuelled exclusively by hydrotreated vegetable oil (HVO) renewable diesel by early 2023.
The company claims it is the first fuel retailer in Ireland to use HVO renewable diesel in its fleet of delivery vehicles, and that it will be the equivalent of removing more than 2,000 cars from the road once the rollout is complete.
Circle K's fuel station located at Dublin Port will be the first to fuel the fleet with HVO renewable diesel, with work under way at two further locations in Galway and Cork, to ensure Circle K's full fleet of vehicles will be powered by milesBIO HVO100 by early next year.
milesBIO HVO100 is a fossil-free biofuel made from waste, by-products and derived products not intended for human consumption from the food industry and can be used to power diesel vehicles.
According to Circle K it offers an up to 90% reduction in carbon emissions compared with regular diesel.
While milesBIO HVO100 is new to Circle K Ireland it has been available across Scandinavia at Circle K locations in Norway, Sweden and Denmark in recent years, which is helping to guide the introduction.
milesBIO HVO100 will also be available to commercial customers at Circle K's service station in Dublin Port, with the product to be rolled out at Circle K's locations in Cork and Galway in the coming months, to support commercial customers in decarbonising the journeys of their own respective fleets.
Circle K anticipates that organisations operating large fleet transport vehicles in sectors such as refuse, retail, and logistics among others will benefit from this new product.
The introduction of HVO diesel is just one of the ways Circle K is innovating in the fuel retail sector and supporting the Irish government in its ambition to reduce transport carbon emissions by 50% by 2030.
Alongside the use of milesBIO HVO100 to power its fuel delivery fleet, Circle K supports the proposed move from E5 to E10 in petrol products in the Irish market, which would increase the level of ethanol in petrol from 5% to 10%, thus significantly reducing carbon emissions.
Circle K is also supporting the commercial freight and haulage sectors with Compressed Natural Gas (CNG) refuelling stations at Dublin Port, Cashel, Clonshaugh and Ballysimon in Limerick, with City North to follow.
With more Irish motorists opting for EVs, Circle K has strategic partnerships with ESB, Ionity and Tesla, with EV charging facilities located at 37 service stations nationwide and continues to add to this network.
Jonathan Diver, fuels director with Circle K Ireland, commented: "Circle K is committed to implementing environmentally sustainable practices across our product range and operations as well as supporting our customers to reduce their level of carbon emissions.
"The launch of milesBIO HVO100 across our fleet of delivery vehicles will have a significant impact in reducing emissions across our Irish operations and once fully rolled out early next year, will equate to the emissions of over 2,000 cars being removed from the road.
"milesBIO HVO100 is a renewable diesel product that combines both excellent technical and environmental properties, that significantly reduces the net carbon emission when compared to regular diesel fuel, while at the same time offering the same performance as conventional diesel."
"We are delighted to be introducing alternative fuels of this nature to Circle K Ireland and hope our lead will encourage others to do the same."