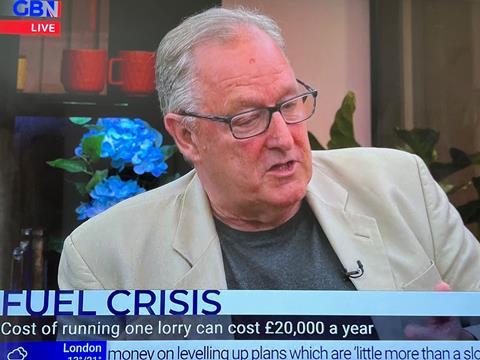 FairfuelUK founder Howard Cox appeared to stick up for independent fuel retailers on national TV today, while at the same time advocating a pump-pricing watchdog.
Being interviewed on GB News he confirmed that he was working with some back-bench MPs to bring in a body called 'Pumpwatch', but said the charges of profiteering should be directed further up the fuel supply chain than the fuel retailers.
"We want everyone to make a fair profit in the fuel supply chain, but please don't blame the retailers - the independent garages. They are unfortunately getting it in the neck from people asking why prices are so high - it's further up the fuel supply chain, with wholesalers and the oil companies."
He said his campaigning organisation, backed by the Road Haulage Association, had been fighting for a pump-pricing watchdog for about four or five years, and that he was told by former Exchequer Secretary Robert Jenrick to come up with a process of how 'Pumpwatch' would work.
"We all agreed in the initial stages it should be a voluntary process, with the garages actually volunteering to have a kite mark on the garage forecourt, which chiefly says, we adhere to fair pricing and transparent pricing when oil prices change, because that's not happening.
"We're seeing a situation where we're at $120 for a barrel of oil at the moment. When it was $120 about three/four months ago, pump prices were 40ppl cheaper, so what's happening? What is this calculation? Why is it so opaque? Why is it so secretive?"
He said the government could "sort this all out", particularly with fuel prices: "Pump prices are something like 15-20ppl higher than they should be, simply because there's opportunistic profiteering further up in the fuel supply chain."
He said his 1.7 million supporters were being "crippled" by these prices at the moment: "There are even people who can't get to medical appointments because they can't afford to fill their car… and the average trucker is spending something like 50-60% of their daily income on fuel.
"We've done a survey with our supporters and just the weekly shop has become a monthly shop - they can't afford to go out every week."