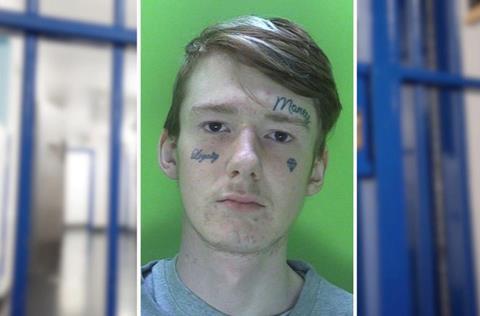 A knifeman who stabbed someone in the back during an unprovoked assault at a petrol station has been sentenced to three years and four months in prison for the stabbing, and an additional 146 days for carrying the knife.
William Tynch, aged 21, was hanging around outside the Rosemary Street petrol station in Mansfield on August 13, 2023, when someone he was with became involved in an argument.
Tynch stood back as his associate repeatedly harassed the man that Tynch would go on to stab. The victim pushed the other man, causing him to fall over. Tynch then decided to get involved.
While the 32-year-old victim's back was turned, Tynch walked up behind him and pulled a kitchen knife from his pocket. He stabbed the man once in the back – causing injuries that required hospital treatment but weren't life-altering.
Tynch ran away from the scene – tripping over in the middle of the forecourt as he did so.
Police quickly tracked him down to a nearby property in Rosemary Street, where he was identified by the distinctive tattoos on his face. The knife he used in the attack was also discovered by officers following a search around the entrance of the address.
Tynch was charged with causing grievous bodily harm with intent and possessing an offensive weapon in a public place.
Having pleaded guilty to the charges, he appeared at Nottingham Crown Court for sentencing on October 31.
Detective Constable Bethany Sumner of Nottinghamshire Police said: "Tynch's actions that night were cowardly in the extreme and left his victim in hospital with injuries that thankfully weren't far more serious.
"He must have known how much harm he could cause by deciding to use the weapon he was carrying, but he still went ahead and did it anyway.
"Carrying a knife – and certainly using a knife – are both incredibly serious offences that deserve to be met with severe punishment.
"That decision can lead to devastating consequences for everyone involved, not to mention their family and friends.
"There is absolutely no place for this type of behaviour in our society, so we're pleased to see Tynch has now been locked up for his actions."