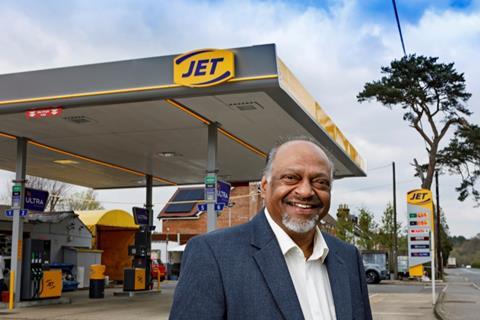 Bucks Horn Oak service station, which became a Jet site in January, has achieved a 15% hike in fuel sales following the rebrand.
The Farnham-based business, which was previously a Shell site, is owned and run by the Balaranjan family who also operate Jet sites in Ilford and Camberley.
Commenting on the move to Jet and the boost in sales, Ram Balaranjan (Bala) who runs the business with sons Haran and Myuran said: "Good communication and great service is fundamental to how we run our business and is central to our relationship with Jet. Add in a keenly priced product and strong branding and you have the complete package."
The newly branded Bucks Horn Oak service station, which has been serving the local community for more than 10 years, features the iconic blue and yellow Jet branding, new canopy lighting, a full range of fuels including the premium fuel brand Jet Ultra and a Spar retail offer.
Chris Murphy, Phillips 66's retail account manager for the South East, who has worked closely with Bala to ensure a smooth transition to Jet said: "I have worked with Bala for a number of years and we have a great relationship. We are delighted that the newly branded Bucks Horn Oak site has landed so well with customers and great to see that premium fuel sales remain strong with the switch to Jet Ultra premium fuel grades. It's been a confident relaunch, exceeding expectations and we look forward to ongoing success across all of the Jet sites."
The Jet sites owned and run by Bala and his family are: Mayfield Service Station, Ilford; Frimley Green Service Station, Camberley and Bucks Horn Oak Service Station in east Hampshire.