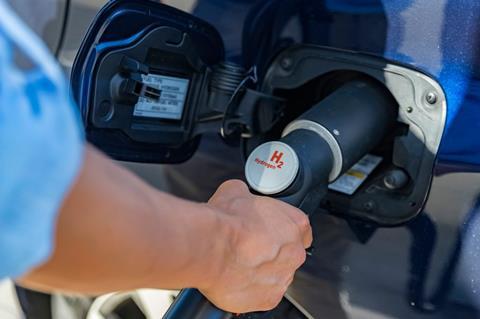 A deal aimed at accelerating the creation of the first UK-wide hydrogen network for the transport sector has been agreed by two companies in the sector.
The strategic agreement is between H2 Green, a hydrogen hub developer focused on building the UK's first hydrogen production, storage, wholesale and retail network, and Element 2, a UK-based venture-capital-backed hydrogen fuel retailer.
The strategic agreement will enable H2 Green and Element 2 to align production and distribution strategies for their land portfolios.
According to Element 2, by supplying it with green hydrogen, it will allow it to start nationwide deployment of 800 hydrogen refuelling pumps by 2027 and 2,000 by 2030.
Element 2 CEO Tim Harper said: "Element 2 will unlock the UK's hydrogen economy by providing essential infrastructure so hydrogen becomes a sustainable fuel. The ability to use hydrogen as a major fuel will reduce carbon emissions and help the UK reach its target of net zero emissions by 2050.
"Element 2 is already ahead of plan and thrilled to partner with H2 Green for up to 30 hydrogen refuelling stations utilising green hydrogen at H2 Green sites. This is an excellent foundation from which we will deploy 800 pumps by 2027, and 2,000 by 2030, to serve emerging energy needs.
"Our refuelling network will be ready for demand. We look forward to identifying and deploying our pilot site and developing a nationwide roll out program to support the government's hydrogen agenda and green job creation targets."
Luke Johnson, managing director of H2Green, commented: "At H2 Green, we believe that the development of hydrogen hubs will be a crucial component of our cities plans to decarbonise and meet their net zero targets. Collaboration and efficient deployment are however absolutely critical in making this a reality.
"As such, aligning our generation and deployment strategy with a company whose strategy neatly dovetails with our own, helps us deploy the UK's first hydrogen network faster and more efficiently. This will ultimately drive costs down for consumers and businesses, taking us one step closer to making the hydrogen revolution happen."