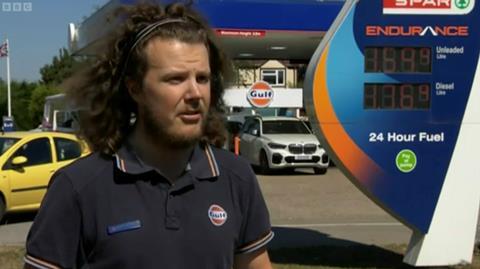 Oasis Services has featured on BBC Look North as an independent forecourt that has one of the best fuel prices in the region.
Reporter Phillip Norton told viewers that although fuel prices had come down in recent weeks, at a supermarket in Beverly they were charging £1.78pl for unleaded and £1.88 for diesel.
He said: "Everything's changed when it comes to filling up. In the past rural independents tended to be more expensive. But a few miles out of town…unleaded is 5ppl cheaper. Further still, we arrive at an independent filling station just a few miles from Beverly at Long Riston, where unleaded is almost 20ppl cheaper than the supermarket."
Norton asked Oasis owner Oliver Blake why his prices were so low. "The reason why we're so low is that we've always had a pence per litre margin that we have to maintain as a business. As long as we meet that we've always passed the rest on… and it's always meant that generally we're very competitive on price."
Oliver added that the smaller storage tanks for fuel at the site meant that they can react quicker to wholesale prices. He has around five deliveries a week so can quickly pass savings on.
Norton then spoke to some customers who were filling up who were delighted that Oliver was passing the lower prices on. "It's a good thing for the community," one said.
Norton commented on the fact that Oliver had a big queue for the pumps. Oliver replied: "I wish I had more pumps. It's absolutely crazy."