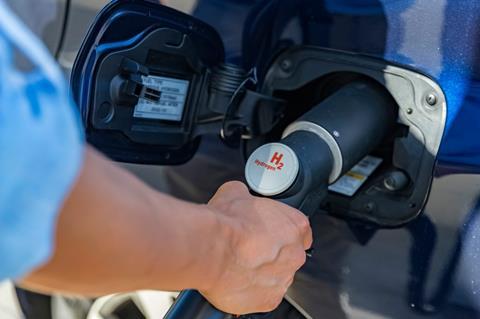 Element 2 has this month received planning approvals for two permanent hydrogen refuelling stations at Exelby Services' Coneygarth and Golden Fleece service stations along the A1(M) and M6 motorways.
The stations will have 1 to 2.5 tonnes of daily retail capacity, operate 24/7, and be able to deliver over 50 fills for HGVs each day. The stations will be publicly accessible and suitable for light commercial and passenger vehicles, as well as HGVs.
Tim Harper, CEO, Element 2, said: "Our plan to decarbonise our roads is picking up pace. In the past two years Element 2 has been a driving force in the UK's energy transition, building a network of hydrogen refuelling stations and providing a regular supply of fuel cell grade hydrogen to commercial fleet owners, operators and engine testing facilities."
Rob Exelby, managing director, Exelby Services, commented: "We are delighted our hydrogen refuelling stations with Element 2 have received planning permission. We are supporting a range of investments to support the UK's haulage industry with net-zero targets and plan to integrate hydrogen into our forecourt operations around the country.
"Hydrogen is the obvious choice for larger HGVs but we can see demand for hydrogen vans and lighter goods vehicles ramping up too. The addition of hydrogen refuelling solutions to our Coneygarth and Golden Fleece service stations comes at a critical time for our customers who are looking to replace their vehicles right now."
Harper concluded: "Transport accounts for one-fifth of global CO₂ emissions and one-fifth of those come from trucks carrying freight. We are building the essential infrastructure to meet the demand and achieve net-zero targets."