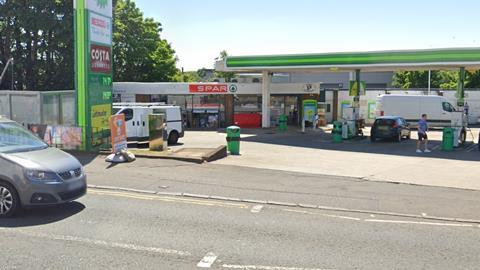 One of Top 50 Indie Penny Petroleum's sites is losing 10s of thousands of pounds in sales a month due to road closures that are preventing customers having easy access to the site.
A fire at the Ayr Station Hotel on September 25 led to the top of Ayr town being closed off. This means drivers have to make a 10-minute detour to access the Penny Petroleum site on Station Bridge Road. It seems most drivers are avoiding the gridlocked area and instead using other petrol stations such as the one on Ayr's Morrisons' site. In addition, foot trade has been hit because pavements have been closed.
Penny Petroleum manager Linda Mills told Forecourt Trader that the site had lost a huge amount of money in sales since the fire at the Ayr Station Hotel – and the losses are still mounting up.
South Ayrshire Council said safety works are progressing at the Station Hotel building but added that it was "complex work" and the safety of the public and contractors was a priority.
It said that Station Bridge Road remains closed to pedestrians and traffic, and the closure will be in place until safety works have been completed at the southern gable end of the building.
A council spokesperson said: "We appreciate that this is a concerning time for businesses in the town and our Economy and Regeneration Team is currently evaluating options to lessen the impact of the temporary restrictions.
"The contractor undertaking the works, is making good progress at the moment and if this continues we will be on target to reopen the bridge on or before 10 January 2024, however it's a complicated site which is throwing up issues on a daily basis."
Linda said Penny Petroleum head office was supporting the site but there was not a lot they could do. "It's not been easy," she said, adding that other local businesses were affected too.