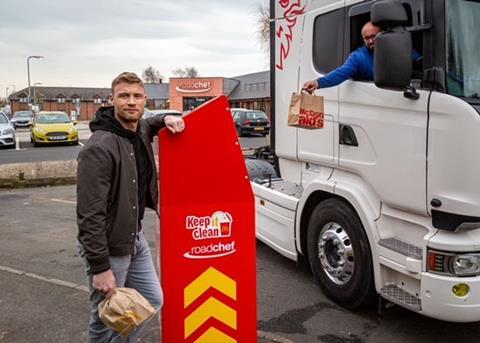 Motorway service area operator Roadchef is partnering with McDonald's UK to launch a range of 6ft tall litter bins designed to be within easy reach for truck drivers.
The new bins have been designed to combat roadside littering and are 'cab height' to make it easier for truck, lorry and HGV drivers to pop their litter in when stopping off at service stations.
In total, 52 new 2m tall bins will be rolled out across the country at 30 Roadchef service stations over the summer.
As part of a marketing campaign, the brands worked with 6ft 3in broadcaster and England cricketer Freddie Flintoff to demonstrate how tall the bins are at Roadchef's Chester service area.
The initiative kicked off as McDonald's UK prepared to conduct the UK's biggest ever litter pick this weekend as they call on everyone to help them "Keep it Clean".
The partnership comes off the back of new research that reveals almost half (44%) of people feel littering has been especially prevalent along roadsides during the last 12 months, such as on A-roads and motorways.
Head of marketing for Roadchef, Amanda Mason, said: "We're thrilled to have partnered with McDonald's UK to create this run of new bins to help combat roadside littering up and down the country.
"Making it easier for lorry drivers to dispose of their litter will help reduce the amount that ends up on the UK's motorways – which can be a danger to other road users as well as damaging to the environment.
"Together with McDonald's UK, we're on a mission to help people be more responsible with their litter and hopefully this initiative is another step towards that for us all."
Louise Page, McDonald's UK&I head of consumer communication and partnerships, added: "Littering is socially unacceptable and for 40 years our restaurant teams have walked miles across the UK and Ireland each week, collecting other people's discarded litter.
"But there is still work to be done and we are committed to finding innovative ways to make it easier than ever before to keep our communities clean.
"Our partnership with Roadchef is a perfect example of how changing the way drivers dispose of their litter by creating bins perfect for their vehicle height. We believe this truly will make a huge difference to motorway litter and road safety."
The 'cab height' bin rollout comes after Highways England estimated that it costs around £6m per year to collect litter from motorways, with more than 150,000 sacks of litter collected every year.