New pilot from Motability Operations and Shell explores how to implement more accessible charging for disabled EV drivers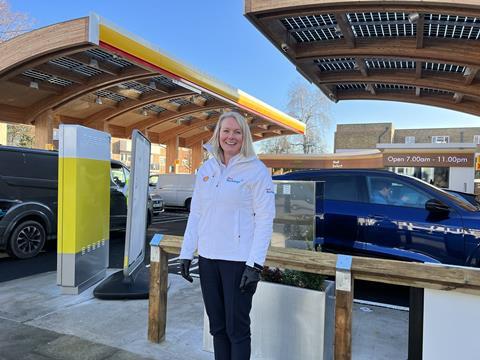 Motability Scheme customers with electric vehicles in the London area have been invited to trial the Shell Recharge charging network, including Shell Fulham - Shell's first EV Hub - in a 13-week pilot.
The aim is to enable the two organisations to better understand the barriers disabled drivers face when using public charging points.
Customers participating in the pilot will be issued with a Shell card that gives them access to the Shell Recharge roaming network of over 13,000 charge points across the UK. At Shell service stations offering Shell Recharge, drivers will be able to obtain support with charging via the fuelservice app. After the trial, Motability Scheme customers will be asked for their feedback on their charging experience.
According to the most recent research from Motability Operations, it is estimated that around 40% of Scheme customers do not have off-street parking so will be reliant on the public charging infrastructure when they make the switch to electric. This pilot comes after the accessible electric vehicle charging standard, recently released by BSI and co-sponsored by Motability, the Charity, and the UK Government's Office for Zero Emission Vehicles. The standard is a technical specification of exactly what accessible charging means and how it can be achieved. As the UK works towards the universal adoption of these standards, the trial with Shell will help to plug the gap on accessible public charging.
Motability Operations has a fleet of over 650,000 vehicles in the UK and currently less than 15,000 (2.3%) of these are EVs or hybrids. In September 2022 EVs had a market share of 16.9% of all new car registrations.
Decarbonisation Minister, Jesse Norman said: "It is great to see industry collaborating to increase the inclusivity of the UK charging network. It is important that chargepoints are easy to use for everyone, so that all drivers can make the switch to electric vehicles."
Ashley Sylvester, chief Innovation and transformation officer at Motability Operations, said: "As more of our Motability Scheme customers transition to EV, it's vital that we can provide worry-free access to charging for everyone. While we work towards the adoption of the BSI accessible vehicle charging standard, we're pleased to be working with companies like Shell to find innovative solutions for our customers who need to access the public charging network."
Bernadette Williamson, general manager of Mobility for Shell UK, said: "By 2030 Shell UK aims to have more than 100,000 public charge points across the country and we want to ensure all drivers can access these. Our partnership with Motability will enable us to gather feedback from disabled drivers on how accessible our sites are and identify steps we can take to address challenges they face."