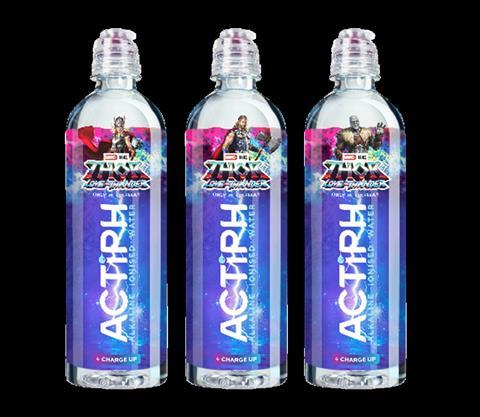 The UK's first alkaline ionised water brand, Actiph Water has teamed up with Marvel Studios to celebrate the release of the upcoming 'Thor: Love and Thunder' film, released in cinemas in the UK on July 7, 2022.
As part of the 'Charge up. Be Actiph.' campaign, Actiph is launching three limited-edition 600ml bottle designs featuring three of the film's main characters on pack; Thor, Mighty Thor (Jane Foster) and Korg. The limited-edition bottles are available online at actiphwater.com, RRP £23.99 for a case of 24x600ml. In order to help retailers capitalise on the film's hysteria, the collectable bottles are rolling out a month ahead of the movie's general release as excitement and hype builds among Marvel fans.
With each SKU dedicated to one of the film's characters, the company says shoppers will be keen to collect the trio of designs. To maximise sales and visibility in store retailers are able to create a powerful display using dedicated Actiph x Thor free-standing display units, which can be requested by contacting sales@actiphwater.com.
The collaboration is being supported by a mighty six-figure above-the-line campaign including advertising on the London Underground and London Buses plus on TV, social media, in store and more.
Barnaby Hughes, chief marketing officer, Actiph Water, says of the collaboration: "Marvel Studios' films are synonymous with action and adventure. At Actiph we're constantly striving to enable and encourage people to lead more active, adventurous lives and to charge up and achieve more. So, what better way to highlight these shared values than by celebrating the latest movie from Marvel Studios, featuring the charged-up God of Thunder himself?
"The campaign itself is a testament to the growth Actiph has experienced in the last three years and the interest that not only consumers, but major brands like Disney are increasingly taking. We're delighted to be charging up our marketing strategy with a movie-making powerhouse!"
To support the launch of the limited-edition bottles, Actiph Water will be running a consumer competition, where fans can win a selection of movie-themed prizes and healthy drinks from Actiph and sister brand, Acti-Vit (sugar-free sparkling, flavoured vitamin waters). The competition will be hosted on Actiph's website and Instagramuntil August 5. Headline prizes include 'Thor: Love and Thunder' action figures and Mjolnir and Stormbreaker replicas, all official Hasbro products.
Explaining the product, Hughes said: "A lot of the 'quick fix' food and drinks we consume today are acidic including energy drinks, coffee and colas. These solutions often contain sugar, caffeine, artificial ingredients and a high number of calories. Actiph provides a gentler, alkaline alternative with no calories, sugar, sweeteners or caffeine."