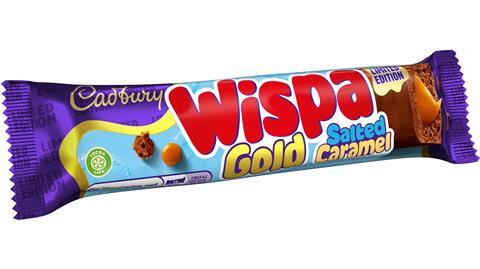 Cadbury has launched a new limited-edition flavour for its Wispa Gold range: Salted Caramel.
The new flavour is available to order in a single 45g bar with a RRP of 69p, and will be supported through in-store activity, online advertising and PR.
Kelly Souli, brand manager for Cadbury Singles at Mondelēz International, said: "Wispa Gold Salted Caramel is the latest way in which Wispa is delivering value to the singles category through innovation.
"On-trend and relevant new flavours are a key growth driver in chocolate, accounting for 28% of category growth and attracting incremental younger adult consumers. And that's at the heart of the Wispa proposition, keeping the brand fresh with limited editions that draw consumers back to the brand again and again.
"This latest limited-edition launch is particularly exciting. Salted caramel is a top five NPD flavour in chocolate, and it's also the highest performing flavour across all demographics in consumer testing in relation to Wispa, so we are very confident that this new bar will help retailers bring something relevant and exciting to confectionery shoppers this year."