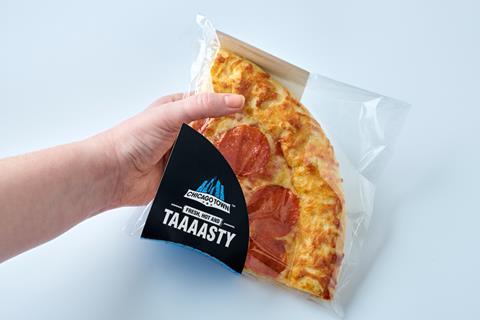 Chicago Town has unveiled its plans for Pizza to Go in 2021, which include a new vegan pizza and a range of new equipment and display solutions to help retailers capitalise on sales.
New Smokey Bac'n & Mushroom 10" takeaway stuffed crust pizza is the latest vegan NPD to join the pizza to go range. The pizza is topped with smoked gouda alternative, crispy bacon-style pieces, mushrooms and diced red onions.
The NPD joins the six-strong line-up of takeaway pizzas which comprises: Loaded Cheese, Loaded Pepperoni, Chicken & Bacon, Magnificent Meat Feast and the vegan Sticky BBQ Jackfruit.
Richard Cooper, senior brand manager at Dr Oetker, commented: "Our new vegan smokey bac'n & mushroom pizza is an exciting new addition to the self-serve pizza to go range. It will appeal to a growing number of vegan and vegetarian consumers who want the same indulgence and familiarity they get from regular non vegan pizza."
Also new for 2021 is a range of self-serve solutions which Chicago Town has developed in partnership with food-to-go equipment suppliers including Lincat, Nuttall, Counterline and Fri-jado.
New self-serve packaging and point of sale solutions are also being rolled out to help retailers drive awareness and deliver impact.
A new counter-top solution displays up to 16 pizza quarters at a convenient angle to maximise space and drive incremental sales, all the while keeping accurate, safe temperature control.
Self-serve packaging solutions have also been created including new whole pizza boxes which allow the pizza to stay fresh for up to three hours. The dedicated self-serve quarter slice holder has a perforated bag allowing the pizza to breathe while still retaining freshness and the cardboard sleeve protects the pizza.
Aaron Jackson, forecourt brand manager at Welcome Break, said: "Pizza to Go from Chicago Town has been a fantastic addition to our hot food to go offer. Our customers love the fact they can buy a hot slice of their favourite pizza on the go and our team love how simple it is to cook, display and replenish during peak times.
"The branded point of sale material and packaging has helped to make food to go a real destination in-store and now our customers can't miss it. We're enjoying some impressive sales month on month with excellent feedback and repeat purchasing from our customers."
Richard Cooper added: "Food-to-go continues to grow and is set to reach £24.4bn by 2024. The new solutions we have developed now make it easier than ever before for retailers to make food-to-sgo a real destination in store and sell even more hot pizza to go.
Retailers who have already devoted space to a hot food-to-go offer and successfully incorporated Chicago Town self-serve pizza to go into their offer have been experiencing impressive sales and a higher spend per trip per customer compared to chilled or snack food to go options. We're looking forward to working in partnership with more retailers to help them get a slice of the pizza to go action in 2021."