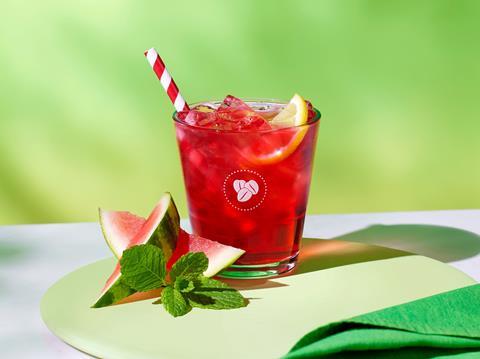 Costa Coffee has announced its new summer menu, which includes new fruity drinks and iced coffees, as well as pizzetta and pasta salads and lots of sweet treats.
One new drink is the Blueberry Bubble Frappé, which features a blueberry flavoured sauce, a sweet sugar-free vanilla syrup and blueberry flavoured juicy pearls. And making a comeback from last year is the Tropical Mango Bubble Frappé.
Also new is Mango Berry Bubble Tea comprising red berry and mango flavours with still lemonade, layered over blueberry bubbles and served over ice.
There is also a new Iced Whipped Latte range comprising Vanilla, Caramel and Choco flavours and a fruity Refreshers range with Watermelon & Mint, Apple & Rhubarb and Blood Orange & Yuzu flavours.
New to the food menu are a Tomato Mozzarella & Pesto Pasta Salad and a Chicken Roasted Pepper & Tomato Pasta Salad. Plus there are two new pizzettas: Caramelised Red Onion & Mature Cheddar and Grilled Pepper, Mozzarella & Pesto.
New sweet treats include the Eton Mess Blondie and Salted Caramel Popcorn Brownie.
Hot drinks are available on the go from Costa Express's 13,000-plus machines and those consumers looking to grab an iced coffee can now visit one of 1,445 Costa Express's Hot and Iced Drinks self-serve machines nationwide. The new Watermelon and Mint Refresher, for example, is available from these machines.