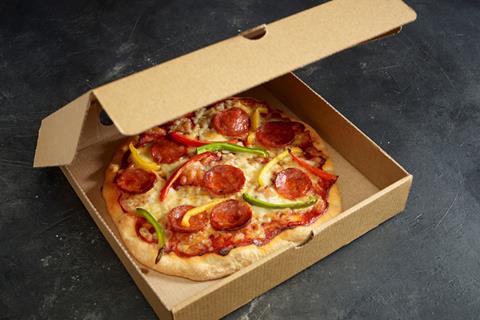 A new branded concept to enable convenience retailers to take advantage of the UK's £5bn pizza market has been launched by Country Choice.
Flatstone Pizza Co is intended to be simple for any retailer to introduce and to provide everything that they require to serve made-to-order pizzas.
"Demand for pizza continues to grow, driven by big brand advertising and the growing home delivery sector," said Country Choice's retail operations manager, Neil Lindsell.
"As a result, 85% of Brits now buy pizza so there has never been a better time for retailers to add it to their menu. The opportunity to include pizza as part of a takeaway or home delivery option is particularly beneficial to a retailer's food-to-go offer as it allows them to extend it into the evening and secure incremental sales of accompaniments such as salad and alcohol."
The Flatstone Pizza Co kit includes bases and a signature sauce which are vegan approved, as are two of the pre-grated cheeses. There are step-by-step recipe cards for eight varieties of pizza, and all recipes come with full RDI and allergy information for the retailer's menu.
Three cooking options are offered, including using a retailer's existing bake-off oven, and free on-site training comes as standard.