Cadbury Creme Eggs remain as popular as ever, indeed according to Nielsen stats, they are purchased four times more than your average Easter product. Much of their appeal lies in the fact that they are only available for a few months every year and then there's the promotional campaign that supports them.
Following its success in the 2022 Creme Egg season, Mondelēz is again running the 'How Do You Not Eat Yours?' campaign. Shoppers are warned to keep an eye out for an extra special half-milk chocolate, half-white chocolate Cadbury Creme Egg. If they can resist eating it, it could win them up to £10,000. And retailers can win too, with Amazon vouchers being given away if a winning egg is found in their store.
Lyndsey Homer, brand manager for Cadbury Creme Egg, says: "We were absolutely blown away by the response to our 'How Do You Not Eat Yours?' campaign last year. Our fans rose to the challenge of resisting the temptation of these delicious half-and-half Creme Eggs to win their prizes."
And for those consumers who can't wait to find a half-white chocolate egg, this year they can get their hands on a Cadbury White Creme Egg. Homer says sales of white chocolate are growing fast so she says this, in combination with the number one Easter brand (Nielsen data), means it will the new White Creme Egg should generate incremental sales.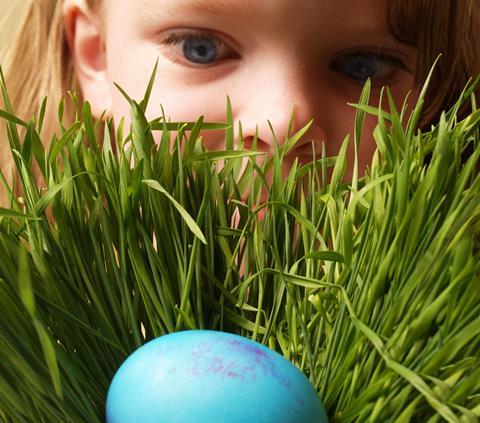 Planned purchases
However, according to Mars Wrigley, the shopper mindset shifts in the run up to Easter, from impulse purchases in the early part of the season – accounting for 45% of total Easter confectionery sales (Nielsen) – when Easter products are viewed as permissible treats, to planned purchases in the weeks immediately preceding Easter weekend for seasonal gifting, events and activities such as egg hunts.
Easter this year falls on Sunday April 9, and the last three weeks in the Easter countdown represent 55% of sales, according to Nielsen stats, and 70% of traditional egg and egg hunt sales, with 28% of seasonal sales in the last week.
Giving chocolate eggs is the largest and most traditional ritual of the Easter celebration, with 85% of UK adults buying Easter eggs in 2022 (Spark Mood of the Nation report). However, Easter egg hunts are fast gaining ground with more than one in five people now taking part in them. According to Nielsen, Mars Wrigley's Maltesers Easter Hunt Mix and Galaxy Easter Hunt Mix packs are in the top five hunt packs.
Kantar states that medium eggs have the highest unique penetration of all eggs (33%) and therefore play a significant role in driving early season sales and repeat purchases. Mars Wrigley says its Maltesers medium egg is a key sales driver throughout the Easter season.
Meanwhile, Galaxy Enchanted egg and M&M's Brownie egg are among Mars Wrigley's large egg portfolio for 2023. Large eggs grew by 25% in value sales last year with Mars Wrigley taking a 20% share of the category (Nielsen). The company says extra-large eggs play a critical role in driving trade-up in the final weeks of the season. It advises that luxury and giant eggs are purchased as gifts for 'someone special,' with giant eggs driving long-term category growth +17.3%. Mars Wrigley's Maltesers Crunchy and Galaxy Enchanted eggs both feature in the Top 10 giant egg list.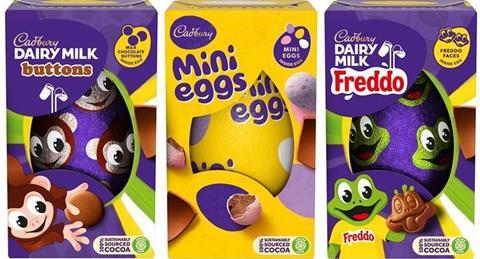 Number one
Mondelēz boasts being the number one supplier at Easter time (Nielsen data).For this Easter, the company has divided its shell eggs into three categories: Surprise & Delight, Traditional Gift and Special Gesture. The company hopes the changes will make it easier for shoppers to choose which eggs they want. These packs sit alongside the giant eggs and inclusion ranges. In addition, Mondelez is bringing excitement back to the small shell egg category by putting the accompanying treats back inside the chocolate eggs. This has been done across Cadbury Dairy Milk Buttons, White Buttons, Freddo Faces, Caramel Nibbles, Giant Buttons and Cadbury Mini Egg eggs.
Laura Gray, senior brand manager for Cadbury Easter at Mondelēz, says: "Having a clear and easy-to-shop portfolio is so important for retailers' ranges and their shoppers' experience in-store come Easter-time. Within our new Surprise & Delight, Traditional Gift and Special Gesture categories, there's the perfect egg waiting for them – for any occasion or recipient.
"Our new treat filled shell-eggs will certainly bring back that feeling of nostalgia and magic for the consumer, now that they can crack them open to reveal and enjoy all of the delicious chocolates stored inside."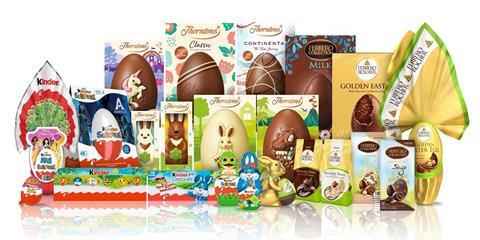 Sales success
Jason Sutherland, UK and Ireland sales director at Ferrero UK, says he's confident consumers will still want to spend on special occasions such as Easter and will look for trusted and well-known names when they do so.
He reports that last Easter was a good one for the confectionery firm: "We saw strong sales for our portfolio. Our Ferrero Rocher Easter collection, for example, grew by 10.8% year-on-year (Nielsen data) and Ferrero eggs are now worth £4.6m thanks to increased distribution."
He says the company has expanded its Easter range to provide more choice for shoppers. And has refreshed the packaging of existing products to help ensure better shelf standout.
Ferrero Rocher has two new boxed eggs: a Ferrero Rocher egg and a Ferrero Collection (milk) egg, which both include a large 175g egg and six Ferrero Rocher. On top of this, Ferrero is introducing a new 100g Bunny for Easter.
Thorntons has a new white chocolate Bunny in the 90g format to cater for more gifting occasions. Thorntons' existing 170g Bunny is already the third best-selling branded SKU in value sales within novelties, worth £1.48m, according to Nielsen data.
On the refresh side, a full pack redesign will roll out across Thorntons' kids eggs, with new animations and colourful backgrounds. Thorntons' eggs is the third fastest-growing medium egg gift range. Sutherland says this was supported by a 30% rise in penetration in 2022, with increased spend from pre-family and empty nesters, showcasing the products' wide brand reach and strength as a gift (Nielsen/Kantar data).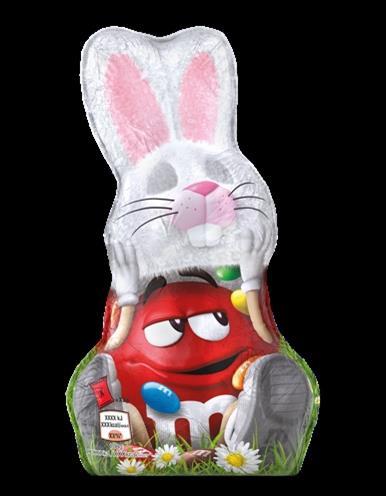 What's new?
• New M&M's Easter shapes are individually foil-wrapped hollow chocolate shapes filled with mini M&M's. Kantar data reveals that 'shapes' is a growing category, with 15% of households purchasing Easter shapes and 13% of shoppers repeat purchasing gift shapes during the Easter period. The new M&M's Easter shapes come in mixed cases of two designs for maximum shelf efficiency and are stackable for building in-aisle displays.
• Mondelez has two new eggs for 2023: Cadbury Dairy Milk Chunky egg, which has an extra thick shell and Cadbury Oreo White Egg, which has a white chocolate shell with crunchy biscuit pieces inside.
• With Cadbury Mini Eggs increasingly used by consumers in baking recipes, for 2023 the brand has a new 1kg bag (rrp £11.25).
• Cadbury Dairy Milk Orange Filled bags (rrp £1.49) are available across the market for the first time this year. They use real orange oil to create this popular flavour combination.
• Mars Wrigley is responding to consumer demand for the caramel flavour, which has grown +14.8% (Nielsen), with the new Galaxy Caramel Truffles Luxury egg. The Maltesers Truffles Luxury egg returns as a premium option with all truffles now having single-layer wrappers, to cut down on packaging.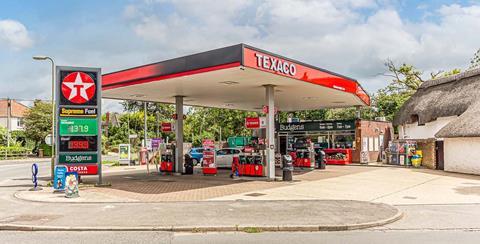 In my view
Daniel Panormo, director of Plaistow Broadway Filling Stations Ltd, which has five sites says spring occasions are important to his business. "We offer promotions and have themed displays in most sites for Valentine's Day, Mother's Day and for Easter."
He says Easter, in particular, is a busy time for the business as three of the sites are in the New Forest where Easter marks the start of the holiday season.
"Our sites generally act as community shops within their locations," Daniel says. "We differentiate ourselves from our competitors by the use of Facebook promotions and also from regular engagement with our customers; and it works."