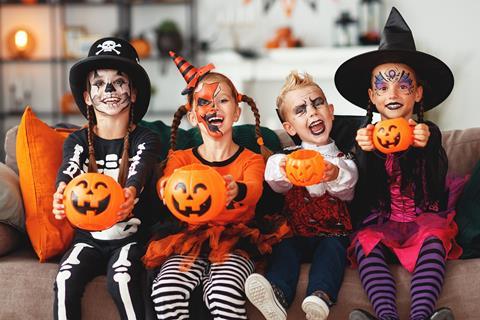 When Halloween falls on a Saturday, as it does this year (October 31), it usually means bigger parties and a bigger spend. However, with the 'rule of six' likely to still be in place (thanks to Covid-19), things will be different.
But that's not to say that people won't be celebrating the occasion – after all we all need something fun to look forward to. It just means a bit of common sense such as smaller parties (or bubbles) at home or in the garden, and a sensible approach to trick-or-treating. This could mean just visiting one or two neighbours you know (in a socially distanced way, of course) or playing a trick-or-treat game at home. Whatever people decide, you can bet that confectionery will take centre stage.
Nielsen stats reveal that Halloween themed confectionery sales reached £48m in 2019, with sugar confectionery being a key driver of growth. Maynards Bassetts Dead Chewy sweets return for this year while from Mars Wrigley there is the limited-edition Skittles Sweet Heat product, where the original fruit-flavoured sweets feature a spicy kick.
You need to think about pack formats too as, according to Perfetti Van Melle, wrapped confectionery already sells more than unwrapped sweets at Halloween and this is likely to be more so this year when hygiene is such an important issue.
On the chocolate side of things, Cadbury Goo Heads are back in Creepy Skeleton, Pumpkin, Frankenstein, Dracula and Werewolf variants.
Baking is big
Home baking is typically big at Halloween but may be even more popular this year as lockdown led to many more people rediscovering the joy of baking. But for those too busy to bake, there are plenty of ready-made solutions including Country Choice's convenient thaw-and-serve treats, which include Spooky Halloween cupcakes. Meanwhile, pladis has new McVitie's Funny Bones chocolate cake bars.
To get the Halloween message across, pladis is running a digital and social media campaign which invites shoppers to celebrate 'A Dead Good Night In'. Claire Hooper, head of marketing – cake, at pladis UK&I, explains: "We've enlisted the help of a group of parent celebrity influencers to encourage families to get creative together with some simple Halloween craft activities, which will drive the 'Halloween at Home' message and bring the McVitie's range front-of-mind among shoppers seeking Halloween treats."
Scare up some sales
Halloween is an occasion that generally creeps up on people. With so many things to think about at the moment, you can help your customers by having a small Halloween display in your shop. This will remind busy mums and dads that the occasion is on its way and they'll know that you have what they need for it in-store.
Finally, Halloween is always a brilliant excuse for a bit of in-store theatre, whether that's dressing up the shop or the staff. And with masks mandatory this year, everyone can easily join in.