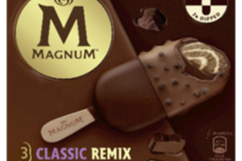 Magnum is bringing an exciting innovation to the category with 'remixed' versions of its best-selling classic, almond, and white chocolate flavours.
Launching in three complementing flavours, the collection combines a twice dipped duo experience of two flavours of ice cream and is available to stock now.
Magnum classic remix comes in a pack of three. It combines chocolate and vanilla ice creams dipped in milk chocolate and then half-dipped in milk chocolate with crunchy cocoa pieces.
Magnum almond remix (3 pack) and magnum almond mini (6 pack) features almond and vanilla ice creams encased in white chocolate with almond pieces, then half-dipped in milk chocolate.
Finally, Magnum white chocolate and berry remix also comes in a 3-pack, with berry and vanilla ice creams, coated in white chocolate and half-dipped in milk.
The ice cream brand has also brought this concept to the classic Magnum almond tub. The signature tub is still available, but the new 'sweet and salty almond remix' tub will sit alongside it, having salted caramel and honeycomb pieces as well as caramelised almond pieces in cracking milk chocolate contained in the almond ice cream.
All the remix packs are priced at £3.99, with the remix tub coming in at £4.00.