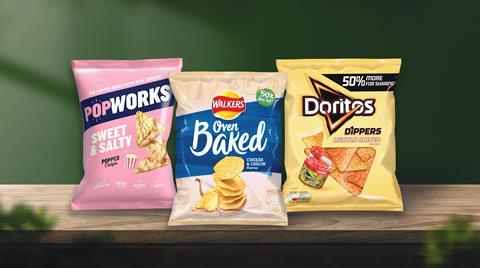 Walkers has announced plans to make healthier or lower calorie products account for 50% of its sales by 2025, following a complete redevelopment of its entire snacks portfolio.
The company will make an initial investment of £35m over the next three years to reformulate or launch new non-HFSS (high in fat, sugar and salt) products, aiming for 30% of its sales to come from non-HFSS snacks. Walkers is targeting an additional 20% of its sales to come from snacks sold in portions of 100 calories or fewer per packet.
Progress is already underway as the company recently launched Walkers 45% Less Salt, its first non-HFSS potato crisp range. This new product contains nearly half the salt compared with regular crisps, while maintaining the flavour that Walkers is known for, made possible by using new ingredients to replace sodium.
This builds on the company's long track record of launching new, healthier products. For the past 15 years, Walkers has been busy reformulating its products, reducing saturated fat by 70% and reducing salt by between 25% and 50% across the range. Already Walkers Baked, which contains 50% less fat than regular potato crisps, is a £64m brand (Nielsen).
A number of reformulated non-HFSS Walkers snacks products will start to hit shelves in the coming months, including the entire range of Walkers Baked, Doritos Dippers and Popworks. Walkers will also launch a new healthier non-HFSS crisp range in the future.
Experts based in Beaumont Park, Walkers' R&D centre in Leicester, will lead this innovation, developing techniques and processes to reduce saturated fat and salt content without impacting flavour and taste.
Walkers will also be investing in high profile advertising and marketing to encourage consumers towards healthier choices. Last year, to help people make informed snacking decisions, Walkers launched a campaign highlighting its range of snacks that contain 100 calories or fewer per pack, including Wotsits, Quavers, French Fries, Monster Munch, Squares, Snack-a-Jacks and Frazzles.