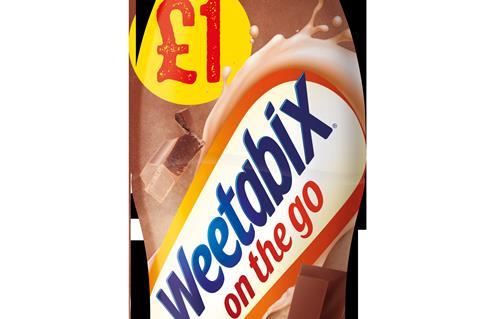 Breakfast drink, Weetabix On The Go, is bringing back its £1 price-marked packs (PMPs) across its 250ml core range. The Weetabix On The Go brand is now worth £2.1m within the impulse channel, accounting for 86% of breakfast drink sales (Nielsen).
Darryl Burgess, head of sales for Weetabix, said: "Breakfast drinks have shown they are resilient and have multiple consumption occasions, especially as the mornings are still busy for many of us. We've used the last 18 months to test and learn, such as with our successful £1 PMPs for the impulse channel, which we are reintroducing following strong sales. These offer great value to customers, with the PMP standing out on shelves offering an easy breakfast option at an affordable price."
Burgess added that with HFSS (high in fat, sugar and salt) legislation on the horizon, Weetabix On The Go remains ahead of the game in terms of sugar content and nutritionals, with the entire range HFSS-compliant, with each bottle containing no more sugar than a glass of milk.
The £1 PMPs are available across 250ml Strawberry, Chocolate, Vanilla, Banana and Caffé Latte flavours (Chocolate is the most popular). Weetabix's field sales teams are currently visiting over 1,000 convenience stores across the UK with the aim of increasing distribution of the range. They will be providing retailers with pos material and merchandising support for their drinks' chillers.