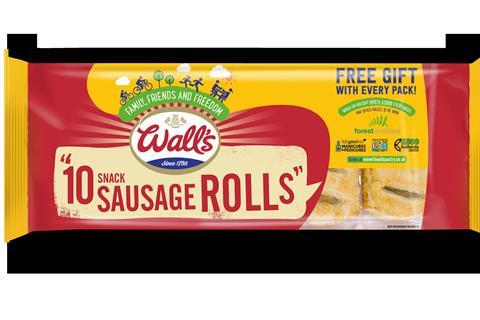 Sausage roll brand Wall's Pastry is giving consumers the chance to win a £1,000 UK holiday voucher every week, and various other high-value prizes as part of its new on-pack promotion.
The 'free gift with every pack' promotion will run until mid-December, across its Snack Sausage Rolls (available in packs of 4,10 and 12), Classic Pasty, Jumbo Sausage Roll, Vegan Jumbo Roll and a selection of its slices; Chicken and Mushroom, Chicken and Bacon, Chicken Tikka and Peppered Steak.
Consumers can win a prize with every purchase, including a £1,000 forest holiday voucher and a £500 Halfords gift voucher which will be given away every week throughout the promotion. Other prizes include PrezzyBox vouchers, as well as hundreds of free manicures or pedicures and free memberships to Fabyouless.
Mike Holton, brand manager at Wall's Pastry, said: "We are delighted to launch our latest on-pack promotion, it has been an unprecedented and difficult year for everyone, and we can't wait to provide consumers across the country with some well-deserved treats."