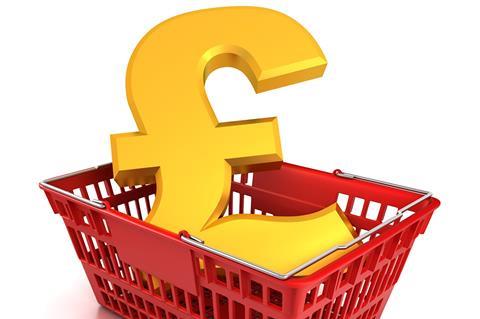 Prices at the pumps have gone through the roof but so too have prices at the supermarkets.
Kantar reported that grocery price inflation reached 8.3% in June, which was its highest level in 13 years. And what this means for shoppers is that the average annual grocery bill will rise by £380 this year. A case in point is butter brand Lurpak, which has been all over the news thanks to rocketing prices, and is now so expensive that some shops are putting security tags on it.
Fraser McKevitt, head of retail and consumer insight at Kantar, says consumers are taking steps to manage rising prices at the tills: "Shoppers have swapped branded items, which have declined by 1%, for own-label products. Sales of these lines, which are often cheaper, have risen by 2.9%, boosted by Aldi and Lidl's strong performances, both of whom have extensive own-label repertoires. We can also see consumers turning to value ranges, such as Asda Smart Price, Co-op Honest Value and Sainsbury's Imperfectly Tasty, to save money and together all value own-label lines grew by 12%."
Petrol and diesel aside, forecourts have never been famous for offering the best value and, in the past, have sometimes been infamous for 'insult' pricing. However, with so many becoming convenience shopping destinations in their own right, that has changed with many stores offering value deals and price-marked packs.
Guy White, who owns Laurels Service Station in Horncastle, Lincolnshire says his customers are very aware of pricing: "It is in the media constantly and is certainly a big talking point."
And he says he has seen his customers shopping habits are already changing. "We are seeing more of a 'little and often' approach and I also see people pick something up and then put it down. We are watching this closely and checking prices on these specific items.
"We keep an eye on pricing all round and we discuss it with staff – we all go out shopping so we need to know what we can get away with. I never want to compete with the supermarkets; however, I want to offer value for money."
Guy says they started to switch to value packs a few months ago, especially on biscuits, confectionery, cakes and snacks, so his store is now stocking multipacks of Penguins and crisps, for example.
"We started stocking Haribo price-marked packs and we have also added the smaller Treat Sizes to our confectionery ranges on Maltesers, Minstrels, Revels etc. Plus, we are pricing some of our own items with professional looking price stickers to give a sense of value.
Guy says they are losing some margin on price-marked packs, but he stocks them because he wants the sale. "We have built our business over the years by trying to gain repeat footfall, so a smaller margin more often is fine."
A point of difference is always good and Guy says they make a "big song and dance" about their eggs, which are local, fresh and free range. "We do the same with honey as that is local. Local bakery products sell very well too and people will pay a slight premium for good quality, local lines. They are a brilliant footfall driver and very good for repeat business.
"People always complain about pricing, but never on price-marked parks or on local products."
Guy takes advantage of all the deals available from wholesalers such as Hancocks and Blakemore but says that on some items he just can't compete.
"We can get away with charging a little bit more but some sites really take advantage and I honestly feel it does not do the fascia or brand you trade with any good. I want to make a profit, but I am not going to exploit the customer, however I do understand locations and overheads vary."
With holiday season upon us, Guy says that he believes even holidaymakers are becoming more price aware. "We get customers come in who are travelling to Skegness or to hire a cottage for a week in the Lincolnshire Wolds, and we've seen they are much more prepared, taking much more food and drink with them – you see it piled in the back of their cars. Plus, they are extremely price conscious on top-up shopping. The day trippers seem to be less price savvy and will treat family so they're always good for business."