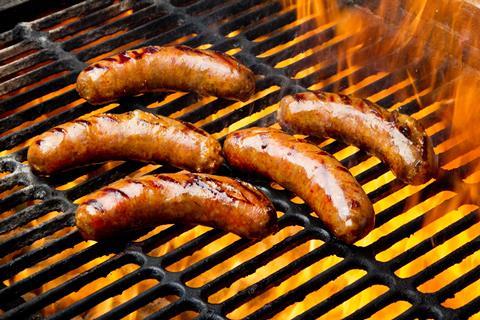 Who can forget summer 2022? On July 19, a new UK and England record was set when thermometers hit 40.3 degrees in Lincolnshire. Not only was this a 1.6 degree increase on the previously recorded hottest temperate, it was also the first time 40 degrees was recorded in the UK.
Train services were disrupted with lines buckling under the heat, flights were suspended and there was a spike in 999 calls. Amid this chaos, some retailers reported record sales. On July 15 last year Asda reported that charcoal sales were up 400% that week, barbecue and grill sales were up 195% compared to the previous weekend plus the supermarket sold 4.5 million sausages and 1.4 million burgers. Other sales winners for the store were ready meals (it was too hot to cook), ice cream, ice cubes, sun cream, folding chairs and sun loungers, paddling pools and fans.
Whether we get a repeat of last year's sizzling summer is anyone's guess but us Brits tend to be used to our ever-changing weather and are therefore quite capable of having a picnic or a barbecue whatever the weather.
While you might not stock everything listed by Asda that sold well last summer, you will definitely sell some of it. Barbecue staples like sausages and burgers can be easily bought in – either chilled or frozen but some forecourt stores are lucky enough to have their own in-store butchers. These include 10 Spar stores in the North West which each have a Graham Eyes butchery concession. Graham founded his business in 1982, opening his first shop on Rufford Road in Southport, aged just 21. He sold the business to Spar wholesaler James Hall in 2018 but continues to work for the company as a consultant, overseeing the butchery business. He says it's a good fit for both businesses.
"Customers visit our butchery counters then pick up other items on the way to the till in the Spar store," he explains.
For the summer months, the counter displays change with more of a focus on burgers, sausages and kebabs – typical barbecue fare – as well as mixed barbecue packs of meat.
"When the weather is good or it's a premium weekend such as a Bank Holiday or Father's Day, sales can be phenomenal," he says.
Another good sales driver can be big sporting events. While there is no World Cup or Euros this year, there are other events to get sports fans excited.
There's also the Women's FA Cup Final on May 14 followed by the men's FA Cup Final on June 3. During June there is plenty of cricket to watch and on June 26 Wimbledon gets underway. There's the British Grand Prix on July 9 and the Rugby World Cup in France from September 8-October 28.
Women in sport

Women in sport are being celebrated via Cadbury's World Class Wins promotion which is part of the Cadbury FC platform and is running across a range of products including Cadbury tablets and multipacks, Cadbury Biscuits and Maynard's Bassett's bags.
The promotion's top prize is to meet one of the World Class Wins ambassadors (Leah Williamson, Katie McCabe, Kadeisha Buchanan and Pernille Harder) before jetting off on a family holiday worth £8,000. As well as this, the lucky winners will also receive tickets to get to see their chosen player in action.
Shoppers simply purchase a participating pack, enter their contact details, barcode and batch number online at worldclass.cadburyfc.com and select the player they'd like to meet. They will find out instantly if they've won one of the runners-up prizes, which include match tickets, signed shirts and Cadbury FC vouchers. For the top prize, the winners will be selected from a prize draw once the promotion ends.
Another summer promotion which looks set to be a big hit with consumers comes courtesy of Capri-Sun, which is again partnering with Merlin Entertainments for an on-pack promotion – this time, for the World of Jumanji at Chessington World of Adventures Resort.
The offer will give a free adult or child entry to Chessington World of Adventures Resort with a full 'On The Day' priced adult ticket. Chessington World of Adventures Resort is home to a theme park, zoo, aquarium and more – and the world's first World of Jumanji, which is new for 2023.
From now until the end of June, unique QR codes on five million promotional packs of Capri-Sun can be used to secure a voucher for buy-one-get-one-free entry – valid until June 30, 2024. The on-pack activity will be supported by out-of-home and social media advertising and in-store activation.
Last year's promotion with Merlin Entertainments was a huge success, delivering a 30% increase in sales and increased rate of sale across the 12-week promotional period (Nielsen data).
A brand with spirit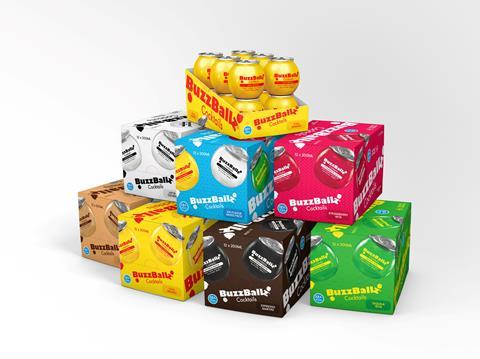 Finally, another big seller in last year's heatwave, for Asda, was ready-to-drink spirits which were up 72% compared to an average week. One brand to consider in this category is BuzzBallz Cocktails, which are bar-strength, made with premium spirits, real fruit juice and natural flavours. The company's 2023 consumer strategy is to target 25 to 40 year olds, living in urban areas, who enjoy socialising with friends while on the go, in the garden or park, and on their way to parties, events and festivals.   
To help retailers capture these sales, the BuzzBallz Cocktails are now available in 12-packs with convenient shelf-ready packaging.
Featuring a tear-off section for ease of in-store presentation, the shelf-ready pack is ideal for out-of-fridge displays, and with six BuzzBallz per layer the small case footprint also slots directly onto shelves in fridges and chillers.
There are six flavours in the range, (Choc Tease, Tequila 'Rita, Strawberry 'Rita, Lotta Colada, Chili Mango and Espresso Martini) with each available in single boxes of 12 or in a mixed multipack containing two of each flavour.
Tim Dunlop, brand director at UK distributor Hammonds of Knutsford, says: "We wanted to make it as easy as possible for our customers in the forecourt and convenience channels to display our products and make the range eye-catching on shelf or in the chillers. The packs appeal to grab-and-go shoppers and the impulse opportunity, as well as those stocking up for parties and gatherings."
Bright, branded pos including free-standing display units, wall-mounted fixtures, counter and chiller racks, eye-catching signage and shelf talkers are all available.
All 200ml balls are 13.5% ABV with an rrp of £3.99 each.