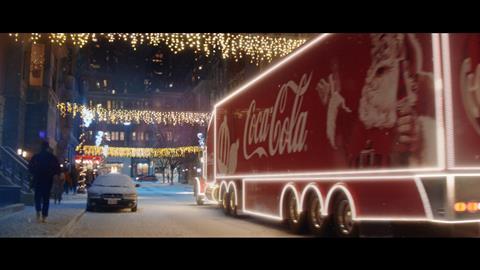 This Friday (November 17) sees the launch of the Coca-Cola Christmas campaign and – love it or loathe it – nothing in the soft drinks' world says 'Christmas' more than Coca-Cola and its red Santa livery.
Called The World Needs More Santas, this year's Coke ad celebrates people's 'inner Santa' with people dressed as Santa being kind and generous to others.
While Coca-Cola has its Santa, Irn-Bru is being advertised in Scotland with the Irn-Bru Snowman. The ad will be on air from December 1 and Irn-Bru brand owner AG Barr will also be launching Snowman-themed festive packs and multipacks across all three of the drink's variants - regular, sugar Free and XTRA.
In addition to its advertising, Coca-Cola has new festive packs and an on-pack promotion which gives consumers the chance to win a trip to Lapland.
Between now and December 20, shoppers can enter a prize draw via the Coca-Cola App by scanning QR codes on festive-themed cans and bottles of Coca-Cola Original Taste, Coca-Cola Zero Sugar and the Coca-Cola Zero Sugar Cherry. Five lucky winners will win a trip for two to Lapland.
Entrants will also be in with the chance of winning Christmas cooking masterclasses, Christmas table decorations and food delivery vouchers, as well as Coca-Cola themed collectables.
Forecourt retailers can also access festive Coca-Cola branded pos material from My.CCEP.com
Christmas remains a massive opportunity for soft drinks with sales increasing thanks to family parties and get-togethers. And, while shoppers may switch to cheaper, own label products during the rest of the year, many are keen to use Christmas as an excuse to trade back up into brands to treat themselves and their guests.
Ben Parker, GB retail commercial director at Britvic, says: "Last year we saw consumers increasingly choose branded products for their soft drinks, rather than own-label – which is growing at a rate that's 3.1% below branded soft drinks (Nielsen data).
Parker says creating seasonal displays, featuring best-sellers and well-loved favourites is a great way to get customers in the spirit and encourage additional basket spend. "This is also a way to maximise top-up sales at this time of year, with people relying on their local convenience store for additional items across the festive period."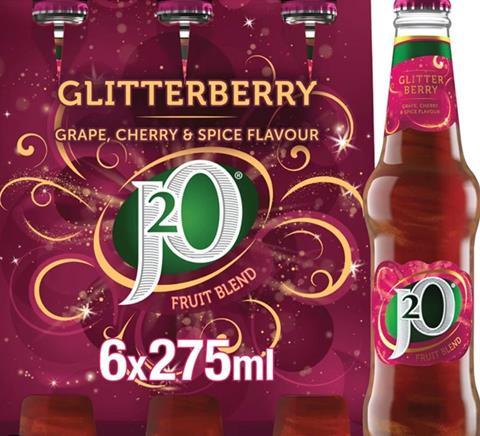 Festive favourites
Parker advises retailers to focus on the availability of key categories such as cola, lemonade, mixers and adult socialising drinks. "Place festive flavoured soft drinks, including brands such as J2O Glitterberry (a seasonal blend of grape, cherry and winter spices with edible gold glitter) and Fruit Shoot Merrylicious (a limited-edition Apple & Berry flavour) in the centre of the fixture to drive inspiration for social occasions."
He adds that it is key that retailers think outside the box and remember that the end of the calendar year isn't just about Christmas. "It's important to consider other key events taking place. Occasions like New Year's Eve and Hanukkah both fall in December, so consider offering specific promotions and pos to take advantage of the additional footfall. In terms of the best format options, we suggest focusing on singles multipacks in the run up to Christmas week and then shift towards multi-serve to support top-up shops."
And while consumers may be trading up at Christmas they will still be looking for value for money: "Promotions are a great way to encourage impulse purchases, so ensure you are communicating this to the shopper to help drive both awareness and footfall," says Parker, adding: "Where possible, place soft drinks alongside other categories in store, such as party snacks and cocktails or alcohol, to convert shoppers to purchase and increase basket spend. Some 27% of soft drinks are purchased to take home on impulse in the symbol group and independent channel (IRI), so it is essential that these customers are encouraged into stores."
When it comes to specifics, Parker says unique serves and cocktails are popular at this time of year to add something a little special to the celebrations.
"Consumers will also be looking to recreate their favourite serves at home, at a fraction of the cost. It can be beneficial for retailers to stock mixer products such as Britvic and London Essence to tap into the increase of people creating their own cocktails at home. Britvic Mixers is launching its Indian Tonic Water in a multipack (six x 330ml cans available in both classic and zero-sugar variants) format for the first time in retail to help capitalise on the growth of at-home occasions."
Meanwhile, The London Essence Co will be high profile pre-Christmas thanks to a new two-month campaign entitled London Distilled.
The out-of-home campaign will be live in key cities such as London, Manchester, Edinburgh, Dublin and Belfast across large format billboards. There will also be activity via media partnerships with The Times and SheerLuxe and across Instagram and Facebook.
Meanwhile, backing for Schweppes includes the return of the brand's 'Born Social' campaign, in the run up to Christmas – alongside the launch of winter-themed limited edition bottles and mini cans.
Schweppes' Christmas campaign, which features the tag line "Being festive together beats being apart' is the second marketing campaign under its new strategy to encourage young adults to socialise more.
The campaign runs across cinema, video-on-demand, out-of-home advertising, social media and through digital partnerships and will be centred around friends and family either going out or staying in – but enjoying festivities together.
Rob Yeomans, VP for commercial development at CCEP GB, says: "More people in GB are planning to host get-togethers in the home this Christmas as they cut back on going out, making it a key period for retailers to drive sales with exciting activations and well-known brands like Schweppes, the number one mixer brand in convenience (Nielsen).
"We expect there to be huge appetite for nights in socialising over the coming weeks, so it's important for retailers to stay stocked up on our one litre or multipack can formats which are ideal for those at-home or party occasions with friends and family".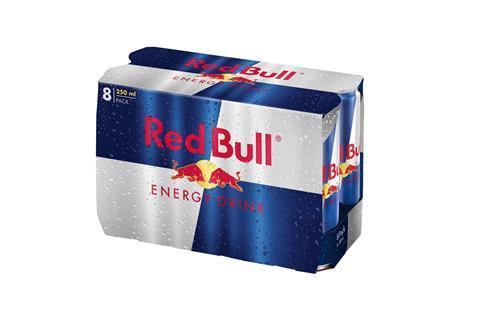 Driving volume
Red Bull is the functional energy brand of choice at Christmas, accounting for 45% of category value up 2pts versus the full year, according to Kantar data. Larger sizes and multipacks are the winning formats at Christmas, with Red Bull's 473ml gaining 1.2pts in value share of the brand's sales, and multipacks +4.8pts in December versus the rest of the year (Nielsen).
A spokesperson for Red Bull says: "As the signpost to the energy category Red Bull 250ml is the original and sells more packs than any other single serve soft drink, while driving the highest demand in the Red Bull portfolio (Nielsen).
"Having said that, every shopper need is different, and we put the continued success of the brand down to offering shoppers choice. Whether that be providing the original taste of Red Bull Energy in a range of sizes (250ml, 355ml and 473ml), with or without sugar, or broadening the brand's appeal with innovation around flavours.
"Research shows that two in three Red Bull shoppers actually go into a store knowing which can size they want to buy (Kantar), so it is crucial that their favourite soft drink is available in a range of formats to help satisfy their immediate requirement."
At this time of year, multipacks become essential to stock to make the most of increased stock-up missions and larger occasions. Kantar data reveals that 1.2m shoppers bought a Red Bull multipack in the year to April 2023 (up 9% year-on-year) with the format now worth £26m in the impulse channel (Nielsen).
The Red Bull spokesperson says: "Retailers should utilise energy multipacks to drive volume by increasing shoppers' basket spend, and trade up existing loyal buyers. More than half (51%) of Red Bull shoppers bought a multipack this year, demonstrating high levels of demand across the brand's buyer base for larger volume missions."