Shell ripped out the pumps on its London forecourt, replacing it with its first EV-only charging hub, in a standard-setting global pilot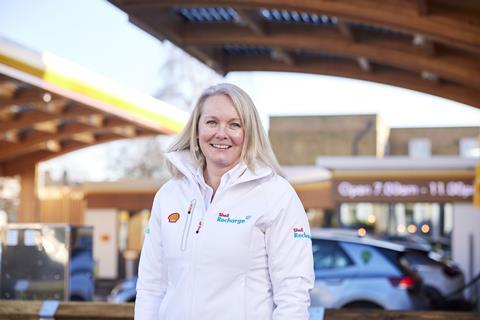 Absolute elation was the feeling among Shell staff when the company's first EV-only charging hub was officially opened in January, in a global pilot that has seen the company transform a traditional fuel forecourt in Fulham to a flagship format to meet the transition to net zero.
"I feel elated – the team are elated," says a very happy Bernie Williamson, Shell UK's general manager, retail.
"We're so happy to have this site finally ready after a huge amount of hard work from everybody, including the partners we work with. Last year was tough, starting with Covid and ending with the fuel panic-buying crisis, so this site being open has just given us all a really big lift in terms of what the future could hold."
The stunning-looking site at Fulham Road in south-west London features nine high-powered, ultra-rapid 175kW charge-points which claim to charge most electric vehicles from 0-80% within 30 minutes – even a game-changing 10 minutes, depending on the car. It also features a sustainable design including a timber canopy with built-in solar panels, and roof and shop windows that use double glazing with high insulating properties. All the chargers are run on 100% certified renewable electricity. A bright and spacious Little Waitrose, Costa Coffee cafe, modern toilets and free wifi mean there's plenty to occupy customers as they wait for their vehicles to charge. Digital signage at the entrance keeps motorists informed as to the availability and location of charging posts before they drive in, as well as the location of Shell's nearest petrol and diesel forecourts – for those drivers who may have just seen their future flash before them.
The site has been in development since 2019, but has been subject to various delays, not the least being Covid. It finally opened for business just before Christmas 2021. "The site has been two years in the making – we completely razed the old one to the ground," explains Williamson. "The whole infrastructure of getting the power upgrades and getting the planning permission was disrupted by Covid and we had to adapt to planning requirements along the way.
"For example, the shop was going to originally be two storeys but that had to change for planning reasons. This site has two sub stations in the back and half a kilometre of cabling to get the power upgrade needed for this site. That's quite some feat.
"Overall though, the design is as intended and we're really pleased with it. We wanted something fresh, and that made you think about service stations differently. It feels big even though it's in London, it feels like a nice and spacious place to be as well, with the natural-style fit-out. The traditional service station canopy is quite flat, this is a bit more curvy; the store is also a bit more curvy, a bit more of a modern design
"The site is a low-carbon design, a low-carbon construction. The glass has thermal properties to help insulate in winter but cool in the summer; the canopy is made of glue-laminate which is more carbon friendly than steel; and we have solar panels on the canopy roof and the store roof which provides about 50% of energy to the store. The other half comes from renewable energy sources."
Williamson said one of the biggest attributes of the site was scale: "We're on a London site and have nine EV chargers. A lot of taxi firms are starting to realise this is here. If they can charge up for 10 minutes, imagine what that does for their business. From that perspective, from a customer experience point of view, the site is ground breaking. There's a significant proportion of drivers in London who don't have access to charging at home.
"This is the first global pilot and clearly what we're going to do here is learn. Our plans are to put 5,000 fast and ultra-fast chargers down by 2025. We know the market is going to move fast, so we're ready."
Quick info
Shell Fulham: Traditional service station razed to the ground in 2019
Reopened: Official launch in January 2022, having opened just before the end of 2021, following a two-year redevelopment programme subject to delays including Covid
Electric chargers: The site has nine high-powered, ultra-rapid 175kW charge points which can charge most vehicles up to 80% within 30 minutes. All the chargers are run on 100% certified renewable electricity
Facilities: Include Little Waitrose, Costa Coffee cafe, modern toilets and free wifi
Shell plans: Installation of 5,000 fast and ultra-fast chargers by 2025; 800 charge posts with Waitrose over 100 sites