It's onwards and upwards for the Jet brand as new md Renee Semiz takes the reins in the UK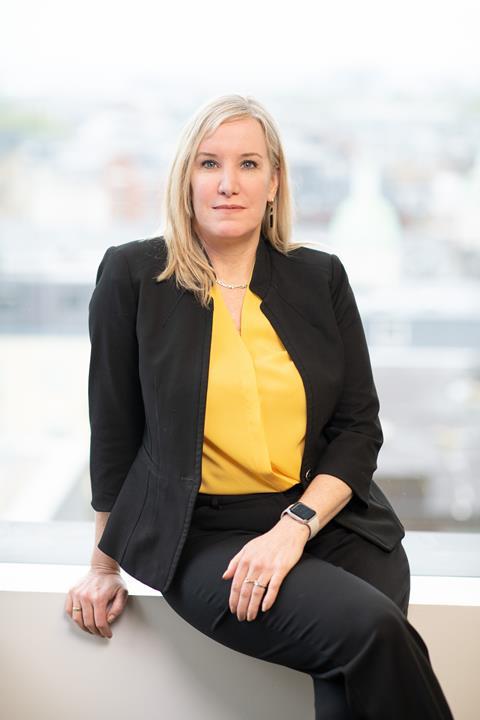 Moving to the UK from America in the middle of a pandemic may not be the perfect time to start a new job, but Renee Semiz, the new managing director, UK marketing - Phillips 66 Limited, has certainly taken it in her stride.
It's not been easy, living on her own since arriving in the UK to take on the role in January - having decided it was best to leave her young family behind for the time being - and only able to meet her new team of colleagues via a computer screen.
On top of that, fuel volumes haven't exactly been flowing, as the nation was largely confined to staying at home. All-in-all, she faced challenges on three counts – personal, professional and business.
"It would have been difficult in normal times to be without my family, but to layer on the pandemic which meant I had to quarantine after travel, and I couldn't go out and meet people, was hard," explains Semiz. "I only had the computer to meet my team and get to know the business. I had to set up virtual calls with all 50 members of my team. It took me about a month to have a conversation with each and every individual. Then in terms of the business, demand was hit by the pandemic."
However, despite all that, she is excited by the challenge of living and working in the UK developing the Jet brand, in an industry that's evolving quickly, and is encouraged by the fact that hopefully everything is moving in the right direction as pandemic restrictions are gradually lifted.
She comes to her new role with a great understanding of the business from upstream to downstream, having worked in the industry for 23 years, joining ConocoPhillips (as it was then) in 2005 as a process engineer, in line with her engineering background.
"I've spent a good bit of time across all our business units, so I'm excited about being able to leverage the work I've done in all those different roles, and bringing that to the UK, where it's vitally important we work together – from the company's Humber Refinery to the retailer - to maximise the value of our company.
"The other thing that really excites me about the Phillips 66 UK business is that it's always been very cooperative. It's always great to be able to come into a positive culture."
With around six months at the helm under her belt, Semiz says her first observations in the UK are that Phillips 66 treats its customers with the same level of respect regardless of size. They are all part of the Jet/Phillips 66 family. She understands the challenges everyone has had throughout the pandemic and stresses that the company is there to support them and help them succeed.
A lot of that support in the past year has focused around ensuring that sites are safe and hygienic for customers, so that consumers are comfortable coming onto the forecourt to refuel and also shop in the store, reassured by measures such as barriers, screens and masks.
Also, the standards of cleanliness were higher, explains Semiz: "I think it was a great opportunity to raise standards - and that hopefully will continue - inside the store and the bathrooms. We also relaxed some of our mystery shopping during that time, so our customers didn't feel that extra pressure.
"In terms of fuel we tried to work with our customers - we understood that demand was lower. Refineries started producing less to match the demand. Volumes overall fell in line with the general market.
"One trend we saw was that strong brands like Jet retained more market share than weaker brands or unbranded sites. Motorists feel safer with a brand they know – the service and cleanliness factor became more important.
"Another amazing thing we saw was dealers partnering more with their community to help in ways that we didn't expect. Some, for example, provided meals for the community. Shop sales increased, as people felt more comfortable going to their local forecourt shop for a quick trip rather than going out to a big location that may have presented more risks."
Also, on the positive side, the company has been able to continue with its re-imaging work throughout the pandemic. The ongoing programme to improve the Jet brand in the UK began in 2019, with about 100 sites now sporting the bright and modern, refreshed look.
"The team has over the past few years worked really hard to develop a very robust strategy for the UK business," explains Semiz. "One of the core pillars of that strategy was strengthening the brand. We want to improve our image, grow our retail business, and prepare for emerging energy. We are continuing to do all those things."
Another key part of the strategy is to develop a network of company owned sites – Phillips 66 currently owns 11, and is actively looking to grow that number, with extra resources brought in to help achieve that.
The main objective is that co-owned sites have a strategic fit with the Humber Refinery, just outside which, a flagship co-owned Jet site is under development.
The dealer network – currently at 294 sites – is also continuing to grow, according to Semiz, as the company is both retaining and adding dealers.
"We think we offer a very transparent pricing formula, honest negotiations and good customer service on an ongoing basis. With the new image, the Jet brand is much more attractive now – it's making a difference and that was the goal. Consumers really enjoy the LED light bars on the canopy, which help to brighten up the forecourt, so people feel safer.
"We want our sites to look clean and fresh and inviting. We want to provide seamless fuel transactions; good strong shop offerings - clean stores offering a variety of products and serving the local community; sites with good access, and a good location to highways."
Semiz says Jet's Ultra premium fuels are essential to the Jet fuels offer, especially with the arrival of E10 later this year: "When we switch to E10 we anticipate increased demand for premium fuel because it will remain E5," she explains. "There will be some consumers who are hesitant - for whatever reason - about that change in ethanol requirement, and if they choose to they can buy our premium fuel which will still be E5."
In terms of the future, Semiz believes that hydrocarbon fuels will continue to be a large percentage of the fuels that are supplying cars today for quite some time: "As 2030 gets closer, it can begin to feel daunting. At Phillips 66 we are committed to being part of the solution to help address climate change and continue to meet the world's growing energy demand," she says.
Semiz is very keen to get out and about meeting customers again, and to that end the Jet team will be out in force at the forthcoming Forecourt Show (NEC Birmingham, July 5-7).
She is also excited about the re-launch of the 'Keep on Moving' campaign, which she says gained a lot of recognition with customers when it ran last year. "There will be TV commercials running throughout the summer" she explains. "We'll be advertising on Sky Sports during some cricket matches. I think it's a great message as people are getting back on the road, coming out of the pandemic."
She also has another key message: "We are here to provide energy and improve lives - whatever type of energy that is. And we're here for the long haul."
HUMBER REFINERY
The Phillips 66 Limited Humber Refinery is evolving with an eye on future energy, efficiency and environmental demands, with sustainability projects to reduce its carbon footprint and produce lower-carbon fuels. These include the 'Gigastack' project to use renewable hydrogen to produce fuel; and Humber Zero – the carbon capture and storage of its Co2 emissions.
It is also the first refinery in the UK to process waste oils to make renewable liquid road fuels. Additionally, it also produces graphite petroleum coke which is used in electric vehicle batteries.
"If you look at the Government's ten-point plan, I think there needs to be acknowledgement that lower-carbon liquid fuels can be part of a long-term energy solution," stresses Semiz. "It can be an 'and' not an 'or', along with electric vehicles. If we partner together we can continue to supply the EV battery market and we can make lower-carbon fuels and be a combined part of the solution. But you can't have one without the other.