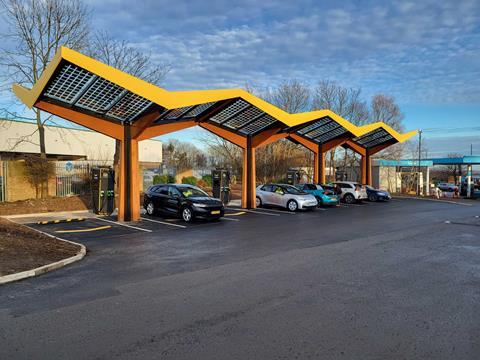 While charge point operators (CPOs) such as Fastned are ready to invest millions in the UK, cumbersome planning regulations are slowing the rollout down. So says Tom Hurst, UK country manager at Fastned.
"It can take up to 24 months between initial conversations and opening a charge point station. The average time is less and our best case is a year but it depends on the local authorities," explains Hurst.
He is keen for companies such as Fastned to be considered as trusted providers in the same way that utilities companies are.
"Ideally, we would like both ultra-rapid hub operators like ourselves and also on-street charging infrastructure operators to get trusted provider status. Obviously, that needs to come with the right level of due diligence and the right quality assurance. And clearly, we would have to sign up to standards. But right now, we're living by those standards anyway.
"We need a way to move more quickly, reduce the barriers, but also give EV drivers the comfort and assurance that the quality is there and there is some form of redress if particular operators are not acting in good faith."
He says the key 'ask' for sites is that they are highly visible and highly accessible. Fastned's sites are highly visible thanks to their distinctive yellow canopies and these canopies – which stand quite high – are more accessible than some others meaning anything up to a 7.5 tonne truck can pass through.
"It's absolutely necessary that we make sure drivers can see our stations… it's good for drivers' blood pressure to be visible," says Hurst.
He says there are some forward-thinking local authorities out there, but the company often gets asked by councils 'why do you need a canopy?' and 'why do you need more than one charger?' and 'do you even need charging here?'.
"But they wouldn't think twice about questioning a canopy for a petrol forecourt," says Hurst. And, as well as visibility, canopies provide users with shelter, and Hurst says Fastned really values drivers being dry when they charge their vehicles. "EV drivers should expect at least the equivalent of what petrol drivers experience today," he says.
Accessibility also means having enough chargers on the site that are working, and easy payment options. "Our business is selling electrons, so we need to do that as efficiently and as effectively as possible. We can't insert any barriers, so there are no subscription fees. We take contactless payment cards; we take RFID cards from10 different UK providers and we have other people who share our network with free roaming apps. We also have a system called Auto Charge which we invented in 2017, where you basically get the Tesla experience, so you plug in, and the charger recognises your car and starts charging within a few seconds."
Fastned, based in the Netherlands, was founded 11 years ago. Hurst says that obviously a lot has changed in those 11 years with newer technology meaning the average range of an EV is going up and up and charging speeds are getting faster and faster. "We're testing 400kW chargers now, which can give you 400 miles of range in 20 minutes if your car can do that… and those cars are coming," he says.
Hurst says Fastned keen to work with forecourt operators, but the caveat is that the company is quite discerning on behalf of EV drivers with regards to the kind of experience they get. "This means we need bays that are wide, we need multiple bays, and we need the fastest charging. Historically that has often meant getting rid of the car wash or getting rid of some of the pumps and, understandably, a number of the independents that we have had dealings with in the past have not been willing to make that leap."
He says the company understands this but cannot wait for them and so has developed its own locations. Hurst adds that they would definitely be interested in dealing with those retailers that are able to be a bit bolder.
Fastned recently opened its 14th station in the UK which was its 250th across Europe. Its goal is to have 1,000 stations across Europe by 2030 and Hurst says the UK is definitely a part of that.