Christmas might not be here yet, but it's already time to start thinking about Easter! Get ready for the first phase – starting January 1!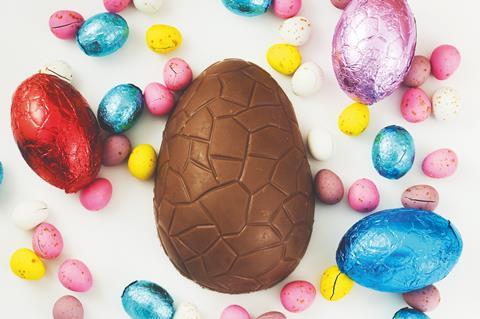 Who knows what Christmas will be like this year – let alone Easter 2021, but that's no reason not to plan ahead. At the time of writing, there was hope on the horizon with regard to Covid-19 with talk of a vaccine coming soon… There was also much talk about 'saving Christmas' so people had something to look forward to. According to the people at Mondelez, one thing that many consumers look forward to with the start of every new year, is the reappearance of Cadbury Creme Eggs in the shops. To make the most of the spring confectionery season, Mondelez says retailers should split Easter into three phases: getting off to a quick start; building momentum; and then gearing up for a 'gifting finish' as Easter is upon us. Alternatively, these three phases could be divided up as products 'for me', 'for us' and 'for them'.
The first of these phases, the 'fast start', runs from January until Valentine's Day and brings with it Creme Eggs.
Cadbury Creme Egg and Easter brand manager, Raphael Capitani, describes Creme Egg as an 'iconic' product that kicks off the season – it is also the number one brand at Easter (Nielsen).
"Cadbury Creme Egg showed its strength through continuing to grow market share in 2020 (Nielsen). As well as this, two out of three people buy Cadbury Creme Eggs for non-Easter related consumption (Kantar), strengthening the importance of stocking up on the product from the beginning of the year and highlighting its prominence in the range.
"Consumers look for brands they know and trust, such as the nation's favourite chocolate Cadbury (Nielsen), to deliver on familiarity and taste, particularly through challenging times, making the brand a crucial part of a retailer's Easter line-up."
The big news for Creme Egg for 2021 is that it is celebrating its 'Golden Goobilee' or Golden anniversary – meaning the product is 50 years old. Activity includes an in-store promotion which starts on December 26, where lucky consumers who unwrap a shiny golden egg get the chance to win up to £5,000. As well as this, there are additional smaller cash prizes up for grabs. It's a win-win situation because if a consumer unwraps a golden egg that's been bought from an independent retailer, that retailer wins £1,000. To take part, all retailers have to do is place the Cadbury promotional material in-store. In all, 200 golden eggs will be available across the UK, with 30 hidden randomly in independent stores.
The Golden Goobilee will also be supported by digital, out-of-home and PR activity featuring celebrities plus there is a celebratory retro pack design to grab shoppers' attention in store and alert them to the occasion.
In addition, to the 50th anniversary activity, Creme Egg gets a new mixed box that contains five Cadbury Creme Eggs and five Cadbury Caramel eggs. Rrp is £6.11.
Cadbury Mini Eggs is another massive Easter brand – indeed the Cadbury Mini Eggs 80g bag was the number one product across all Easter SKUs in 2020, with the brand accounting for 50% of total mini egg sales (Nielsen).
As well as treatsize, bags and multipacks, Cadbury Mini Eggs has a new format for 2021 – the Cadbury Mini Eggs tablet or block, which contains 'micro, mini egg inclusions' aka smashed up pieces of Mini Eggs. The new 110g bar will be available in cases of 20 at an rrp of £1.49. Mondelez hopes the product will attract younger consumers to the brand. In addition, Cadbury Mini Eggs gets a new pack design for 2021, supported by a new range of pos material.
treats for shoppers
The 'fast start' focuses on shoppers looking for treat products for themselves.
"With 84% of shoppers who purchase Easter confectionery early intending to buy again (Kantar), it's important to have the products they're looking for to meet these consumers' shopping expectations," says Capitani.
"As well as this, over half
of Easter confectionery is consumed before Easter, strengthening how capturing consumers at the beginning of the season is a great opportunity to drive spend and impulsivity in-store."
Timing is particularly important for Easter 2021 as Easter Sunday falls on April 4, making the season over a week shorter than 2020. This means that a fast start is vital for winning extra sales. And high visibility is key as 54% of cream-filled egg purchases and 47% of mini egg purchases are by shoppers who hadn't planned to buy the products and had bought them on impulse (Kantar).
Top tips for a fast start
Set aside time to create a plan for the beginning of the season, and order enough stock of the most-loved brands, including Cadbury Creme Egg and Cadbury Mini Eggs.
Tempt shoppers by placing key products by the till
Use the Cadbury Creme Egg 'Golden Goobilee' pos to ensure you are in
with a chance of winning a prize
Build excitement in store by creating a 'seasonal space', along with a strong Easter-focused aisle or fixture.
Use pos from Easter favourites to highlight products and optimise sales.