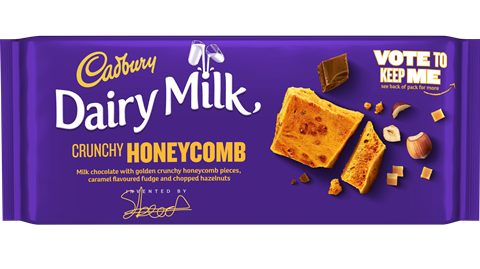 Cadbury is unveiling three new limited-edition Cadbury Dairy Milk bars, created by this year's Cadbury Inventor finalists. The all-new flavour variants are: Gillian's Cadbury Dairy Milk Coconutty; Shannon's Cadbury Dairy Milk Crunchy Honeycomb; and Taylor's Cadbury Dairy Milk Out of the Blueberry.
The three new limited-edition bars are being put to the public vote, going head to head to be crowned the nation's favourite and the latest addition to the Cadbury Dairy Milk range. Shoppers will be able to vote on the www.cadburyinventor.com website and through Cadbury UK's Twitter and Cadbury UK's Facebook until September 6.
Last year Cadbury challenged the nation again to come up with new and exciting flavours for 2020's Cadbury Inventor competition. With over 90,000 possible combinations of ingredients to choose from,120,000 consumers submitted entries for the chance to create and name their very own limited-edition Cadbury Dairy Milk bar. The three lucky finalists have been on an epic journey to create their unique bars, travelling to the Cadbury Innovation Kitchen in Bournville, the home of Cadbury, where they worked with chocolate experts to experiment with their ingredients and make their creations a reality.
Beatrice Berutti, Cadbury Tablets brand manager at Cadbury, said: "The Cadbury Inventor 2020 competition is back for its second year and we couldn't be more excited for retailers to share these new delicious Cadbury Dairy Milk flavours with the nation. The new range is set to be a real driver of footfall and excitement in store for retailers across the nation, and we can't wait to see which bar wins."
The three limited-edition bars will be available from July and the winner will be announced in September.