Reports available from a good epos system can be invaluable in helping managers get their stores to perform better. Tracy West reports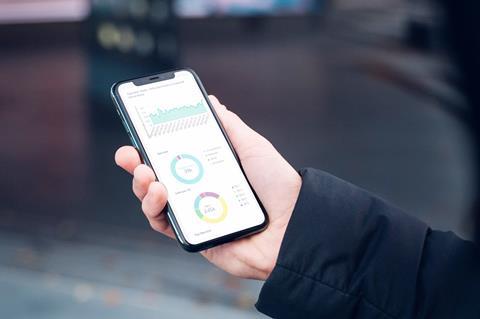 Darren Moir is the manager at the busy Westhill Service Station in the suburbs of Aberdeen. It has BP fuel and a Spar store. Darren has been with the business for 32 years and has therefore seen a lot of changes over those years.
He has always tried to 'future proof' the business, for example, making sure that they are not overly reliant on fuel sales, and that the shop has many reasons for people to visit. These include an impressive off licence, a busy food-to-go kitchen and lots of local quality Scottish produce.
All of this obviously needs a good back-office system to pull it all together.
Darren says: "Our old epos system came to the end of its life and was no longer being updated. We looked at a number of different offerings. We wanted something future- proofed, something that would grow with the business and would last the test of time, and a system that was easy for the staff to use."
In 2019 he chose EdgePoS. "All the staff like the ease of use of EdgePoS. And new members of staff can pick up the workings of the till super quick. My managers and supervisors find this invaluable, as we don't have to spend too much time training staff. It's all about saving time within this job.
"Why do I like the system? I love the reporting functionality on EdgePoS. There are certain reports I will look at every day and ensure key areas of the business are performing well. If they are that is great, but I think 'how can I get them to perform better'? If they are not, I can try to fix this or choose to block the articles from the next order.
"Within our Spar store, we stock craft beers under our Hop Shop Aberdeen service. The reporting aspect of this is invaluable. This lets me know on a daily basis how this area of the business is performing."
Darren says they implemented Henderson Technology's integrated home delivery and click 'n' collect app, Appetite! in 2021: "We deliver within a four-mile radius to customers who can't come to the store. We deliver six days per week, with our own van.
"We introduced PerfectDraft kegs in 2021 too and this service works really well with Appetite! as customers check the app and can see what stock we have. They can pre-order and we have it pre-chilled in our fridges and they just grab and go.
"I would definitely recommend that retailers visit sites and stores using EdgePoS, get hands on and see how EdgePoS can fit into their business. Ease of use was important to us, but more importantly were the support levels. How quickly will your IT provider fix your issues? Would it be remotely or through an on-site technician? I must admit that Henderson Technology are first class at providing support and maintenance for the EdgePoS system. Any issues are resolved super quick."
Darren has installed two hybrid self-checkouts in early 2022. Currently there are over 15% of transactions going through on tills three and four as self-serve, saving employee hours and helping to reduce overhead and staffing costs.
Henderson Technology says it realises that retail is a rapidly changing business and recognises the impact of new technology. It therefore aims to provide forward-thinking solutions for forecourt retailers, enabling their business to maintain their competitive edge and ultimately boost profitability.
The company's EdgePoS covers the three main areas of running a retail business – operational efficiency, security and business development.
Says Darren Nickels, retail technology operations director at Henderson Technology: "With continuous development and innovative integrations and partnerships, EdgePoS is now one of the most powerful and feature-rich systems in the UK."
EdgePoS Retail can support businesses with one to 50 lanes. The system delivers across all business needs, while carefully addressing the key areas of security, operational efficiency and business development within a store. Nickels describes it as "uniquely flexible".
"This means it can provide tighter controls for a larger chain of stores to manage their activities centrally but also paints a broader picture of what is happening across the network while permitting independent retailers to drive their own business."
He says EdgePoS Head Office can help to reduce administration overheads and staff time by controlling areas such as pricing, product maintenance and offers across all sites from one central location. "Multi-site operations require enhanced control and reporting to enable retailers to be proactive in decision making, aiding store success. EdgePoS Head Office sends and receives the data from all local back-office systems to draw out a universal view of an entire operation. The data is then centralised in one single head office system location, allowing retailers to compare reports, trends and run their businesses smarter. Multi-site operations also need to ensure that when they are off site they have their finger on the pulse of the business, as much as when they are walking the store. EdgePoS Head Office provides real time sales reporting across all sites so that performance can be tracked from one location. Admin overheads are reduced as all pricing, product maintenance and special offer set-up is completed just once."
Also available are EdgePoS self-checkouts which are simply bolted onto one or more existing EdgePoS tills and require no additional counter space. Says Nickels: "The EdgePoS Self-Checkout gives retailers more choice to utilise space and staff throughout the store. They are much smaller and more streamlined than other conventional products on the market. They are designed to speed up the transaction process, allowing retailers to utilise space on the shop floor and ultimately provide customers with more options and a better customer experience."
Dynamic pricing
Moving on and the EdgePoS electronic shelf-label (ESL) system is a tool used by retailers to display specific product pricing on shelves. Electronic display modules are fixed to the front edge of the retail shelving. The automated ESL system reduces time and cost for pricing management, improves pricing accuracy and allows dynamic pricing.
Nickels explains: "Dynamic or demand pricing is a concept by which retailers can modify pricing for a myriad of reasons, such as to match demand, because of online competition, stock levels, shelf-life of items or to create promotions."
He says ESLs are gaining popularity as a means of displaying and managing product pricing and information. "One of the many added benefits of ESLs is the ability for shop managers and staff to use the technology behind them to help manage and control stock levels.
"ESLs ensure that stores offer a retail experience that is more engaging, rewarding, personalised and profitable. With ESLs retailers have the ability to change price and promotion information on any label, any shelf and any store in a matter of seconds, ensuring that offers are current and relevant."
Finally, Nickels says fuel integration is an immediate benefit when installing the EdgePoS system, with over 90% of EdgePoS customers opting to integrate. Fuel integration allows retailers to accept a wide range of fuel cards, reduce fraudulent activity with such things as prepay and provide additional services such as outside payment terminals. EdgePoS facilitates a wide range of fuel cards and also offers the ability for fuel bunkering.
FAST FACT: £26 The average basket spend through the Snappy Shopper app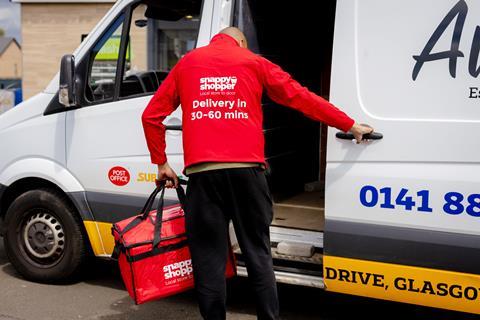 Snappy Shopper says its app drives spending
According to Snappy Shopper's retailer network, around 80% of its customers who use the Snappy Shopper app were acquired through the platform and would never have visited the physical store their items come from.
"Alongside this, customers are more likely to spend more money when using the app as retailers report a £26 average basket spend, compared to only £10 in-store – that's a significant increase of +160%, explains Dael Links, head of marketing for Snappy Shopper.
"Our app enables retailers to drive sales and engage with new customers, while also continuing to encourage communities to shop with their local retailers. Vitally, our partners have complete control over their product list and pricing on the app, with the ability to manage orders and connect with delivery drivers with ease."
Links says retailers can't afford to ignore the increasing trend for online shopping. "Being able to add incremental sales to your turnover with little additional overhead makes complete business sense," and he points to impressive figures: " The average sales of the top 20 stores on Snappy Shopper in the 12 months to April 2022 was almost £700,000."
Links says customers are looking for value when they shop, so it is important that pricing is competitive. "Snappy Shopper allows retailers to offer products for home delivery at in-store prices, while Uber Eats, Deliveroo and Just Eat all inflate retailers' prices."
Snappy Shopper recently partnered with over 150 stores across Scotland to give thousands of families the chance to top up lunch supplies for just a penny. The campaign aimed to ease the expense for families who were preparing for their children returning to school amid the cost-of-living crisis. The bundles comprised items such as crisps, multipack yogurts, bananas or multipack apples, multipack juices, a 400g loaf of bread and a 100g pack of cold meat.
FAST FACT: 50 EdgePoS Retail can support businesses with one to 50 lanes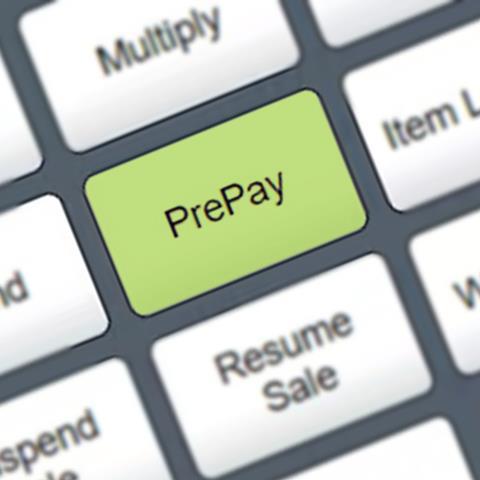 TLM Technologies has been very busy delivering functionality as well as new partnerships to its retailer partners.
The company says that with high fuel prices come more drive-offs so its retail customers are using the PrePay functionality within its evoPOS more. PrePay functionality is available within evoPOS so all customers have it.
Adrian Felton, managing director of TLM technologies, explains: "Retailers can choose to switch the pumps to 'PrePay' mode (from the POS) which means customers must come into the store to pay for their fuel before the pump can be activated.
"The pump then stops as close to zero as possible. If the nozzle is returned before all the fuel has been dispensed the difference can be refunded using the receipt. Recently we have developed PrePay functionality further (at the request of our User Groups). Our new Timed PrePay means stores can set time slots where PrePay will automatically be enabled – on all pumps – between the hours chosen, typically in the evenings/night-time . This means managers don't have to rely on cashiers to select PrePay."
Recently, TLM announced that evoPOS had become the first fuel and convenience epos globally to integrate and be approved by Deliverect. Felton says this will allow thousands more retailers to easily manage their online and delivery orders – a key revenue stream in a 'delivery on-demand' consumer trend environment. Deliverect's software solution brings together all online-order and delivery channels, such as Uber Eats, Deliveroo and Just Eat (and many more), directly to the epos.