Having an epos system that can adapt to new consumer behaviour is more important than ever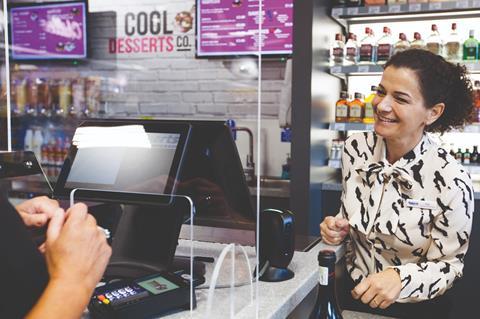 Having a decent epos system is typically about control and visibility at both store and supplier level. With the challenges of Covid-19 and the subsequent lockdowns, this control and visibility has become more important than ever. With supply chains disrupted, retailers have sometimes been forced to use different suppliers – for their usual stock as well as new items such as masks and sanitisers – so having a state-of-the-art system is key to keeping business running.
For Top 50 Indie Euro Garages that system is TLM's evoHeadOffice, which was deployed across the company's entire UK estate in a project that was completed in July. EG boss Mohsin Issa says: "Previously, having the ability to centrally oversee and manage supplier, product and sales data simultaneously across all our stores, would have been a laborious endeavour. By implementing evoHeadOffice we are able to make savings, improve product margins, better able to manage staffing resource and the end customer benefits too, from standardised pricing and well-stocked stores."
Taiyab Sufi, retail system lead at EG Group, says: "The tangible business benefits from installing evoHeadOffice were obvious – we saw an immediate lift in margins due to the central control we had over aspects such as pricing, purchasing and stock management, allowing us to operate our business more efficiently and profitably."
There's no doubt that shopper habits have changed over recent months, with more people shopping locally and also taking advantage of
home delivery.
Many forecourts have been quick to adapt by offering bigger and better home delivery options.
click and collect
Henderson Technology developed its own bespoke Click and Collect and home delivery mobile app through EDGEPoS to cater for the increased usage of these services in the convenience sector. Darren Nickels, retail technology operations director at Henderson Technology, says they are seeing stores regularly achieve over £4,000 per week of additional sales via the app.
"Our new app allows shoppers to pre-order their groceries to collect at a time convenient to them or have them delivered. In conjunction with Appetite, the app not only enables users to fill their basket with their usual essentials, but also allows them to pre-order from the food-to-go deli in selected stores. This is just one of the ways the company has reacted to the change in daily life over the past few months.
"The app is completely user friendly. Once a local store is selected, customers can search products, view special offers and deals, and complete their order quickly and securely after choosing a time to collect or a delivery that suits them. Currently there are a number of Spar and EuroSpar stores trialling it in Northern Ireland and in England. We can see this becoming a huge part of the business moving forward."
Nickels says the app will later include pay-at-pump services and other functions.
e-commerce
Meanwhile, CBE Software has developed an open API (application programming interface) to enable its epos solution to link directly to any e-commerce platform – allowing the retailer to provide integrated online ordering, home delivery and Click & Collect services quickly and easily. Among the many retailers using this is David Charman's Parkfoot Garage in Kent, which has seen its delivery service grow from strength to strength in a matter of weeks.
And at TLM staff have been working with a number of app providers to enable customers to implement Covid-friendly ways to shop – such as Click and Collect with partners JISP and AppyShop – and that's because its APIs are open/documented and published allowing third-
party applications to
integrate to them.
TLM CEO Adrian Felton says many customers don't want to go in-store to pay for fuel at the moment.
"We support BPme, the Esso app and Shell Fill Up & Go mobile fuel payment apps, which allow customers to pay for their fuel without entering the store. We support over 1,000 sites in the UK with mobile fuel payment and over 100 BP sites across the Netherlands through evoOPT.
"We're also working with a number of other non-oil company app businesses to enable non-Esso/Shell/BP sites to be able to offer mobile pay-at-pump functionality. We are also talking to FuelService – which is an app that solves the challenges for disabled drivers – about integrating to evoPOS too.
"Forecourts can use the app without integrating with their POS but integration would make it smoother and more efficient to use."
CBE's FutaTill also integrates with all major outdoor payment terminals (OPT) reducing the need for fuel-only customers to enter a store and also seamlessly integrates with all the major mobile fuel payment apps from BP, Shell and Esso. What is more, high-quality imaging scanners from Datalogic allow retailers to use their scanners as customer-facing devices through perspex screens enabling customers to scan their own goods – a simple but handy tool enabling retailers to minimise the number of touchpoints for both staff
and customers.
contact-free
Nickels says self-checkout is key in providing a more contact-free experience and adoption of this technology is a must: "Our EDGEPoS self-checkout has been specifically designed as a low-cost option to allow for easy adoption. We are also seeing strong orders for electronic shelf-edge labels, again helping keep shopfloors free to maintain social distancing and ease the shopper journey."
At TLM, Felton says they reminded their retail customers that evoSelf-Checkout is another option to enable fast customer journeys: "One member of staff can be used to supervise multiple pay stations, keeping staff at a safe distance and reducing coronavirus staffing pressures. All of our evoSelf-Checkout options use the same evoPOS software solution that is built into evoPOS.
"This means, as an existing evoPOS customer, it's easy and cost-effective to add evoSelf-Checkout to their current suite. There are three hardware versions (dedicated, fixed and hybrid). We also found that some of our customers have been using evoPOS on a tablet as a quick queue-busting tool."
CBE Software's FutaTill epos solution now gives retailers the ability to process fuel transactions using self-checkouts and the company has installed both cash- handling and card-only self-checkout units in several forecourts in the UK and Ireland.
All CBE Software's payment devices support contactless payments and there has been a huge increase in contactless transactions since the pandemic started.
Clive Hughes, CBE Software UK business development manager, says: "The broad consensus is that shopping behaviours are changing. Consumers want to be in control of their own shopping journey, and they want to have fewer physical interactions and touch points when shopping. This has pushed self-checkouts and all other solutions that reduce touch points in the store to the forefront of the consumers mind when deciding where to shop. What is of fundamental importance is the need for forecourt retailers to adapt to attract new customers and retain those they already have. Consumers want to shop, pay, and get on their way."
MFG switches 451 of its
sites to evoPOS and evoHO
Top 50 Indie MFG recently converted 451 of its sites to TLM's evoPOS and linked them to evoHeadOffice.
MFG IT director, Paresh Patel, says: "We required a modern, up-to-date solution to allow us to move forward with all areas of our retail business.
"What set the solution apart from others on the market was TLM constantly evolving the product to match our needs. evoPOS is a modern well-architected solution which allows flexibility to quickly interface to third-party apps and MFG systems.
"Its main benefits are its flexibility, future-proofing and ease of use.
"During these tough times it is important to have the best technology available that allows us to keep up with ever-changing market conditions – evoPOS and TLM allow us to do this."
Paresh says the switch over from their old system was simple.
"Managers joined a training webinar before the install date, all staff got training on the POS on the day of install. Then both remote and on-site one-to-one training took place the day after we went live. The average site closure time for changeover was a little over two hours.
"Our customers can now benefit from the latest oil company mobile payment and loyalty apps as well as a number of other integrations that are being rolled out that make the customer journey smoother
and faster.
"TLM's POS also has a dynamic best- deal promotion function that allows us to configure a large number of promotions and the POS always works out the best deal for the customer."
MFG also operates four forecourts under the Roberts brand on the island of Jersey. These all now use evoPOS.
David Charman backs CBE for its long-lasting systems
The multi award-winning Parkfoot Garage in West Malling, Kent has been using CBE's systems for more
than five years.
Owner David Charman says: "All epos does very similar things so for me choosing a supplier is all about the people; about having discussions and working together and that's what I do with CBE. I like the fact that I can communicate with people at all levels
at CBE.
"We switched to CBE because we wanted something reliable that does the job but also moves with the times. Before, you could get good kit but it didn't move with the times. CBE are prepared to allow their systems to develop."
David gives an example: "Over three years ago we decided we wanted electronic shelf edge labelling (SEL). We told CBE we wanted it and within weeks they had a solution. That's because they were prepared to take a view that we would not be the only retailer wanting SEL, that it would be good for their business and it was the future."
The CBE system has also helped David with the launch of his home delivery and Click and Collect service. His new online shop is fully linked to his epos for pricing and to monitor stock levels.
David's is a very busy site but during the first lockdown it was busier than ever: "On some days, business trebled but the CBE system was still able to cope. That showed us that the system was more than capable. Past systems that we have had slowed down but CBE's is still running as fast as it did when we first had it more than five years ago.
"CBE are not the cheapest but in my opinion they are the best as their system works at its best for much, much longer."