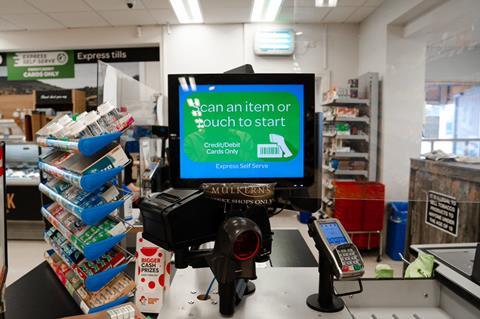 The Mulkerns family business has been part of the Henderson Group for 46 years and was an early adopter of EDGEPoS when Henderson Technology first launched it 13 years ago.
Multi award-winning store Mulkerns opened in the mid-70s and over the years has added to and developed the business, to grow into the large format Eurospar and Maxol forecourt it is today.
The Mulkerns team were very much part of the EDGEPoS journey with invaluable feedback on fuel and convenience features on the EDGEPoS system. They were one of the first Henderson Group stores to install EDGEPoS Self-Checkout when it was first launched in 2018.
Terry Mulkerns, director of Mulkern's Eurospar in Forkhill, Co Armagh, says: "I looked at Self-Checkout with another provider around 10 years ago and due to cost I did not progress with it any further. We then went for the EDGEPoS SCO solution, a hybrid cashier and self-serve till. Since installation, our customers are used to how it works, and enjoy using the self-service tills. As a result, we are looking to move our SCOs to a stand-alone self-service area within the store. At a time when it is difficult to recruit staff, the self-serve tills offer us more efficiency and an option to reduce queue times."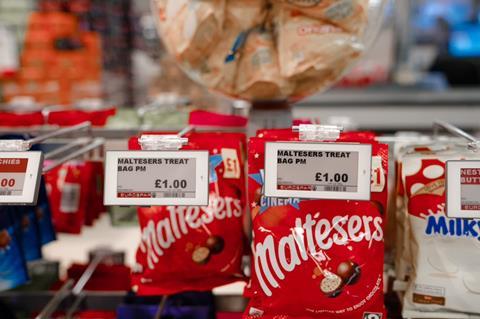 Mulkerns installed EDGEPoS Electronic Shelf Edge Labels in early 2021 and Terry says it been a worthwhile investment for the store.
"It has worked incredibly well. First off, the customer reaction has been fantastic. The price they see on the shelf is the price they pay. It has given them reassurance and taken away any negativity at the tills around incorrect pricing. For us, it is about the time saved on staffing resource, which is even more than I ever could have anticipated. Previously I was watching senior staff putting paper SELs around the store, which was working out very costly to us. My senior staff are now free to get on with value-added tasks, and this alone will pay for the ESELs within a number of years."
Darren Nickels, retail technology operations director at Henderson Technology, adds: "There is lot more we can do with ESELs now. One feature we are looking at adding is what other information can we give the retailer through the individual media label for each product – can it give live stock levels, sales of the product? We have the building blocks in place now and are always looking at how we can enhance our products."
Sustainability
Mulkerns have won numerous awards for sustainability over the past couple of years, says Terry: "Gander has been a big part of this. Food waste is an issue on both its cost and the overall environmental cost. We need to be able to manage this better and Gander has helped us to do that. We have full visibility of our reductions and wastage. It is easy to train staff on the system and Gander ensures that from the first reduction to wastage everything is followed through and recorded on the EDGEPoS system.
"I think as a community store, we do have a responsibility to the local community and the environment, and we do take this very seriously. We talk about the issues and the challenges that this brings in our weekly management meetings. We have heat recovery, solar panels, Gander, and have trialled other solutions. We have an award-winning food-to-go offering instore. Fifteen years ago, we started with the humble shepherd's pie in a box – now we have over 150 food-to-go offerings. This brings its own challenges - even the packaging of our food-to-go brings responsibility but all our packaging is recyclable, and we are looking into 100% compostable packaging.
"We have also introduced a refill station instore. While refillable products are becoming more common in the convenience channel, we went in another direction and were the first in the area to have refill stations for detergents and soaps, with plans to introduce dry foods in the future."
Loyalty
"Customer loyalty has been a remarkable success for us," says Terry. "We have a fully-integrated solution with EDGEPoS through Azpiral. Customers build up their loyalty spend with us during the year and normally do their 'big shop' then with us at Christmas. So, although I am giving away a small margin throughout the year, I am getting that big spend from them at the end of every year. It really is something that our customers embrace.
"We also give customers the opportunity to donate some of the points to local charities which creates a great community feel. The whole solution has been an enormous success for us. We moved the traditional card and keyfob loyalty to smartphones and watches use, which has increased the amount of loyalty going through the tills also," explains Terry.
Nickels says that for those retailers with EDGEPoS looking to find out more about their customers, they can use data available from the Azpiral Customer Loyalty integration – details about age, gender, what they are buying to target promotions and offers out – and it also can target customers who haven't come into spend in a while; and look at customer spending trends/habits.
The Azpiral Staff and Customer Loyalty integration can be set up with EDGEPoS for a small set up fee and a monthly charge to link the two software systems.
Upcoming Developments
Bludot Technologies has developed a 'white label' Pay@ThePump solution for all fuel-branded retail forecourts using EDGEPoS. The company says refuelling using a Smartphone is simple, secure, and streamlined. With this new upcoming development, the customer simply opens the App, enters the pump number, then begins fuelling. In just a few clicks the customer can Fuel-Pay-Go. There is no need to go in store and no need to wait in line.