Whether it's self-checkout or electronic shelf-edge labelling, technology is changing the way people shop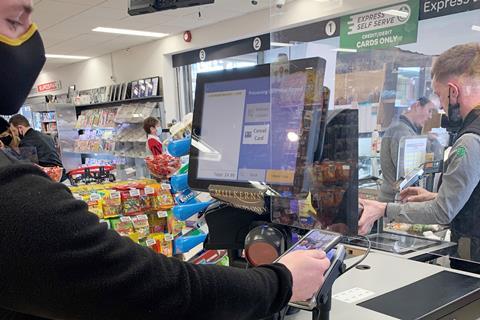 It doesn't seem that long ago that shops went from over-the-counter serving to self-service, but how things have moved on since then. Who could have imagined things like self-scan, or more mind-boggling, Amazon Go's 'Just Walk Out' stores. Amazon recently opened its third such store in London. Put simply, shoppers enter these stores with a credit card, grab what they want and just walk out. The technology involved determines who took what from the store and bills that person's credit card accordingly. It may sound like a shoplifter's paradise, but you can bet Amazon would have done its homework and have security covered.
Darren Nickels, retail technology operations director at Henderson Technology, comments: "With the arrival of Amazon Go stores in the UK, there is a focus on 'frictionless retail' – allowing shoppers the easiest possible way to get what they need from your store. There are many steps on the journey between what can be considered to be a 'traditional' store, and the likes of Amazon Go where no checkouts exist, and we see retailers adopting many of these types of technologies in the coming years. These range from self-checkouts – a first step on the journey – to electronic shelf-edge labels, and scan, pay & go apps that many retailers are trialling.
"The technology used in the Amazon Go format is not economically viable for the vast majority of retailers today, but that will change in years to come and so defining where it sits in a store's or group of stores' offering will be a continual talking point."
Emma Baillie, solutions management at TLM, adds: "The flexibility of independent forecourt retailers means they can offer what customers want if they embrace technology. For those who want a 'contactless' experience they can do that with apps like Jisp and UberMarket or they can still offer a personal touch for those who want it – that is something Amazon Go stores cannot really do."
The personal touch is something Mulkerns EuroSpar in Newry still offers its customers despite embracing the latest technology. It prides itself on being a community store so quickly developed a delivery service during lockdown and despite having a self-service till still has plenty of manned tills for customers who want to have personal interaction with staff.
Mulkerns EuroSpar marketing and social media manager, Lisa Mulkerns, says: "We've been doing home delivery for just over a year; we were thrown into it by lockdown so really didn't have much time to plan it. We used volunteers first to get things going but soon realised we needed a dedicated person. A local restaurateur who had experience with deliveries helped us out for a while then we started using the Appetite app via Henderson Technology."
Store manager Aaron McGuigan takes up the story: "We started using the app for our Sunday dinners as we sell 750 or so of them a week. This had a positive impact by reducing queues in-store. We had a reputation for being a supermarket where you could do a weekly shop so we extended the service to the rest of our product range. We advertised in local papers and on social media and sales took off. It's been great in allowing us to be there for customers who didn't want to venture into a shop."
Aaron says Appetite has definitely boosted their monthly sales.
According to Henderson Technology, the biggest benefit for the retailer is that Appetite is fully integrated into the EDGEpos system. Also there is no commission fee; retailers pay a monthly licence fee and that's it. Retailers are also free to set their own pricing for deliveries and click and collect. Henderson is currently extending availability of Appetite to non-Spar retailers, with Booker and Nisa retailers expected to be signed up soon.
In addition, a version two of Appetite is being piloted with changes made in response to retailer feedback, plus later this year, a 'scan, pay & go' feature will be added as well as a pay-at-pump option for fuel.
Meanwhile, TLM has worked closely with both Jisp and Ubamarket so both services are now fully integrated into evoPOS. "Home delivery and click and collect work best when they are integrated to a pos and back-office system to ensure stock levels can be managed efficiently and accurately," Baillie explains.
Other technology that Mulkerns EuroSpar uses includes electronic shelf-edge labelling, which Aaron says has also brought benefits to the store. Prices and promotions are instantly updated from the back office, meaning staff can be deployed elsewhere such as helping with the growing delivery business instead of spending time updating labels.
Aaron adds: "Customers have told us that the pricing looks more sleek and professional and they have said they have more confidence that the price they see on the electronic label is what they will pay at the till."
Nearly 8,000 labels at Mulkerns were converted to electronic versions in just five days with Henderson's help and there was little disruption as the changeover was done an aisle at a time.
Henderson Technology's retail technology channel manager, Kristine Moore, says some retailers have shied away from this technology because it represents a huge outlay and return on investment takes seven years.
She explains: "However, we sell ours via a seven-year rental with no upfront cost. What is more, every store we have put them in sees an instant growth in margin because the electronic labels eradicate pricing problems. A week one increase is typically 2.4-3% – straight away."
Customer loyalty schemes are another area that has benefited from technology. Mulkerns scheme is again fully integrated into their EDGEpos system. Some 40% of their transactions involve a loyalty card, showing exactly how popular the scheme is. Customers collect points but also receive tailored offers.
Mulkerns also encourages shoppers to save their points for Christmas.
In addition, customers can opt to add money to their card too so if they have change at the till, instead of receiving that change they can have it added to their loyalty account.
Then there's self check-out. Mulkerns has 10 tills, one of which is a shelf check-out. Aaron says it currently gets 250-300 transactions a week.
"It is probably something we could push more but a lot of people do want the customer service element of talking to someone on the till. We do have a supervisor at the till area so if there is a queue they encourage people to use self-checkout and show them that it's user friendly – they just scan and pack."
That user-friendliness comes from the fact that items that are scanned aren't weighed so you don't get that constant 'unidentified item in the bagging area' message that you get in some supermarkets.
Moore explains: "We found that the weighing didn't fit convenience because then the self-checkouts needed to be constantly manned. This might make some retailers worry about shrinkage but we fully investigated this at company-owned stores and found that with staff engagement ie keeping an eye on things, the tills had absolutely no impact on shrinkage. Obviously you
can never take out the opportunists, but it was not a big problem."
Aaron says their self-checkout being right beside a manned checkout helps too.
Final word goes to Lisa: "Covid definitely made people try new things. They wanted to get in and out of stores really quickly; some wanted to avoid going in stores at all. Our use of technology really helped us accommodate this."
Appy Shop keen on forecourts
Appy Shop is keen to increase its business with forecourts. Currently just 10% of its client base is forecourts but it does include some big names such as Euro Garages and Touts.
The Appy Shop app was launched nearly two years ago for two key reasons: firstly, to enable convenience stores/forecourts to take advantage of the growing trend in online shopping and delivery services. And, secondly, to provide a more cost-effective solution as many of the apps that were available had percentage charges that outweighed the profit within a transaction.
James Widdoson, group sales director at Appy Shop, says: "We also wanted to simplify the solution for retailers and create an integrated or joined-up solution with the retailer's in-store epos. Many solutions provide a 'standalone' approach meaning that the retailers have to maintain all the products, prices etc manually. But Appy Shop provides not only an integrated solution to epos, but also the first solution to automatically assign products, images, allergens, nutritional information all automatically, with literally only one button press from the retailer."
He says other benefits include: Home delivery, click & collect or telephone booking service, all within the same solution.
It provides the ability for immediate deliveries (ie from the next 30 mins) but also future dated deliveries to enable consumers to book slots and add to their orders.
It is accessible from all devices and operating systems through either the website or mobile app.
Average basket spend is between £60 and £85.
It is available with no upfront fee, no ongoing fee and no retailer transaction charge, making the solution completely free of charge to the retailer (subject to terms and conditions).
Spar uses apps to tackle in-store food waste
Spar hopes to further tackle food waste by scaling up its partnership with digital platform Gander. The venture was initially launched in Northern Ireland but was such a success that it is now going global.
Gander offers Spar retailers a real-time, automated mobile platform that helps stores sell more close-to-expiry date, discounted food. The symbol group says the partnership will play a crucial role in reducing food waste by creating greater visibility of discounted products to consumers and offering shoppers more value.
Gander, which can be easily integrated into Spar store pos systems, enables retailers to automatically display to shoppers, in real-time, all reduced-to-clear food on the shelves. This means participating retailers can help customers make significant savings and reduce food waste by purchasing the price-reduced products available each day. Spar and Gander will take into account market differences during the initial adoption phase, building on the learnings available from Spar retailers already using the system. Tobias Wasmuht CEO at Spar International says: "As an international food retailer, we are committed to creating sustainable solutions for our customers as part of our goal of reducing wastage throughout the supply chain. Our food waste reduction strategy leverages technology to achieve greater efficiency, thereby leading to lower levels of food waste. Working with Gander provides sustainable solutions that are important as Spar seeks ways to reduce the environmental impact."
Spar's partnership with Gander follows the retailer's recent global collaboration with social impact company Too Good To Go. The Gander and Too Good To Go platforms can be combined to provide a zero-waste solution. Gander enables stores to sell more of their reduced products, while Too Good To Go facilitates any surplus being packed into discounted food packages, named 'Magic Bags'.
Danyal Shoaib of Hylands Service Station, Leatherhead, Surrey says: "We've invested in more technology in the last 12 months than we have in the last 10 years. EvoPOS has integrated to all the apps and services I wanted including home delivery, electronic shelf-edge labels, fuel monitoring software and cash processing. By integrating Jisp, for example, with evoPOS, we now have the systems in place to offer delivery, not just to the elderly and vulnerable people, but to anyone who wishes to use this service."