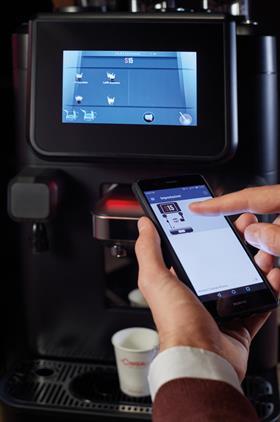 Coffee machine maker La Cimbali has added to the S Series with the launch of the S15, a fully automatic and super compact entry level model capable of producing up to 150 beverages a day.
The S15 is intended for sites such as forecourts and convenience stores, where space is at a premium and coffee volumes low. It is designed to be robust and incorporates patented Cimbali technologies including Smartboiler for optimum boiler performance and an integral Wi-Fi telemetry system which allows remote monitoring of machine performance.
La Cimbali managing director Daniel Clarke explained: "It seems that the industry has done such a great job of educating people through lockdown that we have become a nation of expert home baristas. This translates to a steep rise in expectations among consumers when enjoying beverages out of home.
"The S15 offers real benefits as it allows businesses to compete with the high street by offering a great range of premium quality drinks, prepared to a professional barista standard, even if the daily coffee volumes are quite low."
He added: "Clearly, hygiene is a key priority, so we are encouraging operators to invest in our free to use Cup4You technology as this allows the user to browse the menu and order favourite beverages directly from a smartphone or tablet. This touch-free ordering is a valuable feature and becoming increasingly popular with customers and business owners right now in light of the Covid pandemic."