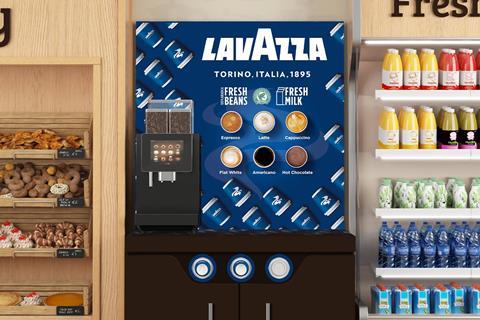 Coffee brand Lavazza is venturing into the Coffee-to-go sector, with the launch of its Coffee To Go system.
Each Coffee To Go machine will provide coffee in medium (12oz) and large formats (16oz), served in premium Lavazza branded paper cups.
There is an extensive menu which covers everything from coffee shop favourites such as Espresso, Flat White, Cappuccino, Latte, and Americano, Mocha, to Pukka organic teas and Thornton's hot chocolate.
The Lavazza Coffee To Go system also has an inbuilt milk fridge to keep milk fresh.
With all machines, furniture and product supplied by Lavazza, there are no up-front costs or investments for the retailer. Additionally, each Coffee To Go machine will be installed, serviced and maintained free of charge, by Lavazza's distribution partner, eXpresso PLUS, meaning minimal maintenance costs and guaranteed ongoing support. For those wanting to offer the best customer experience, Lavazza and eXpresso PLUS are also providing on-going Coffee To Go specific training and sales support'
With a surface area of 1200mm by 740mm, the Coffee To Go machines are compatible with retail spaces of various sizes, including forecourts, supermarkets and convenience stores. Lavazza will provide branded POS materials alongside each machine to increase visibility and drive awareness and cup sales.