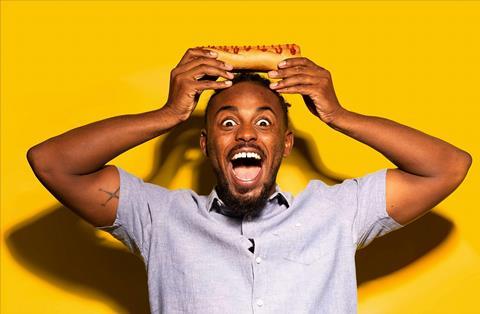 The Rollover brand is big in cinemas – Cineworld, for instance, offers them – and they are also sold at 60 football clubs around the UK including nearly a dozen Premiership sides. However, the forecourt sector is an important one for the brand too, so much so that Rollover has increased the number of people in its field sales team. These are the people who will do an initial site visit when a retailer expresses an interest in having Rollover in their store and, once the brand is in situ, will follow up with regular store visits to support the site and check on compliance.
The product quality is what keeps consumers coming back for more but from the retailers' point of view, simplicity is a key part of Rollover's success with everything they offer delivered to retailers pre-cooked. The rolls are thaw and serve while the hot dogs and burgers just need heating up back-of-house, typically in a bain marie.
Back-of-house heating equipment and front-of-house display equipment is provided free on loan. And Tony Owen, sales and marketing director at Rollover, says using the equipment is as easy as using a kettle.
Over the past few years Owen says Rollover sales have gone into overdrive. He believes the rebrand that happened around three years ago, where they modernised, updated and changed the brand, landed really well with consumers and spurred on growth. Another factor has been product diversification.
"Our strategy is to be much broader. We've moved away from offering just hot dogs. For example, we now have a wider breakfast range. This has done really well in forecourts. We launched a breakfast muffin back in 2020, and then last year we launched a cheeseburger. We have increased our product portfolio and, at the same time, we've increased our equipment portfolio as well. For us, equipment innovation is as important as product innovation."
Over the past year, Rollover has been rolling out open-fronted equipment – open-fronted counter units and open-fronted tower units. Owen says these enable retailers to sell the hot dogs as well as the breakfast range and cheeseburgers.
Next to launch will be a Grab and Go warmer, which will be unveiled at the National Convenience Show in Birmingham in April (24-26 at the NEC). This will be an eye-catching unit complete with digital screens.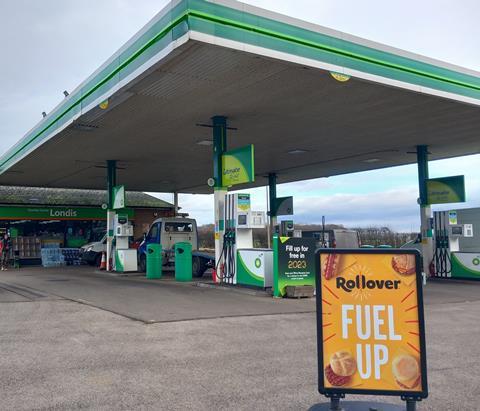 Continued success
As with all food to go, availability is key for Rollover – simply having the products out on display on the shopfloor.
Owen reports that hot dogs are still their biggest seller, followed closely by their cheeseburger. However, the Rollover range spans Original, Chilli and Cheese, Deli Dogs Krakauer and Cheese, Cheeseburger, Double Cheeseburger and the breakfast range (Breakfast Sausage Baguette and Breakfast Muffin).
Rollover provides retailers with rrps and Owen says prices for a hot dog in a forecourt range from £2.75 up to £4 ,with profit on return of around 40%.
Owen expects the success of Rollover to continue as more forecourt sites undertake refits that put more focus on food to go. "We've found that many sites are much more focused on hot food and it's good to see them having a range of food offers. That works well for us."
And the Rollover brand is working well for many forecourts too.
MFG operations manager, Michael Cox, says: "Rollover has been a great addition to our 'On-the-Go' hot food range and a key partner in our extensive development plans. Our contract managers love how easy it is to operate and our customers love the quality and range that Rollover has to offer."
Anneke Imeson, retail manager at Exelby Services, says that after recently redeveloping the company's Golden Fleece site at Carlisle, they took the opportunity to expand their food-to-go displays. "All Rollover products there have been switched to the fast-paced Grab & Go Hot Tower concept and we expanded the range at the same time.
"As a result, Rollover sales have really taken off and the new Cheeseburger option is proving to be a sought after customer alternative to the ever-popular hotdogs. Tom at Rollover has been instrumental in implementing the new additions at Carlisle and we look forward to seeing what else Rollover has to offer."
Roxanne Martin and Kerry Anne Evers at Caenby Corner Filling Station in Lincolnshire says Rollover has made a big impact on their food-to-go range. "We started just doing hot dogs but as demand grew, we expanded with equipment and more products including Muffins, Deli Dogs and more recently Cheeseburgers and double Cheeseburgers. The quarter pounder and double Cheeseburgers are absolutely flying, and we are really happy with how much our customers love a Rollover. Their branding is really striking and the team set the bar high with their service."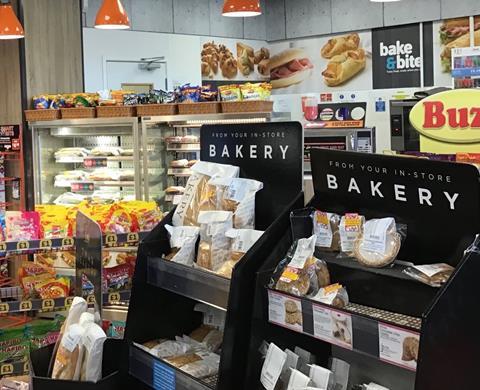 Country Choice is the right choice
Brett Griffiths from Texaco/Nisa Bridgend says the best things about partnering with Country Choice for his in-store bakery and food to go are the ease of operation, the product quality and the sheer range on offer.
"We know that there is demand for in-store bakery and food to go, but we are not caterers and so we need a solution that is really simple to operate and maintain – Country Choice gives us that. And, although consumers want value for money, they also want quality products in return for their hard-earned cash, and here too Country Choice hits the mark. The range is also critical because we need to be able to offer customers something fresh and tasty whatever time of day they visit us – sausage rolls and handheld bakes first thing in the morning, to freshly prepared filled baguettes for lunch, and maybe a cake or other sweet treat on their way home from school or work."
Brett says the introduction of legislation around Natasha's Law and the new HFSS guidelines are a potential minefield for anybody serving food so the fact that Country Choice takes care of all of this for him with its packaging and labelling solutions is another added bonus, as is the online ordering system.
"Another good thing about Country Choice is their new and innovative ideas. For example, we have recently introduced their Hudson's hotdog concept, which is going really well, and there are other great ideas too, such as bake-in-pack toasties and even pizza. It means we don't have to go out looking for new ideas or new suppliers, we can get everything we need from one place."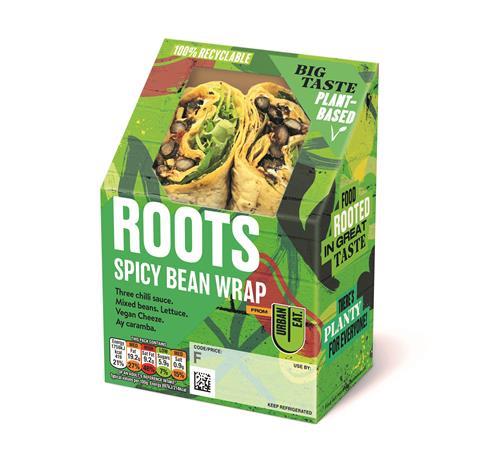 Urban refresh
In late 2022, Urban Eat underwent a relaunch which included updated recipes and fillings across the portfolio, new flavours, bigger eats and a new range of products.
Close attention was also paid to the packaging. As a result, Urban Eat's packaging is now 100% recyclable, and has a bigger window and other design improvements to help with merchandising and to make it easier to shop.
The brand kicked off 2023 with the relaunch of its plant-based range; Roots from Urban Eat.
Abigail Ehoff, brand manager at Urban Eat, says: "Our research shows that the rise in meat excluders and meat reducers is at an all-time high. Some 65% of people in the UK are reducing meat from their diets (The Source/Samworth research). However, our research showed us that consumers are not willing to compromise on taste and quality, which is what we took into account when we created Roots from Urban Eat.
"We didn't want to launch 'just another vegan sandwich' – it was important to us to create a lunchtime offering full of flavour and variety that appeals to a broader target audience than just those with a vegan diet. "
The refreshed Roots from Urban Eat range consists of two sandwiches: Cheeze & Pickle and Falafel & Houmous; plus two wraps – Tomato & Pesto and new Spicy Bean.
"The range has been carefully designed after extensive research and development to offer high-quality, delicious plant-based options that appeal to a broad range of consumers," says Ehoff.
"Resonating with flexible meat reducers as well as devoted meat excluders increases our audience by 50%, which in turn offers a bigger commercial opportunity for us and our customers."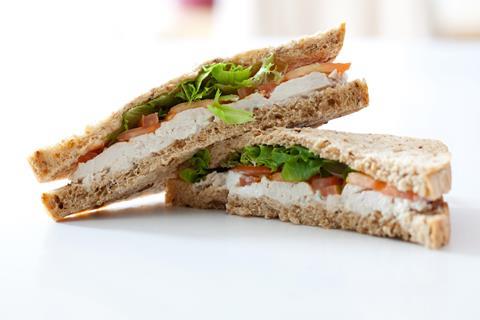 Sandwich lovers
Ehoff believes there is still a place for the sandwich in the ever-expanding food-to-go market. She consumers choose a tried-and-tested sandwich because they know they will definitely enjoy it, plus it offers value for money.
She says Urban Eat's top-selling sandwiches are: Ham & Cheese; Chicken & Bacon; BLT; Cheese & Onion; and Chicken Mayo.
"These highlight not only the popularity of a sandwich remaining an ever-popular food-to-go option, but also, for retailers, this underlines the importance of a core range for lunchtime and beyond. In the current climate, consumers are less likely to take risks with their money when they seek out a lunch or a treat. So with less risks being taken, the familiar faces are what consumers are reaching for most.
"However, choice is also key to cater to a variety of tastes. Retailers and operators should also offer more adventurous and innovative sandwich fillings, alongside salads and free-from options.
"We continually invest in quality and development, ensuring we're offering the best product that keeps sandwich lovers coming back for more."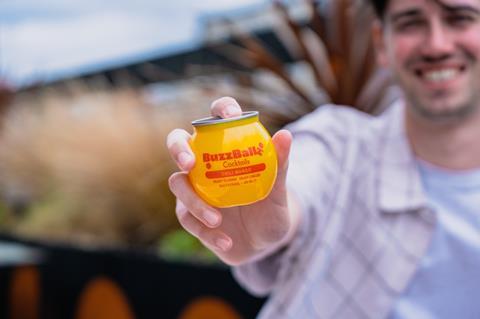 Creating a buzz
Food-to-go is a key shopping mission for forecourts but what about drinks-to-go? To maximise sales, stores should stock a range of contemporary, eye-catching premixed drinks options, highlighting abvs, price points and quality, to demonstrate the breadth of options available, says Tim Dunlop, brand director at Hammonds of Knutsford, UK distributor of BuzzBallz Cocktails.   
"Consumers want convenience and choice – products that are ready-to-drink, portable and fun, while still meeting their flavour and taste expectations. BuzzBallz Cocktails tick all these boxes, offer something unique and innovative to consumers and bring excitement to drinking occasions. They are a different, no-mess solution with a strong visual appeal and unique round shape that is perfect for posting on social media. The colours and the round format really drive interest and impulse purchases. Plus, BuzzBallz are one of the few top quality, bar-strength cocktail options in the ready-to-drink (RTD) and premixed cocktail market," he explains.   
One of the first forecourt retailers to list BuzzBallz Cocktails was Top 50 Indie The Kay Group. Jacob Francis, retail convenience manager, first saw the products at the National Convenience Show. He says: "The bright colours and packaging really stood out at the show and looked so appealing. We tasted them there and then and we were impressed. The high ABV was certainly something we thought would appeal to our shoppers. We know great taste is a real driver for repeat purchase so we felt confident these would be a hit.
"We hadn't seen them before so wanted to be one of the first to stock them. We listed all six single-serve variants, knowing RTDs were growing in popularity and having read about BuzzBallz' success in the States. They suit the on-the-go nature of our shopper demographic, tick the box for premium drinks and bring a fun factor to the drinks chillers.
"Shoppers have fed back that they value the higher ABV than other RTDs we stock, and the Strawberry 'Rita is definitely our best seller, followed by Tequila 'Rita. The one that gets people talking the most is Chili Mango – it really does have a kick."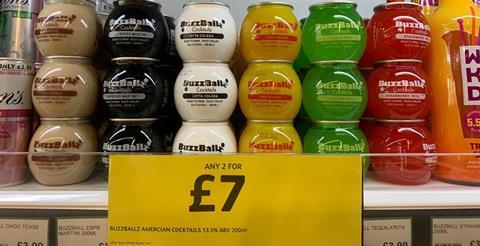 In-store theatre
Jacob says they merchandise them in their off-licence chillers along with pos provided by the brand. "We have free-standing display units on the shop floor in high footfall areas near the tills and highlight them on shelf with vivid yellow pos as well as media screen promotion, so there's plenty of in-store theatre to drive purchase. They're particularly popular at weekends for taking to parties, events and festivals. As our stores also stock US confectionery, soft drinks and snacks, BuzzBallz help drive purchase across all our American themed products.
"We're getting largely incremental sales as they offer a different type of product from the usual cans, and the taste and flavours are certainly bolder and stronger than other RTDs.
"RTDs are performing very well in our stores – we have certainly seen significant sales growth in the last two to three years. They were already growing before the pandemic but the at-home lifestyles meant RTDs were in demand. It has been interesting to see the innovation in the category from new entrants and established brands diversifying into this trend. RTDs really have the potential to grow in the UK, especially where many are opting to stay in and purchase drinks to enjoy in the home."
Six BuzzBallz Cocktails are available via exclusive distributor, Hammonds of Knutsford: Choc Tease, Tequila 'Rita, Strawberry 'Rita, Lotta Colada, Chili Mango and Espresso Martini. All 200ml Ballz are 13.5% ABV with an rrp of £3.75 each.