Whether it's a slice of pizza or a savoury slice, food-to-go sales are back – washed down with a drink of course.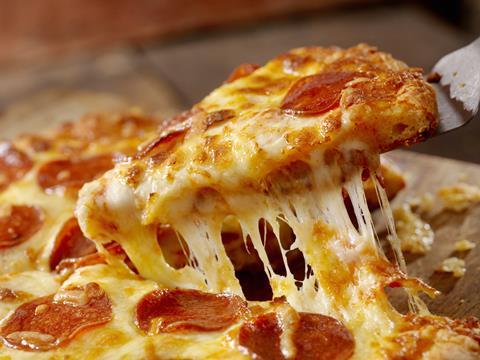 Stone Willy's Kitchen was brought into Exelby Services as the main food offer within the newly rebuilt Forecourt Trader of the Year site on the A19 Northbound.
Exelby director Rob Exelby says: "We'd seen Stone Willy's in operation at a number of other sites in the area – namely Triangle North Cave and Inner Space Station – and it always struck me as a great brand. Once I'd sampled a few pizzas and wraps I soon realised the quality of the food was great too. Stone Willy's is our first foray into preparing and cooking our own food to go.
"We've always had truckers' cafes run by other partners on our sites before, so we'd never really got into food to go properly until now. Following its success at A19 North, we're planning to roll it out at a number of our other sites."
Will Robinson, managing director at Stone Willy's,says Rob decided to go down the 'hot tower' format route rather than a full service food-to-go counter for several reasons.
"Firstly, availability is key. Having the hot food ready to pick up encourages the customer to purchase, as they are not waiting around or held up in a queue. This, secondly, has the added benefit that staff can prepare the food well in advance of peak times. Wraps can be held for three hours and pizzas up to two hours. Thirdly, only one member of staff is required to operate the kitchen which helps to keep the running costs under control. This is especially important when a site is growing sales at the start."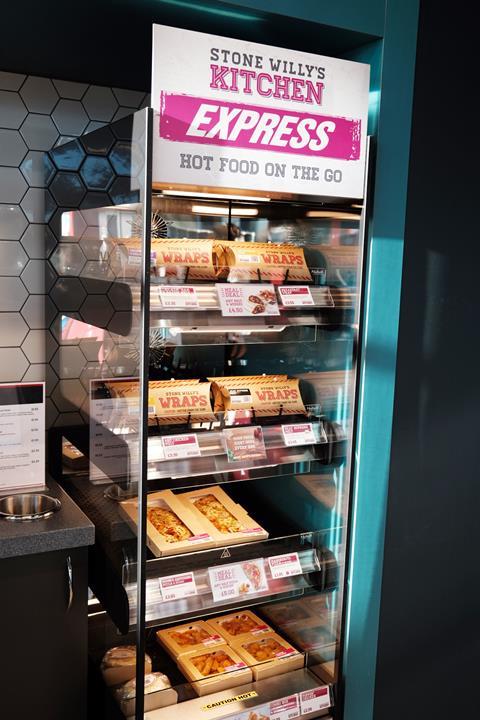 Rob continues: "We've found the equipment, baking and cooking to be all straight forward and it leaves little guesswork and room for error for the staff. There's still some areas where we can improve on the efficiency of the operation, but we're talking little tweaks here and there really. It can be labour- intensive, but once you analyse your busy and quieter periods you can fine-tune it and utilise the fuel counter staff into it as well. Between Stone Willy's and Country Choice which we operate alongside it, we're doing over £3k a week which we're very pleased with.
"It's far surpassed one of our busier sites which only has Country Choice."
Jonathan Tarran, manager at the A19 Northbound site, says that from the morning menu (available until 11am) the best sellers are the Breakfast Muffin, Sausage Muffin, Bacon Muffin and Breakfast Wrap. From 11am onwards the best sellers are Peperoni Pizza, Margarita Pizza, Chicken/Ham/Bacon Wrap and the Peperoni Wrap. He adds that there is very little wastage and if there is any, it's generally the sides such as wedges and hash browns.
Meanwhile, Robinson reports that 2021 has been a good year for Stone Willy's Kitchen. "The Express version of the concept which is focused around hot and cold Grab & Go towers has allowed all of the sites to remain open throughout what has been a challenging year. A lot of new sites have added the Stone Willy's concept to their locations and 20 new locations are in the pipeline over the next six months. Many of these are second or third sites for customers, which is an endorsement of how well it works." Robinson believes that one of the most exciting opportunities for forecourts is taking advantage of the app-led delivery market.
"Pizza is one of the most popular products people want delivered and Stone Willy's Kitchen is well placed to take advantage of that. One forecourt has added the delivery apps and this will generate well in excess of £100,000 of additional turnover for them this year. There are plenty of opportunities for forecourts which are well placed within residential areas to take advantage of this, with very little space required."
Express solution
Meanwhile at Rusdene Services Botley Service Station at Curdridge in Hampshire, Country Choice's Stacked Express concept is working well for them.
Rusdene's operations manager Lucy Jordan says the site has always done well with hot food but the addition of the Stacked Express chilled range has boosted sales.
"Stacked Express is a chilled display of sandwiches, baguettes and heat-to-eat toasties and paninis (which are cooked in a Merrychef). Our best seller is the ham & cheese baguette for £3.49.
"Our staff love the concept as it is so easy to manage and, to be honest, much of the success of any concept like this is down to how much the team is on board with it."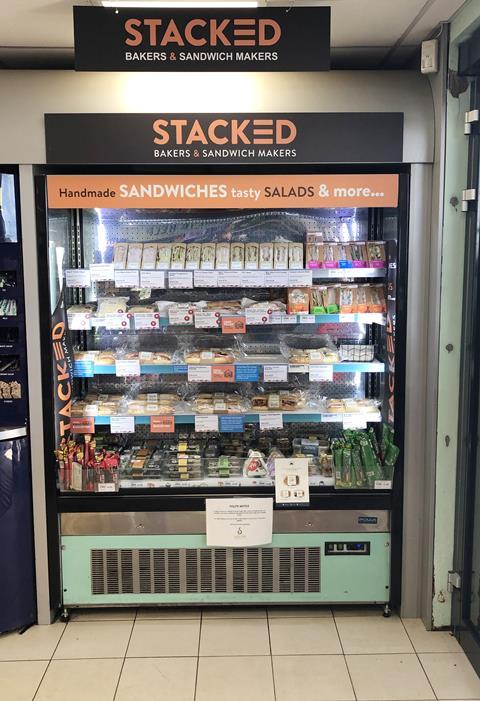 All the component parts of the sandwiches and baguettes are delivered to the store and Lucy says the fact that they are not in massive case sizes helps enormously. "We are able to portion the components up and freeze them. We had been used to dealing with a two-day shelf life on our deli sandwiches and we were a bit nervous about going to one day for Stacked but we are actually finding that it is easy to manage with very little waste. That's because you are bound by your daily sales so it is really easy to manage. You just watch your sales and adjust things accordingly."
Most people buying food to go will want a drink to wash it down, whether that's a cold drink perhaps as part of a meal deal or a hot drink delivered via a state-of-the-art machine.
Wilson Rea at Keystores Lanark has been offering coffee at his forecourt store for over eight years but recently began looking for a new fresh milk system to replace his powdered milk machine.
Wilson got in touch with Lavazza and a consultative approach was adopted as a bespoke unit was required. As a fan of the brand, Wilson has said that the quality of Lavazza coffee is much higher than any competitor for quality and taste and is a premium offering. Additionally, he was drawn to the system because of the Pukka tea bags on offer.
"A key difference was the training provided by Lavazza. With my previous unit, no training was provided and I cannot fault the training provided by Lavazza. In addition, the Lavazza machine is easier to clean than my previous unit. This is due to the machine being self-programmed to clean every evening, and it only takes around five minutes. The machine starts flashing so the staff know when the machine is about to start cleaning, which is incredibly useful."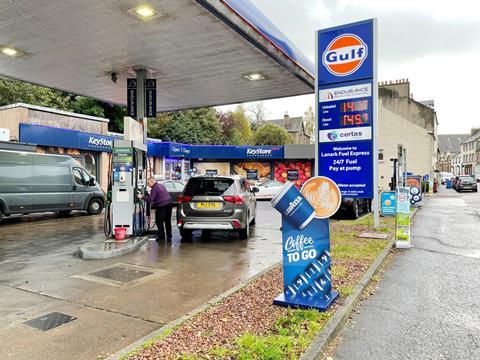 Wilson shared samples with his staff, allowing them to taste the product ahead of selling it in store. "The staff all loved testing the coffee and said they could tell the difference straight away in terms of quality compared to the previous unit. This helped them recommend the product to consumers."
Wilson says that every comment on the machine so far has been positive, with customers preferring the idea of fresh local milk. The customers can all tell the quality of coffee has changed in store," he says.
He charges £2.49 for a regular size drink and £2.79 for a large one. The store offers a bacon roll or sausage roll with a coffee for £3.49 and in the afternoon has started doing a coffee and a muffin for £2.99. "Offering a breakfast deal is important as this is a key trading period for coffee so it's great to have these options and the support from Lavazza with point-of-sale material."
Coffee contender
A new contender in the competitive coffee-to-go market is Pret A Manger who, in partnership with JDE Peet's, has announced plans to trial Pret Express, a self-service coffee-to-go solution featuring its 100% organic coffee and tea. The company says it is committed to trialling the concept in up to 20 locations over the next year with a strong expansion plan after that, but cannot say at the moment where those locations will be. It plans to include c-stores and forecourts.
JDE Peet's will be providing the self-service technology and capabilities, with bespoke furniture designed exclusively for Pret. Each Pret Express coffee station will offer a wide range of slow-roasted, 100% organic speciality coffees and fresh organic milk combinations, as well as teas – a first in the self-serve coffee-to-go sector. Each solution will create up to 21 drink recipes and everything is included: from ingredients to machine and housing installation, with each station having its own cashless payment terminal and service package as standard.
Guy Meakin, UK trading director at Pret A Manger, says: "This is new territory for Pret, which will allow more people across the country to enjoy Pret's organic coffee and tea on the go, in places where there isn't the right space to set up a new Pret shop. Using the latest technology from JDE Peet's, Pret Express will give people a delicious and convenient coffee boost, at the touch of a button."
Over at Costa Coffee the limited-edition Christmas drinks range is back and includes last year's hugely popular Quality Street The Purple One Latte. This year it is joined by new Quality Street Toffee Penny Latte, which is blended with a golden caramel sauce, topped with a dairy swirl, and sprinkled with crunchy caramel toppers. Also returning are Terry's Chocolate Orange Hot Chocolate and After Eight Hot Chocolate as well as the limited-edition Winter Character Roast coffee.
Quality Treat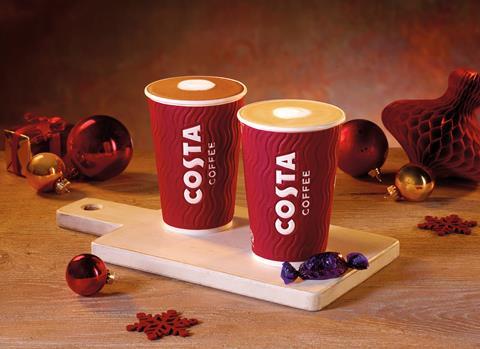 Consumers who use the 11,000-plus Costa Express machines across the UK will not be left out as they can indulge in the limited-edition Quality Street The Purple One Latte as well as the Quality Street The Purple One Hot Chocolate.
Costa's Christmas takeaway cup range is also back, this year featuring a penguin, a rabbit, a gingerbread man, a snowman and a bear. As part of an ongoing effort to reduce its environmental impact, the Christmas cups will have a plant-based plastic lining, rather than an oil-based plastic one, and these linings will then roll out across standard cups. The plant-based plastic-lined cups have a 26% lower carbon footprint than Costa Coffee's standard takeaway cup when recycled.
In addition, Costa recently launched a trial of a new blockchain technology-powered reusable cup scheme called BURT. BURT – which stands for 'Borrow, Use, Reuse, Take Back' – has launched across 14 stores and will last for six months.
To participate in the trial, customers must set up an account to join the BURT scheme by scanning a QR code displayed in one of the 14 participating stores.
By making a one-off £5 payment to join the scheme, customers can then scan the QR code on the base of a BURT cup, which links the cup to the customer's account, via blockchain technology. They can then pay at the till as normal while a barista prepares their coffee. Customers return the cup to a participating Costa Coffee store where it will be scanned back in by the team, delinked from their account, and hygienically machine-washed in store, ready for the next customer. Customers will be given a new BURT cup with each new order.
The trial is being run in partnership with the digital agency, Austella, on its blockchain-powered Valari platform. Costa says it will not only reduce the number of single-use cups used but also make it easier for customers who may have forgotten their reusable cups to still be able to pick up their coffee on-the-go, without waste. It is also perfect for those preferring not to carry their own cup around each day.
Costa Coffee will be using the trial to gain feedback from customers and learn about uptake and behaviour towards reusable cups. It will then use its findings to optimise and develop a scheme that will roll out more widely across the UK in phases.
Hybrid working
Finally, while the current hybrid working pattern does potentially reduce the number of days consumers will be out of home, it is anticipated that they will condense their pre-pandemic spend into the days when they are in the office and therefore the overall impact of hybrid working will not be detrimental to total sales.
That's the opinion of Hannah Morter, customer insight and category management manager at Country Choice. "Forecourt retailers should begin to scope out the new work patterns and ensure product is reliably available when workers are working away from home. If consumers find that a product is out of stock on more than a couple of occasions, then they are unlikely to return."
Morter says retailers should also consider that home working days still offer an opportunity to boost food-to-go sales: "During the height of the pandemic, retailers who sold our products straight from their freezer – such as four steak bakes bagged with baking instructions – found this was a great way to offer food-to-go products without the labour involved in baking, while simultaneously allowing consumers to enjoy their favourites at home whenever they wanted to."
Morter adds that times are tough for many consumers so good value is key and, although food-to-go is a low-ticket item and therefore not expected to suffer as much as foodservice might, whatever retailers can do to support a good value proposition will help maximise sales: "To that end, meal deals, and clear promotional pricing will encourage shoppers. Coffee sales have rocketed within all age groups during the pandemic, so having a clear and easy to fulfil deal that links it to food will help drive basket spend."