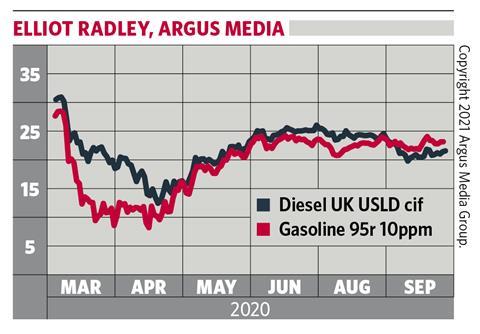 The health of the European refined products market is steadily improving as vaccine roll-outs continue to gather pace and demand slowly returns, but plenty of hurdles remain before the industry can breathe a sigh of relief.
The latest official demand statistics are for April, and the diversity of regional Covid restrictions is clear in the data. French diesel and gasoline consumption in April was still almost 20% lower than in 2019, while Italian demand rose slightly on the month, but was still 15% under 2019 levels. The latest data for the UK is for March, when oil products demand was down on the year, but up by some 6% from February. It's safe to assume demand will have risen on the month in the vast majority of European countries in May.
The glut of European supply is starting to ease, with the IEA saying that the global build of product stocks is all but gone, and is likely to have disappeared by the second half of the year. But those in the market generally have a less rosy view and still see Europe as well-supplied. Certainly, with Europe's refineries running at just 72.5% of capacity in April, there is room for more supply to hit the market as profitability rises. Balancing that output revival will be key.
Still, product margins to crude have steadily risen. Argus-assessed diesel margins to North Sea Dated crude hit 10-month highs of almost $7.50/bl in late-May, compared with an average of $5.65/bl for the first quarter. And gasoline margins have averaged double-digit figures as the market moves to more stringent summer-grade specifications, having averaged under $5/bl in the first quarter. Though it's worth noting margins have been massaged by a routing of crude values, as a revival of the Iran nuclear deal could soon see as much as 2mn b/d of crude back in the market.
One of the largest question marks remaining however, is how the rise in cases of the Indian Covid variant, particularly in the UK, affect the easing of lockdown measures across Europe. It's quite possible, to paraphrase the words of Michael Corleone, just when we thought we were out, they pull us back in.