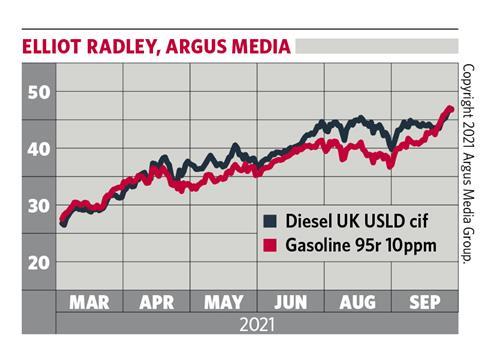 A sudden fuel supply crisis in the UK and expected fallout from record-high natural gas prices on refineries made for a turbulent September in European refined products markets, and an uncertain outlook for October.
News of a shortage of HGV drivers able to deliver petrol from terminals to forecourts spurred a wave of panic-buying across the UK in late September, pushing the country into a fuel supply crisis. That culminated in the British Army being deployed, as shortages persisted days after the Reserve Tanker Fleet was mobilised. Around 20% of forecourts in London and the South East were still sold out on October 4, and 8% across the rest of the country, according to a survey of around 1,362 forecourts by the Petrol Retailers Association (PRA).
During the crisis the industry has insisted its refineries have been working as usual and there are ample stocks at terminals. That is perhaps why there has been little impact on wholesale cargo markets in north west Europe, as the shortage is a logistical bottleneck and not a fundamental change to continental supply or demand.
But the wider European market could still be impacted if driver shortages persist, as suppliers could adjust fuel volumes down in line with reduced transport capacity. The government has announced measures to recruit up to 9,000 drivers up to Christmas to avoid further supply chain disruptions, though there are already doubts over the likely uptake.
Benchmark Eurobob oxy gasoline barges in the Amsterdam-Rotterdam-Antwerp (ARA) hub closed September at a $10.70/bl premium to Ice Brent crude futures, down by around 25% from where they started the month. The drop came with the end of the peak summer driving season and the switch to higher-RVP, lower cost, winter-grade product.
Otherwise, refiners could face a challenging environment because of record-high natural gas prices, as they are large consumers of energy. Surging gas prices could be prompting a switch to burning alternate fuels for power, consequently pushing up prices and eating into gasoline production margins.