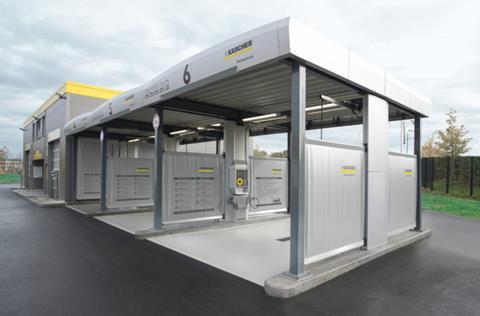 Kärcher and TSG have extended their four-year partnership in the UK. TSG will take sole responsibility for the sale of Kärcher Wash Systems in Britain with immediate effect.
This announcement TSG Group's experience working with Kärcher, servicing and managing the installation of vehicle washes across Europe.
Kärcher will continue the sale, hire and service of all other Kärcher products - ie pressure washers, scrubber driers - and remain committed to providing the best solutions for all cleaning needs. Customers looking for Kärcher's range of vehicle wash solutions, including truck and bus washers and gantry systems, will now be directed to TSG UK as the first point of contact.
Since 2017, TSG UK has been working with Kärcher delivering the installation, servicing, and maintenance of its Wash Systems to customers such as Shell and Stagecoach. Now TSG UK is responsible for the whole process, providing one port of call for customers looking for either a complete 'end to end' wash service.
Frank McLaughlan, TSG UK Wash director, said: "TSG UK and Kärcher's relationship has gone from strength to strength over the last four years, with their products and our installation and servicing capabilities perfectly complementing one another. With our strong position in the commercial and retail sector in this country, it makes sense that we take the sales reins too."
"We're extremely pleased that Kärcher has handed us the baton, something that can only enhance our commercial wash provision to new and existing customers."