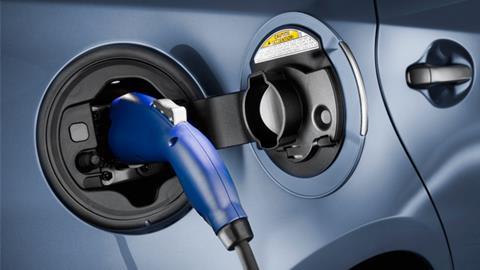 The government is claiming more than 1,000 new electric vehicle chargepoints will be installed in a new £20m pilot, as part of a wider £450m scheme.
Through the Local EV Infrastructure (LEVI) pilot scheme, nine local authorities and industry will work together to develop new, commercial EV charging infrastructure.
Schemes range from faster on-street chargepoints to larger petrol station-style charging hubs.
The winners of the pilot fund are: Barnet; Dorset; Durham; Kent; Midlands Connect (with Lincolnshire as a lead authority); North Yorkshire; Nottinghamshire; Suffolk; and Warrington.
The pilot is backed by £10m of government funding shared among the nine winning local authorities in the first tranche of the planned £450m scheme, with winning pilot bids supported by an additional £9m in private funding. A further £1.9m will come from local authorities.
Decarbonisation minister Trudy Harrison said: "We want to expand and grow our world-leading network of EV chargepoints, working closely with industry and local government, making it even easier for those without driveways to charge their electric vehicles and support the switch to cleaner travel.
"This scheme will help to level up electric vehicle infrastructure across the country, so that everyone can benefit from healthier neighbourhoods and cleaner air."
Mike Hawes, chief executive of the Society of Motor Manufacturers and Traders (SMMT), said: "The LEVI pilot funding is a welcome step that will give drivers in the winning areas greater confidence to make the switch to electric motoring, and will hopefully help inspire operators and local authorities across the UK to increase the roll-out of chargepoints.
"With manufacturers bringing ever-growing numbers of plug-in vehicles to UK roads, we can't risk lacklustre infrastructure holding back Britain's world-leading electric vehicle ambitions. We need a universal right to charge electric vehicles, for all drivers, wherever they live, wherever they travel, and whatever their needs."