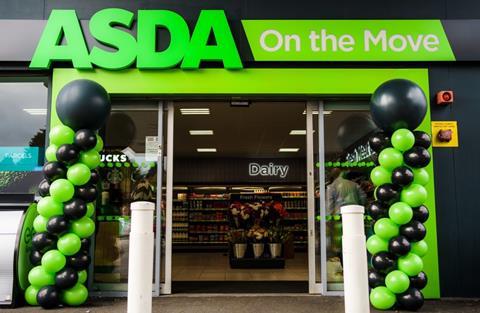 Asda has opened its 150th Asda on the Move store in partnership with EG Group, as it progresses towards its target to roll out 200 of the roadside convenience store formats by the end of 2023.
The 150th Asda on the Move store is located at Baynards Green Services in Bicester, Oxfordshire, and will be the third Asda on the Move in the local area. The store stocks more than 1,300 branded and own-label products to provide a more extensive offering of fresh produce and chilled lines than is traditionally found on fuel forecourts. The 2,723sq ft store, which will operate 24-hours a day, will also include a Greggs and Leon kiosk.
James Laws, senior director wholesale and convenience at Asda, said: "The opening of the 150th Asda on the Move store marks a significant milestone in our ongoing expansion into the convenience market, to bring Asda's value and great products to more customers across the UK. Through this partnership with EG Group we're able to cater to rising demand from customers to pick up essentials quickly and conveniently or grab a treat while they're refuelling.
"Convenience is one of the fastest-growing channels in the grocery market and we are increasing our presence in this area to support our long-term ambition to restore Asda to the number two position in UK grocery. We're delighted to bring our modern and welcoming convenience store offering to Baynards Green Services."
Junaid Manjra, head of convenience retail at EG Group, said: "We have been very encouraged by the response of customers to Asda on the Move, and the launch of this milestone store demonstrates how EG's partnership with Asda is driving further success. We're excited to bring another Asda on the Move store to Bicester, where customers will be able to enjoy the supermarket's fresh produce and premium products, alongside EG's portfolio of own and popular third-party foodservice brands."
The Asda on the Move concept was launched in October 2020 with Asda suppling the products on a wholesale basis to EG Group, which owns and operates each site.
Asda also recently announced plans to open 30 new Asda Express convenience stores this year in residential areas and transport hubs. The retailer aims to open 300 in total by the end of 2026.