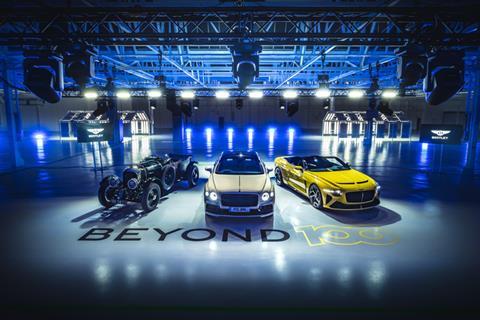 Luxury car manufacturer Bentley Motors plans to switch its entire range to battery electric vehicles (BEVs) by 2030.
It has unveiled the Beyond 100 programme for the 100-year-old company, committing to switch exclusively to plug-in hybrid electric vehicles (PHEVs) or BEVs by 2026, and all vehicles will be BEVs by 2030.
Adrian Hallmark, chairman and chief executive officer of Bentley Motors, said: "Since 1919, Bentley has defined luxury grand touring. Being at the forefront of progress is part of our DNA - the original Bentley boys were pioneers and leaders. Now, as we look Beyond100, we will continue to lead by reinventing the company and becoming the world's benchmark luxury car business.
"Driving this change includes, and also goes beyond our products, delivering a paradigm shift throughout our business, with credibility, authenticity, and integrity. Within a decade, Bentley will transform from a 100-year-old luxury car company to a new, sustainable, wholly ethical role model for luxury."
Bentley aims to become an end-to-end carbon neutral car brand by 2030, underpinned by a structured, business-wide sustainability programme. This includes development of electrified models throughout the range, and further improvements on its operational environmental impact, and collaborating with its retailer network.
Bentley has previously committed that every model line will be offered with the option of a hybrid variant by 2023, with its first pure electric model to be launched in 2025.
Last year, Bentley's production facility in Crewe became the first luxury automotive factory in the UK to be certified carbon neutral by the Carbon Trust. This followed two decades of work, including a water recycling system in the paint shop, local tree planting, installation of a 10,000 solar panel carport, taking the total number of on-site solar panels to 30,000, and a switch to renewable-only electricity sources.